Past Events
July 23 - 26, 2022
75th EWA National Seminar
EWA's 2022 National Seminar: Celebrating 75 Years
As those in education and journalism work to recover from an extended pandemic, bringing together the community has never been more critical. The Education Writers Association's 75th annual National Seminar will provide a long-awaited opportunity to gather in person for three days of training, networking, and inspiration.
Traditionally the largest and most prestigious gathering of education journalists, leaders, experts, and communicators, the 2022 National Seminar will offer a varied and fast-paced program on the most pressing education issues making headlines. Taking place from July 24 to 26, the conference will also provide journalism training and opportunities to connect personally with colleagues from around the country.
Marking EWA's 75th anniversary, the event will examine the pandemic's effects on learning at all levels, from cradle to career. Attendees will leave equipped to better cover a wide range of timely issues impacting learning in the 2022-23 academic year and beyond.
The National Seminar will be held at the Rosen Centre Hotel in Orlando, Florida. Tailored primarily to journalists working for independent news outlets, the seminar also welcomes other education content providers and communicators. The agenda will feature a track of sessions of special interest to communications professionals.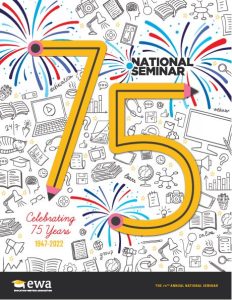 This event has passed. Thanks for attending!