Past Events
January 26 - 27, 2023
Higher Ed: The Covid Generation
EWA Higher Education Seminar: The Covid Generation
After years of disruption to education, the pandemic affects a generation of students – those who pursued college experiences shaped by COVID-19, who struggled to make the transition from high school to college, who paused their studies or never enrolled. 
The Education Writers Association will hold its Higher Education Seminar centered on "The Covid Generation" in Alexandria, Virginia, from Jan. 26 to 27, 2023. This two-day training will help journalists understand unique challenges the newest generation of students face. Reporters will also learn how colleges are adapting to better serve these students while navigating the changing higher education landscape. 
Leading researchers, policymakers and practitioners will share insights on pressing issues in higher education, data training will be offered and experienced journalists will share tips and advice. 
Some of the topics our speakers will tackle include: 
How is public sentiment toward higher education shifting, and what's driving this thinking? 

What's the real impact of student loan forgiveness, and who will benefit most? 

How can reporters keep borrowers at the center of their reporting on student debt? 

How are colleges adapting to changing enrollment trends? What consequences does declining enrollment have on students? 

How has the pandemic changed the way community colleges address students' needs? 
Attendance is limited to EWA journalist members. Scholarship applications are closed.
View the Program for Higher Ed Seminar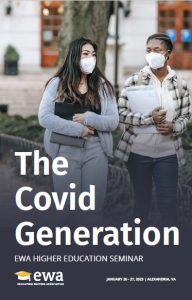 Download Conference Presentations