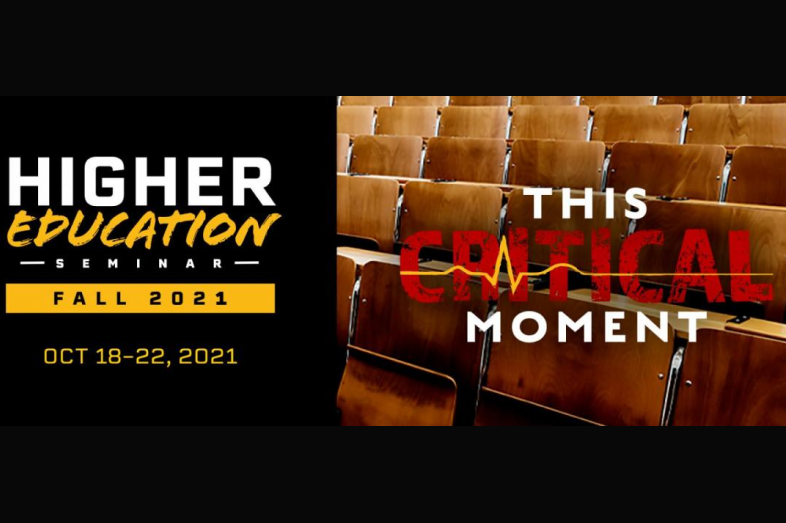 Higher Education Seminar Fall 2021
October 18-22, 2021
"This Critical Moment" was explored online Oct 18-22
The Education Writers Association held its 2021 Higher Education Seminar during the week of Oct. 18-22 as a series of interactive online gatherings on how journalists can cover today's most pressing issues in education beyond high school.
Centered on the theme of "This Critical Moment," the event offered journalists high-quality, convenient training on issues, including the health challenges confronting campuses, the growing debate over how to teach about racism, and the causes and impact of declining enrollment.
Attendees were invited to take part in sessions held each day during a window from approximately noon to 2:30 p.m. Eastern time, Monday through Friday. To reduce "Zoom fatigue," participants were provided ample breaks.
Journalists were able to meet and ask questions of policymakers, researchers and leaders. Participants were also offered data training and chances to meet in small groups with fellow journalists. The event featured the always popular "Top 10 Higher Education Story Ideas" presentation by Inside Higher Ed's Scott Jaschik.
While EWA originally planned to hold our fall Higher Education Seminar in person, concern for our members' health and safety prompted us to reconsider amid the resurgence of COVID-19 cases across the country.
Attendance was free but limited to EWA Journalist, Student, and Supporting Community members. EWA membership is free for all professional and student journalists, so please join!
To see the program for the Seminar, click the image below!