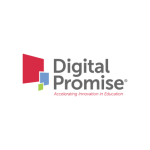 Center for Inclusive Innovation
Closing Date: January 2, 2024
Communications Manager – Center for Inclusive Innovation
About Digital Promise Global
Digital Promise Global is an independent, bipartisan 501(c)(3) nonprofit organization working to expand opportunity for every learner. We work with educators, researchers, technology leaders, and communities to design, investigate, and scale innovations that support learners, especially those who've been historically and systematically excluded. 
About The Center for Inclusive Innovation
The Center for Inclusive Innovation, launched in 2020 as a Digital Promise Center of Excellence, supports school districts and communities in transforming education by employing an inclusive research and development (R&D) approach—Inclusive Innovation. The work we support is wholly embedded within schools working in partnership with communities and are led by those who are most impacted by the challenges. By employing a model of Inclusive Innovation, our work is designed to spur systems change by engaging districts in deep collaborations with the students and families to co-design solutions that are anchored in their highest needs. Over the past three years, we have been facilitating this work with over 40 school districts on topics ranging from data interoperability to mental health, to the retention and recruitment of teachers of color, to adolescent writing and classroom discourse about race and social justice.
Job Description Summary
The Communications Manager will be responsible for ensuring that the Center for Inclusive Innovation's work is accessible, engaging, and relevant to a wide range of audiences – including educators, communities, entrepreneurs, researchers, policy makers, and education thought leaders. The Communications Manager will lead and execute the strategic plan for communications, advocacy and field engagement with the goal of elevating the profile of the Center as a national leader advancing equity and excellence in education through education R&D. The Communications Manager will be responsible for creating communications messaging and tools, drafting powerful stories of the projects and the work, identifying and disseminating resources through all internal and external channels (organic and paid), including through social media, newsletter and other marketing and communications outreach vehicles.
The Communications Manager will report to the Digital Promise Senior Director of Communications and work directly with the CII Director of Systems and Operations Strategy and in collaboration with the Chief Inclusive Innovation Officer and the Center for Inclusive Innovation team in support of communications for the Center for Inclusive Innovation.
Responsibilities: 
The Communications Manager will implement the Center's strategic communications, advocacy, and field engagement vision and plan to include:
Manage all Center for Inclusive Innovation communications, advocacy, marketing, and social media efforts
Develop strategic and creative concepts and ideas for promoting the work of the school districts and communities engaged in Inclusive Innovation
Develop and manage the communications and engagement plan with an emphasis on reaching audiences through new channels/vehicles and collaborations
Develop and manage the Center's editorial calendar, to include the creation of stories, articles, videos, and other communications assets
Work in partnership with Digital Promise Communications and CII leadership on the development and implementation of external communications efforts, including press releases, press pitches, website updates, newsletters, blog posts, and social media
Manage all internal communications, including email, social media, and virtual platforms
Act as a liaison between the CII and Communications teams to ensure that the Center's priorities and core messages are incorporated into organization-wide communications efforts
Work closely with the Senior Communications Manager, League of Innovative Schools (Networks) to determine opportunities for integrated communications to share the CII work with the League and engage districts in Inclusive Innovation
Collaborate with the CII team to research, plan, and execute public field events (e.g., conferences, press events, collaborative events with partners, etc.), including the Center's annual convening
Manage event and communication platforms, such as Swapcard
Qualifications:
Bachelor's degree, plus five years of relevant experience in implementing communications and advocacy – education sector experience preferred
Demonstrated passion for and commitment to advocating for equity in education and an understanding of communicating to diverse audiences
Excellent written communication skills (samples required)
Strong interpersonal communication skills, with proven experience building and prioritizing relationships and collaborating with internal and external stakeholders
Excellent project management skills with an emphasis on attention to outcomes, collaboration with key stakeholders across departments, executing against timelines and budget, and quality of work
Experience leading successful advocacy campaigns and coalitions
Demonstrated knowledge and/or experience in developing social campaigns, writing compelling social content and managing social media accounts
Proven experience in working independently in a fast-paced, matrixed environment and manage competing tasks, deadlines, requirements, and decisions
Proficiency in all Google Suite tools; preference for experience working with Slack, Asana, and Salesforce
A team-oriented mindset, creative thinking, and a self-starting, positive attitude
Ability to travel to education events and conferences
Enthusiasm around and knowledge of emerging trends, technologies, and support systems
A passion for lifelong learning, a team mentality, creativity, and a positive "yes-and" spirit
 At Digital Promise, we also seek candidates with:
A strong commitment to improving equity and accessibility in education
A commitment to anti-racist approaches to our work
Diverse life experiences
An interest in redesigning learning systems
Experience collaborating with cross-functional team members to ensure information is shared, projects are completed on time, and goals are reached.
Compensation
The full-time salary ranges for the Communications Manager position based on geographical regions are listed below, with exact salary depending on experience.
National: $99,450 – $108,225
California: $121,550 – $132,275
DC & NYC: $110,500 – $120,250
To Apply
Please apply and submit your resume, cover letter, and salary requirements. Applicants are encouraged to submit their materials as soon as possible. Submissions are reviewed on a rolling basis until the search is successful.
Digital Promise is an equal opportunity employer and considers all applications without regard to race, color, religion, creed, gender, national origin, age, disability, marital or veteran status, sexual orientation, or any other legally protected status.
---
Job Seekers: Help EWA by mentioning that you found this career opportunity on EWA's website.
Employers: Looking to find the best talent in education reporting and communications? Post your employment opportunities with EWA.