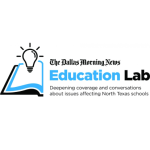 The Dallas Morning News
Closing Date: December 31, 2022
Open Until Filled
Engagement Reporter
Position Description:
Are you a community-focused reporter who loves to talk with students, parents and teachers about how education policies and politics impact them? Do you excel at connecting with diverse audiences to understand the challenges they face and identify potential solutions that help children? The Education Lab at The Dallas Morning News is seeking an engagement reporter to join our dynamic team that explores the issues facing our students and schools.
Our Education Lab emphasizes accountability and solutions-based journalism as well as organizes events to spark community conversations about what's impacting classrooms across Texas. The Education Lab is supported by community funding from foundations and philanthropists.
We're looking for an education nerd to join our team who brings both strong journalism fundamentals and a passion for reaching diverse communities. The engagement reporter will work as part of a five-member team that leads Texas in quickly providing context to breaking education news as well as identifying and writing revealing, smart enterprise stories.
The engagement reporter will help connect the Education Lab to audiences by:
This journalist will help engage readers in our education coverage and identify the information needs of our audience by:
Reporting and writing on education stories
Using social media and tools (such as Hearken) to report and engage with sources and readers
Organizing events — both virtual and in-person in the near future — to spark civic discourse on education
Producing a weekly education newsletter with the help of the editor and reporters
Assisting the Education Lab editor on quarterly reports that track key metrics of stories and the impact these stories have on public policy
Assisting the Education Lab editor on grant reports
Such interactions are key to our reporting on high-priority issues, such as the impact of COVID-19 on schools and learning; equity in education; state funding and policy issues; and college/career readiness.
Job Requirements
The ideal candidate will have sharp news judgment and a keen ability to be selective about what's most important to our communities. This journalist will work with the Education Lab as we engage readers in our coverage and identify the information needs of our audience.
We're looking for candidates with at least two years of related experience in journalism who have a bachelor's degree in journalism or a related field. We prefer candidates with prior education reporting experience. Candidates must have an understanding of how best to serve our digital and print audiences. Education is a data-driven beat, so it is a huge plus in knowing how to use Excel, Access or other data tools.
The Dallas Morning News believes a collaborative and inclusive work environment is essential to a thriving workplace for all. We are in search of a diverse group of candidates. It's our mission to reach underserved communities, many of which include Spanish-speaking immigrants. Fluency in Spanish is an advantage.
We are transitioning our staff into working in our offices two to three days a week. We believe this is key to a thriving and inclusive workplace that develops and supports one another as we produce revelatory work with our community in mind daily.
News you can use regarding Dallas Morning News: The Dallas Morning News is Texas' leading daily newspaper with a bedrock journalistic reputation, intense regional focus and close community ties. We are dedicated to covering the issues that impact everyday lives in North Texas. More than 12 million people a month read The News' content published in print, online or digitally. Founded in 1885, The News maintains one of the largest newsrooms in Texas and has won nine Pulitzer Prizes.
We believe our community is best served by a diverse newsroom that fosters an inclusive work environment for people from all backgrounds, regardless of race, gender, age or sexual orientation.
Interested candidates should apply by July 15.
---
Job Seekers: Help EWA by mentioning that you found this career opportunity on EWA's website.
Employers: Looking to find the best talent in education reporting and communications? Post your employment opportunities with EWA.