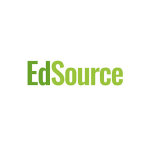 Closing Date: September 30, 2023
Senior Reporter
EdSource seeks a senior education reporter to join its award-winning team to shed light on the complex and critical issues facing California's K-12 public schools. We're looking for a seasoned reporter who knows how to make sense of education policy while also writing artfully and analytically about what's working and what's not inside the classroom. The sandbox is big for this beat – achievement gaps, declining enrollment, policy reform and student wellness, to name a few. There's also opportunity to tackle stories that straddle K-12 and post-secondary issues.
This job is great for someone who likes to dig beyond the headlines, seeking documents and data to evaluate education programs and policies.  We are looking for stories that no one else is doing in California. EdSource has a strong data analysis and data visualization team to support the development of in-depth and investigative stories.
EdSource sets the stage for education coverage in California, with the state's largest team of education reporters. The successful candidate will be passionate about education and resourceful, with a deep understanding of how to write with impact, as well as to place important local issues within a state and national context. The senior reporter will have range and know how to juggle longform analysis, short news updates and in-depth enterprise. If you're right for this role, you will have a knack for distilling complex topics and education jargon into clear, engaging storytelling that sheds new light on issues and trends in education.
Founded in 1977, EdSource is an award-winning independent, nonprofit organization with a long track record of reporting on important education issues. While its primary focus is on California, EdSource covers issues within a national context.
The senior reporter will join an influential and growing organization recognized as an authoritative source of education reporting in a state with the nation's largest system of public education.
This position is based in California. EdSource headquarters are in Oakland, although reporters work from around the state.
Qualifications:
At least 7 years of daily journalism experience;
Ability to work independently under deadline;
Experience and/or passion in education journalism preferred;
Ability to work with spreadsheets to analyze data;
Audio or video reporting skills are a plus.
Duties and Responsibilities:
Write impactful and insightful stories, including enterprise and short-form news;
Maintain an active online presence, as well as develop new ways to build an audience;
Work with data journalist and data visualization specialists to examine data;
Contribute to production of EdSource newsletters, as needed;
Other duties as assigned.
EdSource offers a comprehensive benefits package that includes a range of medical plans, a retirement savings plan, generous vacation leave and paid holidays, as well as professional development opportunities. The hiring  range for this position, which can be based remotely in California is $70,000 – $100,000.  The compensation actually offered will take into account internal equity and also may vary depending on a candidate's geographic region, job-related knowledge, skills and experience, among other factors.
To Apply:
Send a cover letter, resume and provide contact information for three references, as well as links to your social media accounts and links to, or attachments of, three-to-six examples of your journalism to jobs@edsource.org. Please include the job title in the subject line and, in the body of the email, how you heard about this opportunity (job post, referral etc.)
EdSource is an equal opportunity employer and an organization that values diversity. People from all diverse backgrounds, all races, colors, origins, ancestries, creeds, religions, genders, ages, disabilities, veteran statuses, sexual orientations, and marital statuses are strongly  encouraged to apply.
---
Job Seekers: Help EWA by mentioning that you found this career opportunity on EWA's website.
Employers: Looking to find the best talent in education reporting and communications? Post your employment opportunities with EWA.