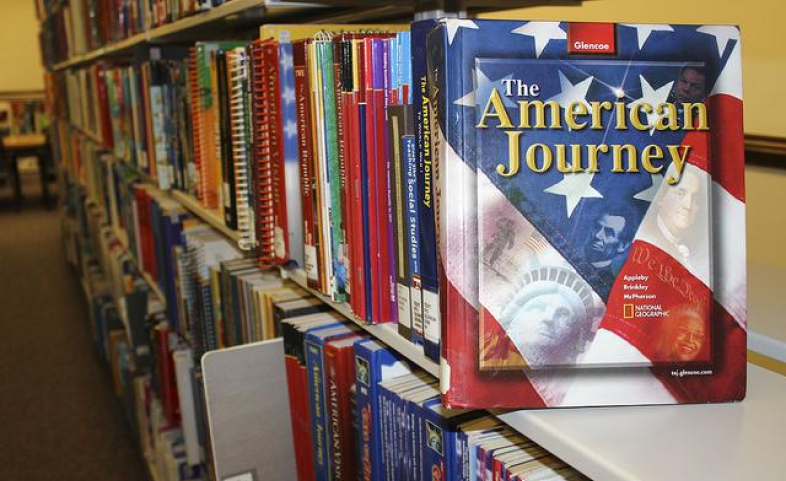 Common Core and Textbooks: Out of Alignment?
Five years after the Common Core standards were completed, how have educational publishers responded? Where are schools turning for instructional materials? And what's the best way to gauge whether a textbook is truly aligned with the new math and English/language arts standards?
Five years after the Common Core standards were completed, how have educational publishers responded? Where are schools turning for instructional materials? And what's the best way to gauge whether a textbook is truly aligned with the new math and English/language arts standards? These were among the questions tackled by a panel of experts at the recent Education Writers Association seminar in Chicago.
Leading publishers have faced criticism for what some see as a failure to adequately rethink their instructional materials in light of the new standards. In March, a review of many K-8 math textbook series found most of those examined to lack sufficient alignment to the Common Core.
Panelist Morgan Polikoff, an assistant professor of education policy at the University of Southern California, said "the textbooks that came out immediately after the Common Core were often repackaged versions of previous textbooks." In fact, an analysis Polikoff issued in early 2014 found "substantial alignment problems" for several 4th grade math textbooks adopted in Florida that were marketed as meeting the Common Core.
But more recently, he's seeing evidence that publishers are making strides.
"As I understand it, most or all of the publishers have created new textbook series that are wholly created in response to Common Core," Polikoff said at the event.
At the same time, with resources such as Engage NY – a website developed by the New York State Department of Education that provides a variety of instructional materials vetted for alignment to the Common Core – publishers are becoming concerned about whether their products will continue to hold a strong market share, Polikoff said.
"I think that there's reasonably good anecdotal evidence that a lot of places are moving away from textbooks altogether," Polikoff said. "There's all of these resources that are available online now."
EWA reached out to several leading publishers to participate in the panel, but they declined.
As the marketplace transitions to Common Core, the nonprofit EdReports.org has emerged to review instructional materials to gauge alignment to the standards for math and English/language arts.
The first round of teacher-led reviews, issued in March, found that most of the 20 sets of K-8 math materials analyzed did not meet EdReports criteria for alignment to the Common Core. EdReports was launched last year and is supported by several philanthropies, including the Bill & Melinda Gates Foundation and the William and Flora Hewlett Foundation.
The EdReports evaluations involve a series of three, sequential "gateways" to determine the "alignment and usability" of instructional materials. If a particular textbook does not meet the criteria in the first gateway, the review ends and the materials are deemed to not be aligned.
"In our gateway system, we stop our review if it doesn't have certain elements," said Eric Hirsch, the group's founding executive director. "First and foremost, [we look for] focus and coherence."
The second and third gateway criteria include rigor and instructional support.
In its review of K-8 math materials, Hirsch said the group found only one series that met its criteria for alignment with the Common Core at all grade levels. Of 87 individual textbooks reviewed, only 31 met criteria for focus and coherence.
But panelist Diane Briars, the president of the National Council of Teachers of Mathematics, takes issue with the EdReports.org review process, questioning its methodology.
"If you don't meet the gateway, you don't get reviewed further," she said. "That gateway elimination process in and of itself is antithetical to the goals of saying, 'We want districts to have as much info about the program as possible to make a good decision.'"
Briars, a former math teacher and district math official herself, is also concerned with classroom teachers' going on the Internet to find instructional materials.
One issue with searching for instruction on the web, she said, is coherence.
"Pulling from here and pulling from there and trying to put together the pieces is extremely dangerous," she said.
In Illinois, every district has the opportunity to make its own decisions on textbooks, according to Dana Cartier, a panelist who serves as a math specialist for the Illinois Center for School Improvement, which was created by the Illinois State Board of Education.
"We have districts using all kinds of different textbooks. We have districts retaining their own curriculum, using whatever they have in the classroom with supplements online," said Cartier, who also is a reviewer for EdReports.org.. "What I do hear is that they're very happy to start finding more tools and resources that help them determine if what they're using is appropriate to use."
Those resources could come in the form of textbooks like Everyday Mathematics, a pre-K-6 curriculum that's been extensively revamped to align with the Common Core.
"The problem we start with is how do we give the best possible tools to elementary school teachers to help them do their job better," said Andy Isaacs, a panelist who leads revisions of Everyday Mathematics and also is a director at the University of Chicago's Center for Elementary Mathematics and Sciences Education.
Isaacs said that the center has studied the Common Core closely in making revisions, but the standards don't provide the level of specificity that a teacher needs.
With the Common Core math standards, publishers also face new challenges. The standards' emphasis on applied knowledge means students must show that they can actually use the math they've learned, said Isaacs.
"That's not like moving the furniture around," he said. "That's like an addition to your house."
The Everyday Mathematics curriculum is up for an EdReport.org review this spring.
With some 14,000 school districts nationwide, getting a handle on what materials school systems are using to teach the Common Core is no easy task.
"But I think it's a really important one for a lot of reasons, not the least of which is that you could use those data to do some interesting investigations," Polikoff told reporters.
Journalists could find out about their own local process to create a story about how their district makes the decision on textbooks and curriculum, Polikoff suggested.
Despite the changing environment, panelists still see the need for a set, engaging curriculum to guide teachers as they provide instruction based on the Common Core.
"[Textbooks] need to be engaging for everybody," Briars said. "As a teacher using a curriculum on a regular basis, I want that textbook to be fairly engaging to me."