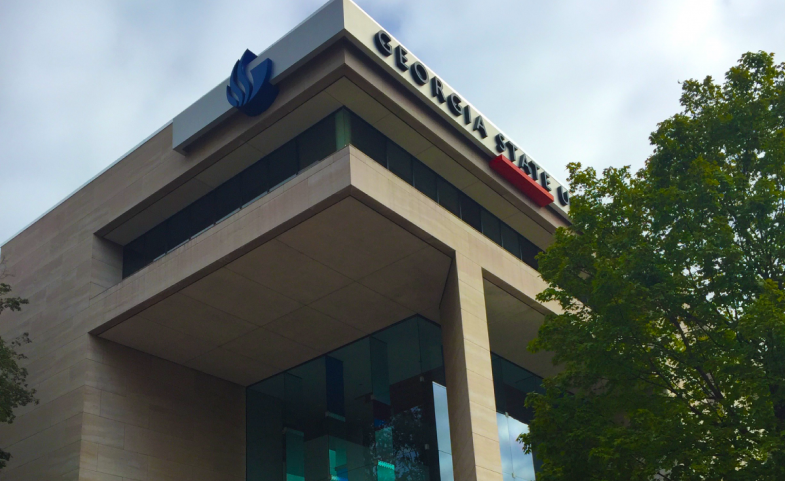 How Georgia State Dramatically Changed Its Graduation Rate (and How Other Universities Can, Too)
Unlike many other colleges struggling with high dropout rates, Georgia State took (in many cases, expensive) actions that seem to have actually worked. Today, 53 percent of their freshmen graduate within six years.
In 2006, Georgia State University had a problem. The graduation rate was an abysmal 41 percent. And in many cases, the dropouts were seniors who just needed a few credits more to earn their bachelor's degree.
Unlike many other colleges struggling with high dropout rates, Georgia State took (in many cases, expensive) actions that seem to have actually worked. Today, 53 percent of their freshmen graduate within six years.
While that may seem low, that's about 10 percent above the average rate for schools like Georgia State, where most students come from low-income or disadvantaged families, according to an analysis by the Washington Monthly. Even more remarkably, Georgia State is one of the few colleges in the country in which African-Americans and other minorities succeed academically at the same rate as white students.
Georgia State's decade-plus campaign to help more of its students defy the odds is part of a national trend: The 942 American colleges remaining where more students drop out than finish are facing increasing pressure to improve, in part because the job market is getting increasingly grim for anyone without a bachelor's degree. It's also being driven by financial pressures.
As government support for higher education wanes, retaining enough students to increase enrollment just an additional one percent translates into additional revenue of $3 million from tuition alone, said Georgia State's Vice Provost, Timothy M. Renick, who runs the school's student retention program.
Researchers and leaders in innovation discussed the realities and challenges of trying to raise the graduation rates across the board for colleges – which rests at just 59% for bachelor's-seekers nationwide – in a discussion at the Education Writers Association's higher education conference held Oct. 2-3.
Diagnose the Problem
Georgia State first hired a consultant to help them find out who was dropping out and why. The consulting group, EAB, combed through 2.5 million grades and course records across 10 years of students to search for what was tripping students up on their path toward graduation.
They identified 700 "red flags" that indicated students might be headed off the college path.
One warning sign: Earning a grade of "C" in an entry level class. Students who barely passed an entry level course generally struggled in more advanced classes, increasing their likelihood of dropping out, Renick explained. Data showed that while A or B students would go on to graduate at a rate of 75 percent, the graduation rate for C students dropped to 25 percent, he said.
The consultants also found that the school failed to clearly  articulate requirements for graduation, bombarded students with so many emails that the students just ignored them, and had burdened the  advisors who were supposed to help students with caseloads averaging 700 students – too many to enable them to offer much personalized help.
Build Support Staff
So despite suffering budget cuts, the  university allocated an extra  $2 million to hire 42 additional counselors in 2012,  bringing their advisors' average caseload down to 300 students. It also equipped them with big-data tools such as an alert system that flagged when students were falling behind on degree requirement.
To give struggling students even more advising help, GSU also started paying students who were high achievers in classes to act as peer tutors.
GSU advisors also now call in students whose grades are slipping to refer them to tutoring or other pathways if the material is too challenging for them, and advise them against the more difficult course that could delay their graduation.
Other kinds of colleges are reaping benefits from providing more guidance on pathways through college. A quarter of community college students who enroll each fall don't return in the spring, and only 39 percent graduate within six years.
That's one reason why the Community College Research Center encourages two-year schools to emphasize "guided pathways" — a method of advising that includes having  students choose a "meta major," or a broader topic they desire to study, and begin choosing courses from there, that way if they change their major they can already have a plan in place of credits earned toward their degree.
Advisors will also encourage students to take on fuller course loads, as Laura Gambino, a scholar with the Community College Research Center, said they've seen persistence toward graduation when students keep their course momentum.
Gambino attributes this to what her work calls "cafeteria-style" education, where an overwhelming number of options and no clear path on how to fit all the pieces together to create a degree leaves students held up with credits they don't need and courses that don't work toward their major. She said the many choices leads students to believe they can just choose what looks easiest to advance toward their degree.
"It's like my daughter at a buffet, sometimes you just choose three desserts," Gambino said.
Create 'Meta' Majors
Georgia State has also adopted the policy of meta majors in the form of 6 or 7 "buckets" that collect the 90 majors the universities offer into more comprehensible groups of study. Instead of students being shoehorned into one major choice, undecided students can choose between STEM (science, technology, engineering and math), business, arts and humanities, policy, health, education and social sciences. These effectively form cohorts where students within a bucket will take classes together, and be able to learn more about career options within their umbrella field of study.
"The point is to have students understand from the very beginning what they're pursuing and why," Renick said.
Bridget Burns, the executive director of the University Innovation Alliance, said schools like GSU have found that financial barriers tend to be the largest block to a student's completion. Small fines like overdue library fees, or paying $500 for a semester's worth of textbooks, can stall a student's degree completion progress.
To address this issue, Georgia State began instituting a Panther Retention Grants program, which gives out an average award of $900 to offset costs like textbooks, which can be hundreds of additional dollars per semester that low-income or first generation students didn't realize they needed to budget for.
A large part of Georgia State's efforts have been in conjunction with the University Innovation Alliance, which culls efforts from 11 major public research universities across the country to focus on what actually works when it comes to getting students to complete their degrees and figuring out how to scale practices at other universities. For instance, the completion grants were used at Indiana University–Purdue and Temple University to similar effect. And more colleges are adopting the strategy.
The University of Akron has adopted a similar microgrant program, and gave grants averaging $800 each to 1,000 students between 2013 and 2016. Ohio State started awarding completion grants in the fall of 2017.