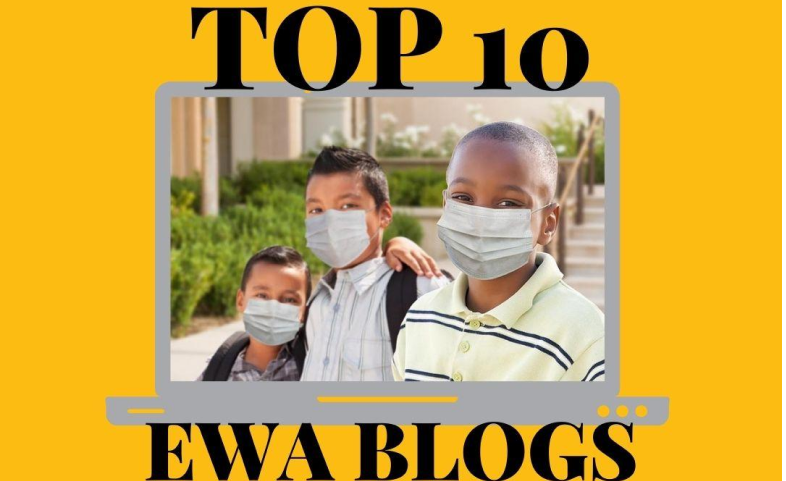 Top 10 Most-Read EWA Blogs of 2021
Journalist members wrote practical resources to help their fellow reporters all year long.
Supporting our talented journalist members is one of the best parts of my job here at the Education Writers Association.
Many of them have written insightful, well-researched and, yes, educational blog posts over the course of the year. And several took time from full-time reporting jobs to write these resources – all with the purpose of helping their fellow journalists do their jobs.
I'm proud of all the work our members have done this year, but for this particular post, I reviewed the backend data to bring you the top 10 most-read EWA blogs of 2021!
Discover which blogs made the list while getting practical advice for your beat.
10. "Free College Tuition Isn't Enough: Fresh Story Ideas on the Dropout Crisis"
This fall saw some college leaders hoping free tuition and other incentives would boost enrollment after declines caused by the COVID-19 pandemic.
In EWA's No. 10 most-read article, Jamaal Abdul-Alim of The Conversation explained the undercovered social service programs that supplement free tuition programs and help sustain low-income students pursuing postsecondary degrees. He also provided fresh angles journalists can use to localize their stories.
"To help shine the light on this issue, this reporter reached out to experts to see what kinds of programs and services – outside of those provided by an individual school – can help students deal with economic pressures beyond the cost of college itself," Abdul-Alim wrote.
Read the blog by Jamaal Abdul-Alim.
9. "The Top Higher Education Stories Reporters Should Cover in 2022"
EWA members who attended our virtual 2021 Higher Education Seminar saw Inside Higher Ed Editor Scott Jaschik predict next year's top education issues and deliver numerous story ideas.
And for those who missed it, freelancer Alina Tugend had your back with a recap that became EWA's ninth most-read post of 2021.
"From COVID-19 relief funding to massive endowments, money – which institutions have it, which don't and how it is spent – will be key themes in higher education stories over the next year," Tugend summed up Jaschik's seminar session.
Read the blog by Alina Tugend.
8. "Covering School Board Meetings? Tips to Tackle the COVID-19, Critical Race Theory Culture Wars"
When the culture wars over critical race theory exploded this past summer, Olivia Krauth of the Courier Journal live-tweeted a CRT protest at Kentucky's largest school district, showing how misinformation was widespread among the crowd.
I then asked Krauth to write what became EWA's eighth most-read article of the year. Krauth's piece is full of practical tips for new and veteran education reporters.
"Division over COVID-19 and racial justice is playing out in school board meetings across the country, turning typically sleepy gatherings into politicized and, at times, volatile events," she explained. "When meetings turn contentious, reporters need to take care to avoid amplifying misinformation, and provide context on key issues and the board's authority."
Read the blog by Olivia Krauth.
7. "How is the Housing Crisis Affecting College Students and Faculty? 5 Things to Consider."
Police ordered many families to leave their homes after the Centers for Disease Control and Prevention's eviction moratorium expired in August. The pandemic's housing crisis also affected higher education, which Open Campus's Charlotte West discussed in EWA's seventh most-read piece.
West provided five questions to ask when reporting on housing and education. She also gave in-depth background, data and research on the issue and spoke with housing and education officials around the country.
"Housing affordability, broadly speaking, is an issue everywhere," University of North Carolina, Wilmington Professor Kevin McClure told West. "It's driving up prices for people in lower wage jobs," many of whom are students.
And, he added, "Many of my higher ed staff and faculty friends are noting how housing prices are making it hard to recruit because salaries haven't kept pace."
Read the blog by Charlotte West.
6. "5 Questions to Ask Educational Leadership Before Schools Reopen This Fall"
This past summer, EWA's Emily Richmond accepted an assignment from The New York Times. She interviewed four principals from around the country about their challenges and shortfalls, and the lessons they learned during the pandemic.
After writing her piece for the Times, Richmond then drafted a new EWA resource, which became the No. 6 most-read story of the year.
Richmond shared additional insights from her conversation with the principals and advised education writers to ask school leaders five specific questions.
Read the blog by Emily Richmond.
5. "Miguel Cardona: Why Schools Should Reopen Fully and Train Their Police Officers Better"
U.S. Education Secretary Miguel Cardona spoke to EWA members at our 2021 National Seminar, just two months after his Senate confirmation.
Cardona shared his thoughts on numerous topics, including student loans, free college, school resource officers, The New York Times' 1619 Project and more. U.S. News & World Report's Lauren Camera captured the highlights in our No. 5 most-read blog.
Though written last spring, Camera's piece still gives insight into the Biden administration's educational agenda.
Read the blog by Lauren Camera.
4. "8 Questions to Ask About College Enrollment Numbers"
Fall postsecondary enrollment has dropped 5.8% since 2019, according to October 2021 data from the National Student Clearinghouse Research Center.
The downward trend continues to make Kathryn Palmer's No. 4 most-read post relevant. The Arizona Daily Star journalist provided eight questions to ask and in-depth information about college enrollment numbers for reporters seeking to tell stories about how the ongoing public health crisis is affecting higher education access.
"Ever since the Great Recession, the number of college students has been slipping very gradually year-over-year," said Doug Shapiro, executive research director of the National Student Clearinghouse, which has tracked a decade's worth of enrollment numbers. "But this year's drop was more like falling off a cliff."
Read the blog by Kathryn Palmer.
3. "Are 'Merit'-based Education Admissions Practices Racist?"
The 74th National Seminar provided a session discussing test-optional policies, lotteries, affirmative action and more.
In our No. 3 most-read article, Eric Stirgus of The Atlanta Journal-Constitution, recapped the May 5 session in which experts debated "the impacts of – and potential improvements to – the way admissions officials at all levels of education currently use 'merit' indicators to decide who gets access to such selective schools. (We also give you the video from this session!)
Read the blog by Eric Stirgus.
2. "Pulitzer Prize Winner: How to Cover Stonewalling or Antagonistic School Boards and Leaders"
When Investigative Reporters and Editors asked us to recommend an EWA member for a story about dealing with difficult school board members and district leaders, Scott Travis was at the top of the list.
Not only did Travis – a reporter for the South Florida Sun Sentinel and Pulitzer Prize winner – agree to write a magazine feature for IRE, but he also wrote a related piece for EWA.
The No. 2 most-read blog, which we published in July, offered practical advice for reporters as school board meetings made headlines and as journalists carried out their day-to-day duties. Travis's blog offers something for everyone on and off the beat.
Read the blog by Scott Travis.
1. "Covering Critical Race Theory: Resources and Tips to Debunk Misinformation"
It may, or may not, surprise you that a blog about critical race theory was widely read on EWA's website this year.
I just so happened to write the No. 1 most-read blog. This wasn't something I expected at all, even though the more than 40-year-old academic framework dominated headlines, Nexis searches and school board meetings in 2021.
The topic gained notoriety in the summer of 2020, when Christopher Rufo, a self-described conservative "brawler," published a critique of civil rights training curricula he said was based on CRT. So, I gathered some resources to share with our members. I hope it helps!