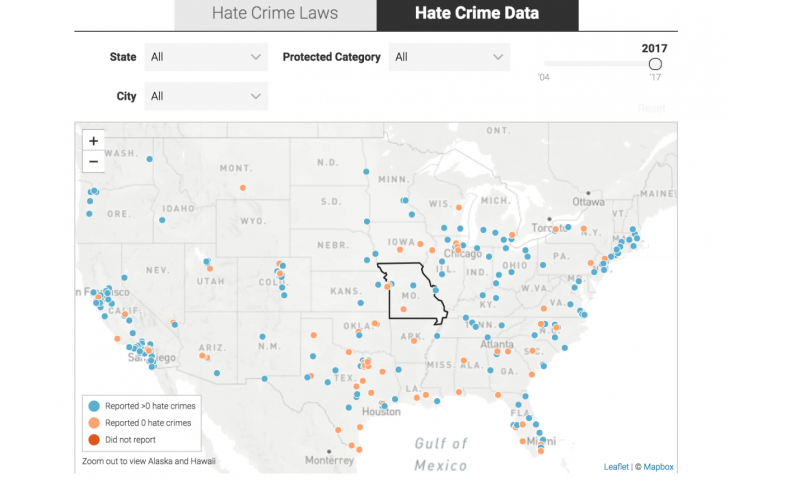 Where to Find College Hate Crime Data
Five organizations publish numbers and information on hate crimes.
Reporters looking for data and background on college campus hate crimes have limited and less-than-ideal options, says Dan Bauman, a data reporter for The Chronicle of Higher Education.
Hate crime data needs to be analyzed carefully because the legal definition depends on the offender's motivation. The FBI defines a "hate crime' as a "criminal offense against a person or property motivated in whole or in part by an offender's bias against a race, religion, disability, sexual orientation, ethnicity, gender, or gender identity."
In addition, different police officers may disagree over where to draw the line between permissible (if offensive) free speech and a crime such as threatening a person.
"As with any piece of reporting, data requires follow up and verification," Bauman says.
Here are links to five of the most commonly cited sources of hate crime data and background:
The Anti-Defamation League: This organization, founded to fight anti-Semitism, now tracks many kinds of suspected hate crimes, and offers a "hate symbol" database. It also makes staffers available to provide information to journalists. Bauman noted that, like many of the hate crime databases, the one produced by ADL is basically a collection of anecdotal data, which it doesn't necessarily fact-check independently.
The Chronicle of Higher Education: Bauman summarized and created handy visualizations of  of Department of Education hate crime data.
FBI: The FBI makes its hate crime database available to the public. Bauman also recommends the University of Michigan's Institute for Social Resources, which he says has made the FBI Uniform Crime Report data a little easier to use.
Bauman cautions that the FBI data is created by police reports, so campuses without a police department aren't counted.
Southern Poverty Law Center:The SPLC maintains a blog that records reports of hate incidents committed by what it classifies as the "radical right." The organization has generated controversy over which organizations it labels "hate groups." Bauman said the organization's collection of hate crime news reports is less controversial, since it is just a list of articles. "As with any source, you must assess it critically," Bauman advises.
U.S. Department of Education: The federal Clery Act requires colleges and universities that use federal financial aid programs to report campus crime statistics and security information annually to the U.S. Department of Education. Easily accessible information from nearly 11,000 campuses can be found on the department's website.