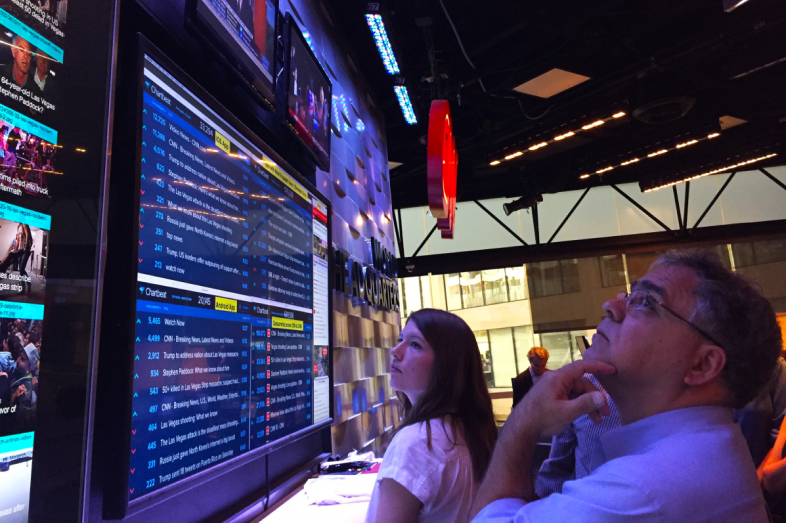 Building Your Digital Audience: Tips From CNN
At Atlanta-based news giant, data helps guide coverage
To engage and grow their digital audience, journalists at CNN study the numbers.
That sort of data is front-and-center at the broadcast news giant's Atlanta headquarters – on the screens throughout the newsroom and even emphasized in the newsroom layout. Look at the large screens at the front of the room, and you can see what topics are trending on social media, popular online searches, how certain headlines perform, and how much traction stories get on social media.
A wide aisle created in front of the screens and running through the center of the newsroom is designed to encourage staffers to gather to discuss the data and see how the audience is accessing their content, Michael Toppo, the vice president of video programming for CNN, recently said.
"Part of this is about data, and part of it really is about culture," he said. "How do you … help your culture evolve to think about the audience?"
'CNN Gets More Clicks Than You'
At EWA's higher education seminar this month in Atlanta, Toppo talked to reporters about the development and mastery of the network's digital machine during a tour of its headquarters and later at a session titled, "Why CNN Gets More Clicks Than You."
CNN Digital, which includes the network's mobile and social platforms, landed 119 million unique visitors in August, more than any other news source, according to network figures.
CNN.com is the only mainstream news website (not counting sports-focused ESPN) that ranks among the most visited sites in the U.S. It comes in at No. 23 – behind behemoths such as Google and Facebook as well as the more lowbrow PornHub, according to estimates from Alexa, an Amazon-owned media data and analytics company. No other broadcast news site ranks in the top 50, according to those estimates.
The conversation about content and best serving the audience happens in newsrooms across the country. A common challenge for journalists and media outlets is to figure out what consumers are consuming and how to meet their needs.
"CNN, like a lot of our newsrooms, is spending a lot of time and attention and money on data – finding out what people are doing, what people are watching, how long they are watching," said Greg Toppo, an education reporter at USA Today and the president of the EWA Board of Directors, when introducing Michael, his brother.
"We're all under similar pressures to find out what our consumers are consuming, what they're paying attention to, what they like, what they don't like, and what they want more of."
Shared pressures aside, one thing is likely true: CNN gets more clicks than you.
Making the best use of those forces involves knowing the audience, what they want, and how they want it. It helps to think like a viewer or consumer.
With video, viewers immediately notice the headline, the image, and the duration, which together convey a promise of what to expect. Even a minute can be too long if the video doesn't deliver on that promise, Michael Toppo said. Viewers also have limited time and lose patience if content doesn't quickly get to the point.
"Just give me the thing I need to see," Michael Toppo said. "A lot of times, that's why we fail to deliver on the promise, because what happens is, they watch it, we don't give you what you wanted."