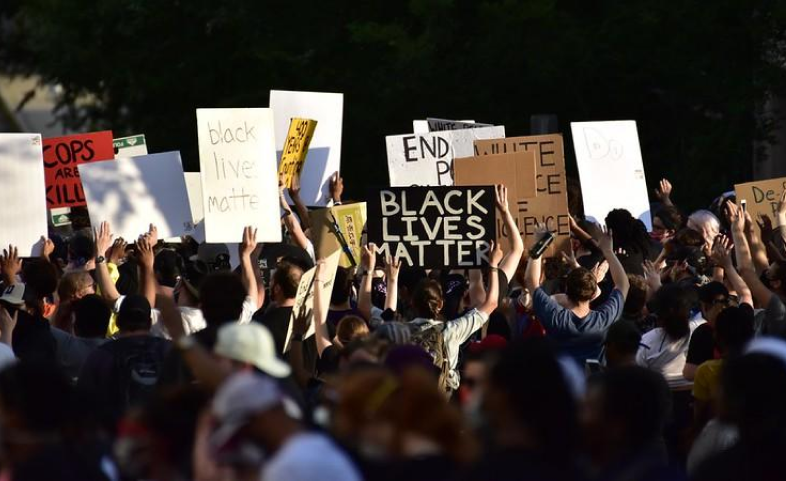 Covering Protests? Here's What You Need to Know.
Education reporters on the job among those arrested, injured at recent demonstrations protesting death of George Floyd.
Education reporters across the country are covering the protests that have flared up in response to the death of George Floyd, who died in Minnesota last week after a police officer knelt on his neck for more than eight minutes. (Some officers involved in the incident, which took place during an arrest in a neighborhood south of Minneapolis, now face criminal charges.)
The EWA members covering protests range from experienced education reporters like Claire McInerny of KUT in Austin, Texas, to newcomers to the beat like Mark Johnson of the Lansing (Michigan) State Journal.
On Sunday night, radio reporter and longtime EWA member Adolfo Guzman-Lopez of KPCC public media was covering a protest in Long Beach, California, when he was hit in the throat by a rubber bullet. Guzman-Lopez later tweeted that he was intentionally targeted by the police officer who fired it.
Here are some other EWA Resources that may be valuable:
Avi Wolfman-Arent of WHYY public media in Philadelphia, also an EWA member, was arrested while covering a protest, apparently after neither he nor many protesters heard an order to disperse. He was standing on the steps of a building, preparing to send a tweet, when he was tackled from behind by a police officer, according to a video narrative he posted.
To be sure, as McInerny pointed out on Twitter, journalists represent just a small fraction of those arrested and injured during the weekend's events. But there's also unsettling evidence that journalists are being targeted for harm by police, as The Washington Post and others have reported. Among them: David Jesse of The Detroit Free Press, who was named the nation's top education beat reporter in 2019:
One of the craziest nights of my career. Got tear gassed multiple times. Police shot rubber bullets at us even thought we were moving where they wanted us to go, holding up our press passes and yelling media. pic.twitter.com/bVtaUkXiwI

— David Jesse (@reporterdavidj) May 31, 2020
EWA has a wealth of resources for education reporters on issues of race and equity, such as blog posts on how to cover race responsibly and how equity factors into education journalism more broadly. But covering protests — including those that turn violent, as has been the case in recent days — requires its own kind of preparation and diligence.
And you don't have to be actively covering protests on the ground to experience stress related to current events. Reporters need to be mindful of their own mental health and well-being when covering crises or other emotionally charged issues, said Kimina Lyall, deputy director of the Dart Center on Journalism and Trauma Asia Pacific, during a recent interview on the EWA Radio podcast. That can mean setting limits on screen time, making sure you get enough exercise and rest, and finding friends and colleagues to talk with about what you're feeling.
If you go out to cover protests and demonstrations, here's a brief list of resources and recommendations for best practices from experienced journalists:
In addition to being vigilant about their physical safety, journalists need to pay close attention to what they report, as well as how they do so. Be careful when reporting second-hand information or rumors, say Poynter's experts. And the Dart Center on Journalism and Trauma advises that "eyewitness" accounts are often unreliable during times of extreme stress. That means reporters should use caution when evaluating their sources.
Even without directly covering protests, education reporters will have opportunities to contribute to the important public discourse that follows in their wake. Mandy McLaren of the Louisville Courier Journal focused on youth voices in the city's protests. Chalkbeat's Reema Amin, Caroline Bauman and Stephanie Wang spoke with educators across the country about how they plan to approach tough conversations about race and violence. Laura Faith Kebede of Chalkbeat Tennessee tweeted that she is also talking with young people, including black males, who told her "They've had both positive & negative interactions w/police. But they couldn't shake: 'George Floyd complied and he still was killed. What can we do at this point?'"