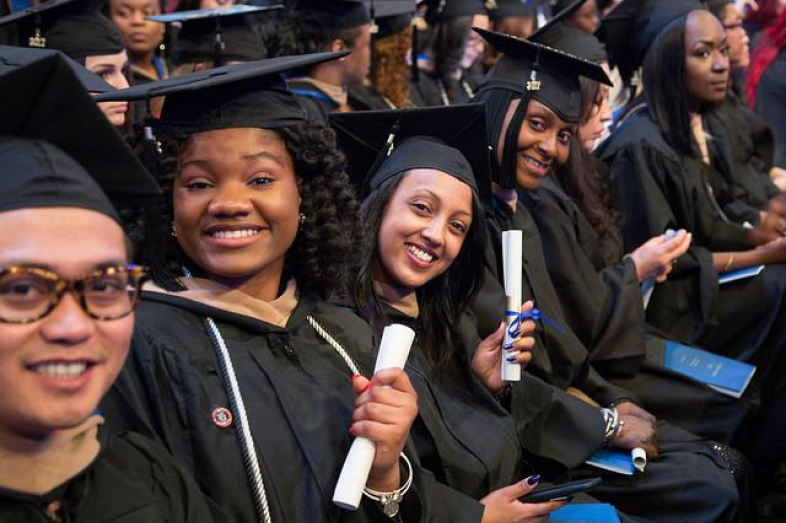 Education Dept. to Change College Scorecard, Be Less 'Prescriptive' With Accreditors, Officials Say
Federal education officials say they want to help students make more informed decisions about where to go to school, what college will cost, and what return on investment to expect – reflecting U.S. Secretary of Education Betsy DeVos's vision for reducing regulation of higher education while improving the public's ability to exercise school choice.
"Because we will put information out there, we think the consumers will make good decisions," said Diane Auer Jones, the U.S. Department of Education's assistant secretary for postsecondary education, during a Sept. 24 panel at the Education Writers Association's Higher Education Seminar in Las Vegas. "We do not think it's the role of the federal government to make a decision on behalf of a student."
In putting this plan into action, the department is revamping the College Scorecard, the federal government's online tool that provides the costs, graduation rates, academic programs, and other data about two- and four-year schools. In its current state, Auer Jones said, the College Scorecard is not very useful for low-income students.
She and Mark Schneider, the director of the Institute of Education Sciences – a research arm of the Education Department – outlined changes aimed at yielding more granular data about colleges and universities, including student-debt levels and select workforce outcomes of their graduates.
"We'll have wages and debt at the program level," said Schneider during the EWA event, hosted by the University of Nevada, Las Vegas. In its current form, the College Scorecard lists each school's five most popular degree programs and all its academic program offerings. It does not include data on how much graduates from each field make and how much debt they carry after graduation.
Also, Auer Jones said, the department will add information on graduate and professional degree programs. Currently, the scorecard only includes information on undergraduate degree programs.
"We know that at the graduate school level, that's where students take on the lion's share of debt. And while we agree that these are informed consumers, we have an obligation to give them the information to make informed decisions," Auer Jones said. The data will also be in downloadable form.
Deregulating How Colleges Operate
Simultaneously, the department is working to deregulate how colleges and universities operate.
"The regulatory environment, you know, it's pulling too many resources away from what institutions are supposed to be doing, which is teaching students," said Auer Jones, who admits to being a controversial figure in the federal agency because of her prior work with for-profit institutions. The department, she said, is aiming to streamline regulations and eliminate "minutiae" that distracts from the goal of teaching.
In August, the agency announced a plan to put on hold the gainful employment rule, which requires colleges to prove they are preparing students for jobs in a recognized occupation. The rule is aimed at for-profit schools, which have become notorious for leaving students with unmanageable debt and without skills to secure jobs that require college education.
"Some of the advertising and marketing practices were their downfall," said Auer Jones of for-profit institutions.
'Stop the False Advertising'
Changes to the College Scorecard, she said, will help keep for-profit schools accountable. If the department puts out data on program-level median debt and earnings, "then you stop the false advertising or at least you make it much more difficult for an institution to get away with it, and you make it much easier for them to be caught."
The department will also revise its approach to accreditors.
"Over the past 15 years, the department has increased its sub-regulatory guidance on accreditors. It's largely unwritten and it's unspoken, and it's very difficult for accreditors to understand what's expected of them," Auer Jones said. "We have to tell accreditors what the end goal is but be less prescriptive about how to get there."
Schneider said a focus on the end goal won't be limited to accreditors.
"Throughout the department, we see a shift towards outcomes," he said. "We're looking at this across the board to try to focus more tightly on outcomes and much less on process."
This change will be reflected in the Integrated Postsecondary Data System, better known as IPEDS, he said.
Schneider is also interested in including information on certificates in the College Scorecard and building more certification programs into career and technical education opportunities.
IES is committed to better communicating its findings and speaking in "plain language," Schneider said. But change takes time. Schneider joked, "I've been in office for about six months, so I can tell you all about all my commitments, and I can't be held accountable yet."
Accountability, he said, will take another few years.