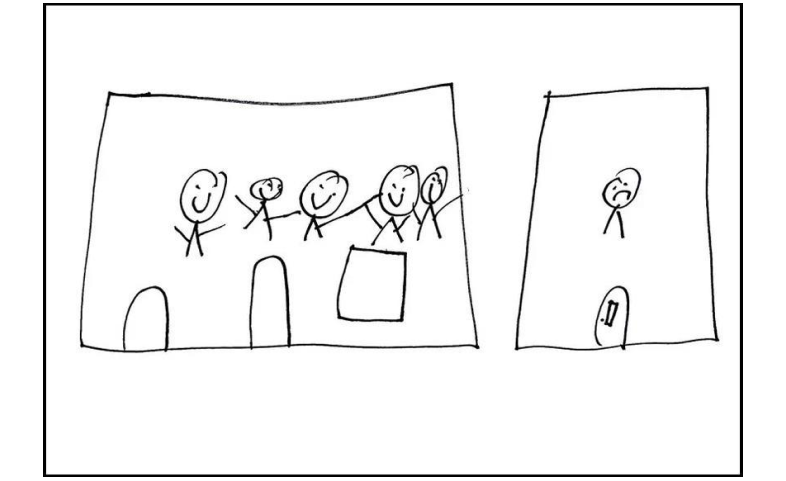 Finding the Details: How to Report on Seclusion and Restraint in Schools
News investigations put spotlight on troubling practices
When former WAMU education reporter Jenny Abamu first saw a seclusion room, she was shaken.
She described the spaces she viewed in Fairfax County, Virginia: rooms built within rooms with no windows or ventilation, and discolorations where students had defecated on the floor.
"Some of those kids were in that room over a hundred times in a school year," Abamu recalled. "People thought it was normal. I was scared. I thought, 'This is not normal.'"
Across the country, public schools sometimes restrain disruptive students or place them in seclusion rooms. How often are these tactics used in public schools across the United States?
It's hard to tell based on the numbers reported by school districts to the U.S. Department of Education's Office for Civil Rights. But reporters like Abamu and Jodi S. Cohen and Jennifer Smith Richards in Illinois found that schools are putting students in seclusion thousands of times in a school year.
Fellow education journalists can use their tips to investigate seclusion rooms and restraint practices in their own local schools. That was the message from speakers during a panel at the Education Writers Association's 2019 annual conference in Baltimore.
Looking Beyond the Numbers
Abamu found the Fairfax County School District reported for years that no student was isolated or restrained in its schools, when in reality it happened nearly 2,000 times between 2015 and 2016.
Documents obtained by WAMU, a local NPR affiliate in Washington, D.C., showed some of the students were as young as 6 and that, at times, the same child was placed in a seclusion room nearly 100 times in a school year.
When Abamu dug into the federal data for schools districts in her coverage area, which includes the District of Columbia along with nearby suburbs in Maryland and Virginia, she found Fairfax County schools reporting zero incidents of restraint or seclusion to the OCR. In contrast, Montgomery County School District reported some 1,400 cases in its most recent filing.
The range didn't make sense to Abamu, so she looked deeper. Documents she obtained from Fairfax County, one of the largest school districts in the country, showed the numerous times it was used.
(Hear Abamu discuss her reporting on a recent episode of EWA Radio. Abamu left her position at WAMU in fall 2019.)
"You have to be very, very careful about the numbers. It's a tricky area to report on. … You can't just put numbers out there and say, 'Look at this story,'" said Christina Samuels, a reporter at Education Week who has written extensively about restraint and seclusion.
Samuels, who participated in the EWA panel discussion, said the Fairfax example is not unusual. Nearly 80 percent of school districts reported no cases of restraint and seclusion in the most recent federal data. In small districts, she said, that could be true. But districts that reported zero incidents included New York City and Chicago schools.
"Zero doesn't really mean zero," said Richards, an education reporter with the Chicago Tribune, in a recent episode of EWA Radio on seclusion and restraint.
When a district reported zero incidents in federal data, Richards and Cohen submitted a Freedom of Information Act (FOIA) request at the state level to uncover incidents of seclusion.
Sometimes, when districts report zero cases, that number is accurate, said Kevin Rubenstein, the president of the Illinois Alliance of Administrators of Special Education, during the EWA panel. Rubenstein, who also is the director of student services for the Lake Bluff Elementary School District in Illinois, said that since the data is only reported every other year, incidents can go unreported in the off year.
That was the case in his district. In 2018, a reporting year, the Lake Bluff district had no cases. In 2019, a non-reporting year, there are incidents of restraint and seclusion.
Rubenstein suggested that reporters check with the states they cover as some have stricter reporting requirements than the federal government.
Defining Seclusion of Students
Part of the difficulty in reporting on the issue is that there is no common definition of what seclusion is across school districts and states, said Mandy McLaren, a reporter for the Courier Journal newspaper in Louisville and the session's moderator.
McLaren suggested reporters check with the states and districts they cover "to see what the terms are and how it is defined."
Rubenstein spoke of the difficult decisions educators have to make when it comes to restraint or seclusion. He used restraint for the first time in his career last school year with a 6-year-old student "after hours and hours of trying to bring this little guy down from walking on tables."
After the student was brought down and staff members were talking to him about the disruptive behavior, the student "started punching staff members and other children who were around him," Rubenstein recalled.
"At some point, when he lost control of his body, you have to make a decision for that child's safety and for the safety of the children around him," Rubenstein said. "Even now I question, 'Did I make the right decision?'"
In addition to federal, state and district data, speakers said reporters should look to advocacy organizations in each state for assistance. Also, look to school districts or schools that have seclusion rooms built into their buildings.
"If schools have those rooms, they are probably being used," Abamu said.
It's helpful to try to get details on what's happening to cause restraint or seclusion to be used, and to look at which students are being secluded. More often, black and brown children and children whose parents are not able to advocate for them are being secluded or restrained, Abamu said.
Other recommendations for reporters: Try to talk to school staff and to families. Even in cases where confidential settlements have been reached, parents will sometimes share information and documentation if their names are not used. Cohen and Richards also looked at reviews of schools on Google and Facebook to find families to contact.
Also, reporters should check to see how often schools are calling police to handle situations. Some schools call police to restrain students.
"If you call the police and they are restraining, it doesn't count for the district," Abamu said.
In Fairfax County, employees spoke to Abamu in confidence.
"Some [employees] talk about how hard it is," she said. "They see things that aren't right. You are being pressured to do things you don't even want to do."