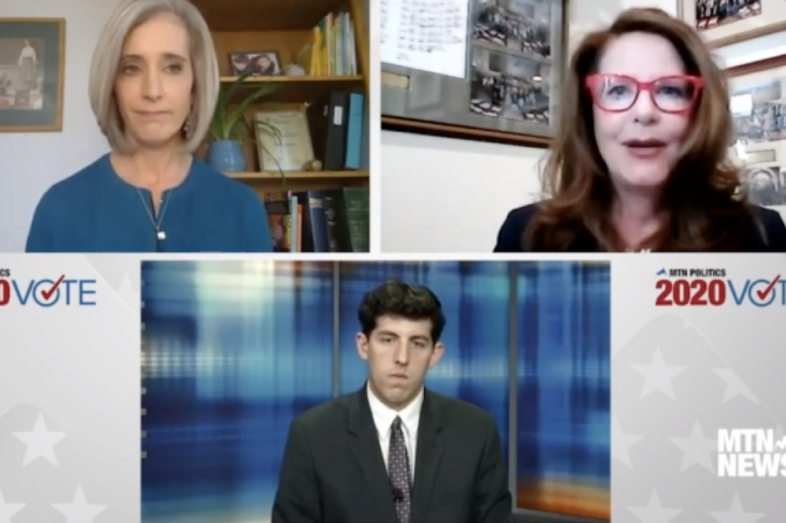 In 2020, Elections for Key State Posts Have High Stakes for Education
Governors, legislators, state superintendents on ballot.
The race for the White House is (understandably) dominating headlines this election season, but when it comes to education policy and funding, a raft of state-level campaigns this year have a lot at stake.
Voters in 11 states — including Indiana, Missouri, and North Carolina — are casting ballots for governor. Control of 19 state legislative chambers — yes, 19! — has a realistic chance of shifting from one major political party to the other, with Democrats likely to make gains, according to the Cook Political Report.
Cook identified six "toss-ups" for the political majority, including the Arizona Senate and the Iowa House. Thirteen "lean" either to Republicans or Democrats.
"Ominously for Republicans, the GOP holds 14 of the 19 vulnerable chambers on our list," writes analyst Louis Jacobson of the Cook Political Report, an independent, nonpartisan newsletter.
Meanwhile, four states are holding elections for state education chief.
If that's not enough, a variety of state ballot measures this year invite voters to weigh in directly on policy, funding, and other education issues, including whether to approve or repeal a new law in Washington state that requires public schools to teach "comprehensive" sex education, as the Seattle Times reports. In California, Proposition 15 would increase taxes on large businesses, raising billions of dollars, 40% of which would go to schools and community colleges, according to CalMatters.
(For more on local elections, check out our recent blog post, How to Get Voters to Care About School Board Elections.)
Teacher Pay, COVID-19 Restrictions at Issue
The election comes as states face a fiscal crisis driven by COVID-19 that is likely to take a heavy toll on education budgets. Also, the pandemic has given many governors a key role in influencing decisions on both closing and reopening schools and colleges.
During a gubernatorial debate in Indiana last week, the first question tackled education funding and teacher pay. (Watch the debate on C-SPAN.)
"Indiana rightly prioritizes our public school education," said incumbent Gov. Eric Holcombe, a Republican. "We allocate over 50 percent of our total revenue, our state budget, to education. That doesn't mean we're there yet."
The "good news," he added, is that "we've already increased education $1.6 billion. … We also created a teacher compensation commission that looks at how are we going to sustainably increase teacher pay."
But his Democratic challenger, Woody Myers, said the governor's actions on funding and teacher pay are insufficient.
"It's like giving a sandwich to a starving person," Myers said. "After 15 years [of inadequate pay], it tastes good, but it certainly doesn't do the job. It doesn't get us back close to where we need to be."
In a recent Indianapolis Star story, Arika Herron dug into where Holcomb and Myers differ on teacher pay, reopening schools, and other issues.
Reopening schools is a tension point in the North Carolina gubernatorial race, and surfaced during the lone debate this month, as reported by WBTV News.
"We want our schools back to normal, but we have to make sure that it's safe for teachers and students," said Democratic Gov. Roy Cooper. "While I'm using science and data to make those decisions, Dan Forest is holding a press conference, saying we're going to fill all the classes back up immediately."
His GOP challenger, Lt. Gov. Dan Forest, has argued for a more aggressive push to open all public schools for in-person instruction.
In the debate, Forest promised that all schools would be open "as soon as I am governor." He added, "Private schools have been open for 12 weeks in North Carolina with no outbreaks or trouble from anyone. Our public schools can open the same way, but the governor won't take advice from anybody."
As the online news website EdNC explained, Gov. Cooper in July unveiled plans allowing public schools to either provide a hybrid model — with some in-person and some virtual instruction — or go all remote. In early October, he said for grades K-5, districts could provide fully in-person instruction.
'Bitterly Ideological' Contest for State Education Chief
Meanwhile, state education chiefs are on the ballot in Montana, North Dakota, North Carolina, and Washington, according to the Education Commission of the States, a nonpartisan organization that has produced a helpful primer on education and state elections. State chiefs in 13 states are directly elected by voters, ECS notes. (ECS also highlights other races, including those for state boards of education and boards of regents in higher education.)
The race for state superintendent in Washington is pitting Democratic incumbent Chris Reykdal against Maia Espinoza, a small business owner and conservative activist, has turned "bitterly ideological," as Dahlia Bazzaz of the Seattle Times reported this week. Washington state Democrats "and their key funders, including the state teachers' union, are staging a last-minute effort to put [Reykdal] into the limelight, injecting more than $750,000 into the race to boost his campaign in the past month."
In Montana, the state chief race is a replay of four years ago, as the incumbent, State Superintendent of Public Instruction, Elsie Arntzen, once again faces Melissa Romano, a Democrat. Romano, a veteran teacher from Helena, was named the Montana's Teacher of the Year in 2018.
Political control of many state legislative chambers — which play a key role in education funding and policy — could shift. Of the 19 chambers deemed "competitive" by the Cook Political Report, the so-called "toss-ups" are the Arizona Senate, Iowa House, Michigan House, Minnesota Senate, North Carolina Senate, and the Pennsylvania House, according to the October report from the Cook Political Report. analyst Louis Jacobsen for the Cook Political Report. Others that aren't rated toss-ups but are still deemed "in play" include the Texas House and the Arizona Senate.
'A Teacher in the House'
Improving public education is a common theme in some of the competitive Texas races for the legislature, the Texas Tribune reports.
One Democrat seeking to retain his seat recently aired a TV ad titled, "A teacher in the house." It sought to highlight his experience as a teacher and how that helped him work "across the aisle to pass historic school reform," the Tribune notes. And Republican Tony Tinderholt aired a TV ad casting himself as a lawmaker "on a new mission to improve Texas schools," the story said.
Currently across the U.S., Republicans control 58 state legislative chambers, and Democrats 40.
"The GOP has held the lead in state legislative chambers for a decade," Jacobsen wrote. But he sees some change afoot this year, including in the last few months.
"Since July 22, when we last handicapped the battle to control the nation's state legislatures, the Democrats have only continued to gain ground," he said.
EWA research specialist Sarah Johnson contributed research for this blog post.