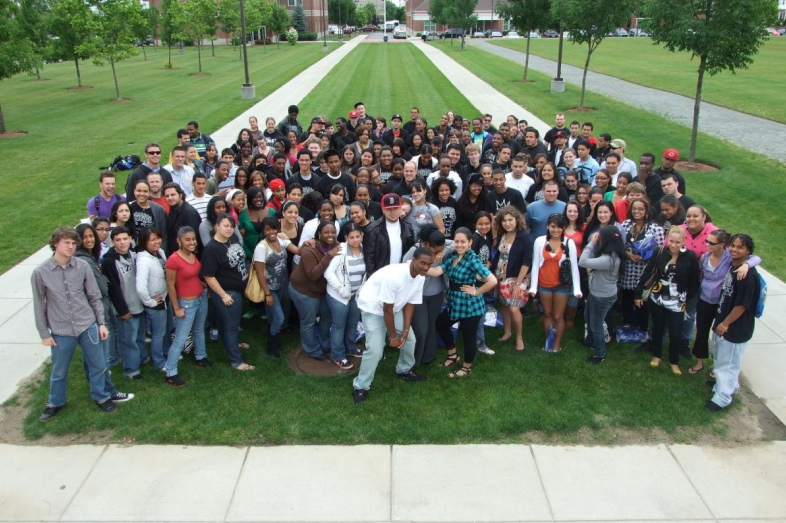 In New England, Efforts to Rethink Educational Practices Grow
But pushback on 'competency-based' approach serves as cautionary note
Across New England, policymakers and school leaders are experimenting with new models of learning, including those that are student-centered, personalized, and competency-based. One of the goals is to close stubborn achievement gaps between rich and poor students and white students and students of color.
But these educational shifts have not been universally embraced by the states' students, parents and teachers. Maine, for example, one of the first states to pass a law requiring competency-based education, recently reversed course.
The measure had stipulated that students must demonstrate mastery of a set of specific skills and topics to progress through school and ultimately graduate. The public backlash was so intense that the legislature eliminated the mandate, giving districts the option to return to their old way of graduating students based on fulfilling "seat time" requirements and earning passing grades.
At EWA's recent seminar in Providence, R.I., "Formula for Fairness, Striving for Educational Equity," two leaders in the student-centered learning movement and the superintendent of Providence Public Schools discussed how such reforms are playing out in New England.
Personalized Learning in Action
Christopher Maher, the Providence superintendent, said he was "100 percent against personalized learning" when he was hired in 2015, believing it was "all about technology." But Maher said he grew to appreciate the approach once he "saw it in action" at a Providence school that had adopted the Summit Learning Program, an approach to personalized learning developed by the Summit Public Schools network.
Asked what changed his mind, Maher said he'd "had a limited vision of what personalization was." Now, he's encouraging principals in his district to visit the school. (Although definitions of "personalized learning" vary, a recent Education Week report sums it up this way: "Customize teaching and learning to students' individual academic strengths and weaknesses and even their personal interests.")
Andrew Frishman, the co-executive director of Big Picture Learning, which has built a network of 65 "student-centered"schools over 20 years, said his organization located its first school, The Metropolitan Regional Career and Technical Center, in Providence for a simple reason: "We were invited here."
"Providence was not random," he said during the EWA panel.
Student-centered learning is another term that means different things to different people. As explained in this EWA webinar, the general idea is to customize education for individual students, with flexibility in when, where and how knowledge and skills are acquired. And students themselves have a meaningful role in shaping their learning.
The Met focuses on project-based learning, with students spending the bulk of their time outside a traditional classroom setting, learning on their own, in small groups, or in structured career internships.
The Met uses a competency-based approach for some core subject areas like math and English language arts, but the expectations are structured to each individual student's learning plan rather than set to a particular grade level. Instead of taking end-of-course exams, students must demonstrate mastery through a portfolio of their work.
Frishman contrasted Rhode Island's willingness to try new approaches with the "sense of complacency" in neighboring Massachusetts, where "there's this sense that we're Number 1." The Bay State has ranked first in the nation on standardized test scores for several years running, based on reading and math achievement on the National Assessment of Educational Progress.
Not Just Tinkering Around the Edges
Frishman said his organization considers context when deciding where to go next to work with a school, particularly the local commitment to change.
"Change is often interpreted as loss, and people resist that," he said. "We're not looking to tinker around the edges. We're looking to make some fundamental shifts."
David Ruff, the executive director of the Great Schools Partnership, which has championed a student-centered and personalized instructional approach in Maine, talked about the "setback" reformers have faced in his state on competency-based learning. He blamed the recent roll back of the state policy on poor implementation by some districts.
"The support that was necessary for teachers never materialized," he said. "That doesn't mean the policy was wrong, but the support was inadequate."
While Ruff said he believes in the policy, he was "excited to see" the resistance from teachers, "because it shows they care deeply" about their students.
"We have to give them agency and demonstrate that it can be a success," he said.
Maher said there's been less pushback to personalization in Providence, where teachers are more upset about a new code of conduct that limits suspensions. The new policy, which aims to reduce racial disparities in punishment, was seen by some educators as "a central mandate," he said.
Uncomfortable Statistics
But the policy has also forced the Providence school system to confront some uncomfortable statistics — a review of discipline records showed that black students, for example, are significantly more likely to be suspended than their Hispanic peers, Maher said.
"It's important to use data to demonstrate problems," he said. "If you don't show it's happening, people will stay in their comfort zones."
During the EWA panel, Frishman was asked how his organization ensures that its diplomas are "consistently meaningful."
He said that receiving a diploma from a Big Picture Learning school "mean a lot."
"We have standards that require [students] to demonstrate competencies," he said. But "I would say that across this country, we're incredibly fractured" when it comes to the significance of a high school diploma.