Afterschool programs can do more than reinforce academic lessons taught in the classroom or introduce new skills kids don't have time to learn during school hours. According to a new report by America After 3 PM, afterschool programs also can play an important role in combating childhood obesity.
Jodi Grant, executive director of the Afterschool Alliance, says afterschool programs – though sometimes underappreciated – can be a weapon in the fight against childhood obesity and physical inactivity. How?
According to a survey of 13,709 parents or guardians of school-aged children conducted for the report, "Kids on the Move: Afterschool Programs Promoting Healthy Eating and Physical Activity," 72 percent of respondents said their child's afterschool program provides kids with drinks, snacks and/or meals. Of those, 81 percent said the food is healthy. Low-income families and parents of young children were more likely to see that as a responsibility of afterschool programs, with 65 percent of parents of younger children responding that healthy snacks or meals actually played a role in their selection of their child's afterschool program.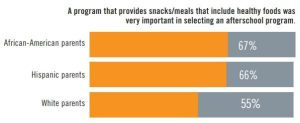 Source: "Kids on the Move: Afterschool Programs Promoting Healthy Eating and Physical Activity," America After 3 PM
Healthy snacks weren't the only thing on the parents' lists. While the level of physical activity incorporated into an afterschool program didn't play a major role in where parents decided to send their children, 68 percent of parents still viewed it as an important factor.
Survey results show the amount of time students are active in an afterschool program varies: 67 percent of parents said their child was active for at least 30 minutes, while 27 percent saw their children getting at least an hour's worth of physical activity. Most parents described the level of physical activity as moderate to vigorous.  (Note: For the purpose of the study, afterschool programs were defined as supervised, enriching programs after the school days that are typically held in schools and community centers. This did not include sports, hobby clubs or child care facilities.)
The report gave special attention to the sentiments of low-income black and Hispanic parents. Nearly half of black parents and 45 percent of Hispanic parents who took the survey said they did not enroll their child in an afterschool program because it did not offer their child enough opportunities to be physically active. Thirty-nine percent of white parents said the same.
According to a 2012 study by the Center for American Progress, Hispanic children have the highest childhood obesity rate in the country, with about two in five children being overweight or obese. This was also true for 35 percent of black children.
Quick facts on child obesity from the CDC:

In the past 30 years, childhood obesity has more than doubled in children and quadrupled in adolescents.
Between 1980 and 2012, the percentage of obese children ages 6-11 increased from 7 to 18 percent. Over the same time period, obese adolescents ages 12-19 increased from 5 to nearly 21 percent.
In 2012, more than one-third of children were overweight or obese.
While survey results show parents are generally satisfied with the healthy habits their children are learning in afterschool programs, the report concludes that there's still room for growth. A key factor is getting the word out about the benefits to parents who don't have children enrolled in these programs as well as boosting awareness of Healthy Eating and Physical Activity standards (HEPA) adopted by the National Afterschool Association in 2011.