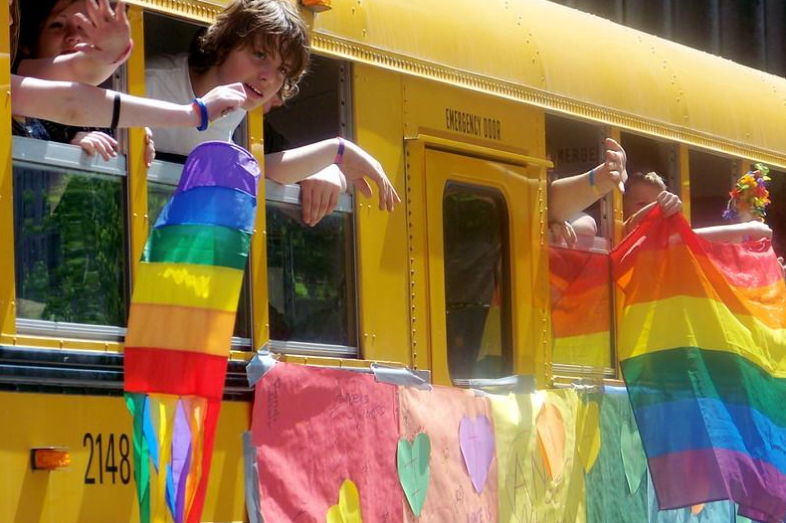 Responsible Reporting on LGBTQ Students
Tips for coverage of youths' mental health, well-being, and more.
Editor's note: This post was updated on June 15, 2020, to reflect the U.S. Supreme Court decision that protects LGBTQ employees from being fired.
The news media must do a better job of covering the challenges faced by LGBTQ youths, a trio of advocates and educators told journalists attending an Education Writers Association seminar on adolescent learning and well-being in February.
Rob Todaro, the press secretary for The Trevor Project, a nonprofit providing crisis intervention and suicide prevention to LGBTQ youths, urged reporters to pay more attention to elevated rates of depression and suicide among such youths, saying increased public awareness "will go a long way towards saving lives."
In a 2019 survey by The Trevor Project, almost 40 percent of LGBTQ individuals between the ages of 13 and 24 — and more than half of transgender and non-binary youth — said they had seriously considered suicide in the past 12 months. Nearly three quarters (71 percent) of respondents said they'd felt sad or hopeless for at least two weeks in the past year.
"This is a public health crisis. We need your help to cover it with accuracy and sensitivity," Todaro said.
Mauro Sifuentes, the LGBTQ program coordinator for the San Francisco Unified School District, said statistics and data about LGBTQ individuals are often reported "with little nuance," by journalists who "haven't taken a statistics class."
Quantitative studies about LGBTQ people often require individuals to self-disclose their sexual orientation, and if young people feel unsafe or are still figuring out their identity, they may not self-report, Sifuentes said. He reminded reporters that "in our culture, numbers carry the weight of truth," and that "data that pretend to describe everyone, may, in actuality, describe no one."
He also challenged reporters to reflect on who they are including in their stories about LGBTQ students. Judging from the coverage, he said, "it seems that all LGBTQ people are white."
Handling Pushback
Jackie Jackson-Dean, a school psychologist in Pasco County, Florida, who has come under fire from conservative groups for her work on a districtwide best practices guide for supporting LGBTQ students, called on reporters to serve as a counterweight to the misinformation that is spread on social media.
The main organization that has targeted Jackson-Dean is Protect Pasco Children, a group of conservative activists "largely connected with a collection of [Pasco County] churches," according to coverage by the Tampa Bay Times' Jeffrey S. Solochek. The group argues that Jackson-Dean and other Pasco County educators are violating parental rights.
The group dedicated an entire page on its website to Jackson-Dean, using her email correspondence to argue that she is hiding information about students' sexuality from their parents. The district is carrying out a "radical sexual agenda … without parental consent or awareness," the activist group contends on its website.
Jackson-Dean said the organization posted on social media or told her directly things like "I hope you get cancer and die" and "all kids would be better off if you were dead."
"They try to scare people into thinking that just the presence of an LGBTQ youth is dangerous or is somehow going to make your cisgender or straight kid unsafe," Jackson-Dean said.
"It is critical that you reach out to scholars to dispel the myths" about LGBTQ individuals, Jackson-Dean said during the EWA conference. "Help us stop that cycle of misinformation that is fueling fear and hatred."
When opponents of LGBTQ rights use religious arguments to defend their position, "get the perspective of affirming clergy," she suggested.
Beyond 'Bathroom Bills'
Jackson-Dean and Sifuentes also took schools to task for not hiring more LGBTQ teachers and other staff, saying this population remains vastly underrepresented in the nation's schools due to what they see as historical and ongoing discrimination in hiring. While a growing number of districts had adopting policies that prohibit discrimination on the basis of sexual orientation, Pasco County and many others had not, they said.
However, a decision released June 15, 2020 by the U.S. Supreme Court ruled that Title VII of the Civil Rights Act of 1964, which bars employers from discriminating because of a person's sex, also applies to discrimination based on sexual orientation and gender identity. Prior to this ruling, many states did not hold explicit employment-discrimination protections for LGBTQ workers, including teachers.
President Donald Trump has sought to reverse some Obama administration actions when it comes to LGBTQ protections, as the NPR story by Selena Simmons-Duffin explains. One prime example is federal guidance to schools for transgender students issued in 2016, at the tail end of the Obama administration. The Obama guidance "required schools to protect transgender students from harassment, accommodate their preferred names and pronouns, and give them access to the locker rooms and bathrooms of their choice," the NPR story notes.
Weeks after President Trump took office, his administration repealed the guidance. U.S. Secretary of Education Betsy DeVos explained the repeal by saying "this is a decision best solved at the local level." That said, NPR and others reported at the time that DeVos privately had opposed the decision.
One of the most visible debates in LGBTQ protections stemmed from "bathroom bills" in states, including North Carolina, Texas, South Dakota and South Carolina. The bills sought to require transgender people to use the bathroom that corresponded with the gender on their birth certificate. Supporters said the bills protected women from predators who would use the law enter bathrooms and sexually assault them, while opponents said transgender people faced harassment when they used a bathroom that contradicted their gender identity.
During the EWA panel, speakers said the challenges transgender youth face in school go far beyond the much-covered issue of bathroom access. Among the issues they cited: computer systems that include students' legal names, not their preferred ones; teachers who consistently use the wrong pronoun; and policies that require students to wear a gendered graduation gown.
Sifuentes of the San Francisco district said schools will often refer transgender students to their LGBTQ liaison when their challenges have little to do with gender identity. They may be facing racial discrimination or struggling academically, for example, but "everything gets shoved into the trans box."
"Trans kids go through the same difficulties as other kids, but adults make all their problems about being trans, and they internalize that," he said.
"Our students are so much more than their gender identities," he said.