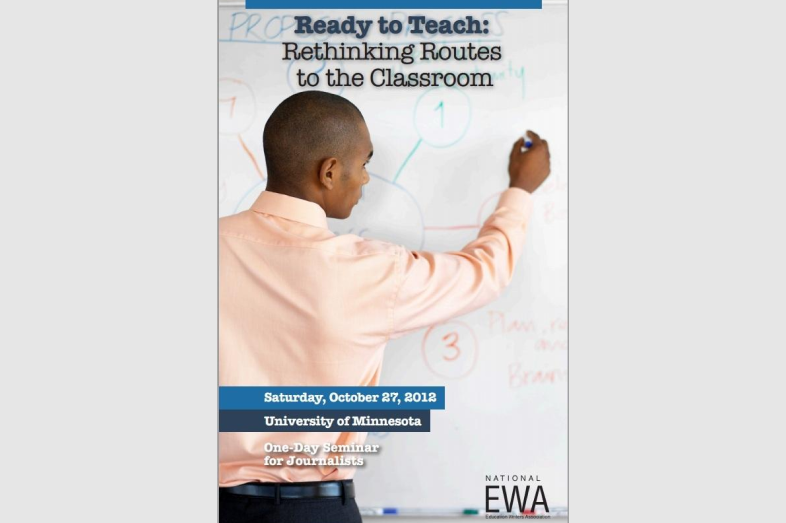 Rethinking the Teacher to Classroom Pipeline: Background Content for EWA's 'Ready to Teach' Seminar
Ready to Teach: Rethinking Routes to the Classroom
How well is America teaching its teachers? As accountability pressures on the nation's teaching force mount, scrutiny of colleges of education is intensifying as well. During this one-day EWA seminar, journalists and experts will delve into the growing efforts to revamp how aspiring educators are prepared for the classroom and how teacher-preparation programs are held accountable for results.
Here are background reports and articles for the seminar's sessions.
Title II Database on Education Schools Skills-Building Session
Useful Federal Data:
As part of the 2008 reauthorization of The Higher Education Act, a slew of new public reporting requirements were passed onto states that receive Title II money. The first state reports under the new law were published in 2011 and represent the 2010 school year. The reports provide data on teacher certification and assessments and are disaggregated by the teacher programs within each state. Federal government contractor Westat assembled the reports and posted them to the web. The Department of Education outlined what each state report should contain:
Information on each teacher preparation program in the state, such as admissions requirements, enrollment, and supervised clinical experience information;
Standards for teachers and their alignment with standards for students;
Requirements for each teaching certificate or license;
Pass rates on each assessment used by states in certifying or licensing teachers and the reliability and validity of these assessments;
State standards for evaluating the performance of teacher preparation programs;
Descriptions of alternative routes to teacher certification or licensure;
Descriptions of the extent to which teacher preparation programs are addressing shortages of highly qualified teachers, preparing teachers to teach students with disabilities or who are limited English proficient, and preparing teachers to use technology; and
State efforts in the past year to improve the quality of teaching. 
Testing a New Test: Measuring Graduates and Programs
EdTPA is a multistate initiative that will function as a standardized test gauging how much new teachers know before they are placed in their own classrooms. State education agencies may use edTPA scores for licensure and accreditation.The American Association of Colleges for Teacher Education (AACTE), together with Pearson and Stanford University, helped develop and roll out the assessment. So far Colorado, Connecticut, Delaware, District of Columbia, Georgia, Hawaii, Idaho, Illinois, Iowa, Indiana, Maryland, Massachusetts, Minnesota, Missouri, New York, North Carolina, Ohio, Oklahoma, Oregon, South Carolina, Tennessee, Virginia, Washington, Wisconsin, and Wyoming have agreed to use edTPA. Below are additional links that explain and critique the new initiative.
The official ed TPA website.
Linda Darling-Hammond, professor of education at Stanford University, explains in this Inside Higher Ed essay that edTPA is a teacher-led project meant to blunt criticism that the profession is evading accountability.
Erin Richards of the Milwaukee Journal Sentinel describes how the assessments are being rolled out in Wisconsin and what reform groups think of the teacher-led effort.
The dean of the Curry School of Education at the University of Virginia discusses the need for a standardized teacher readiness examin The Chronicle of Higher Education: "Education schools and other preparers of teachers have failed to build competency- and knowledge-assessment systems to identify and measure the skills that teachers need for successful performance. Such systems would be capable of publicly verifying that teachers met certain known performance benchmarks before they entered the profession, and passing would mean a high likelihood that the students taught by a graduate would make progress academically."
The Hechinger Report: "This pathway to the classroom has long been called into question. Now, 25 states — including Minnesota — are preparing to test a brand-new assessment that will judge teachers-to-be on how they work with real students. As policymakers and reformers across the country push to make America's teaching force more effective, developers of the so-called Teacher Performance Assessment hope it will provide a much-needed overhaul to the process of certifying who's ready to take charge of a classroom." (Sarah Butrymowicz)
National Council on Teacher Quality released this critique of edTPA following Darling-Hammond's essay in Inside Higher Ed: "TPAs hold tremendous promise in that they can serve as a central organizing principle for preparation programs, suffering as they tend to from a lack of curricular continuity.  But the edTPA isn't being pushed for this reason … at least that's not how the arguments are being framed.  No — the primary argument is that the edTPA would be a much better tool for teacher prep program accountability than measures that look directly at teacher effectiveness using stats on student performance (a case in point). Darling-Hammond, AACTE and others in the field explicitly argue that if states adopt the edTPA as a new licensing screen, they will not only succeed in keeping bad apples out of teaching, but also will be able to distinguish good teacher prep programs from bad ones."
Colleges of Education – Embracing Change or Resisting it?
Education Week: "Under the program, which debuted formally this school year, ASU requires a year-long student-teaching apprenticeship for all undergraduate education majors, during which time they must demonstrate mastery of specific teaching skills as measured by a popular teaching framework. . . . The goal of the project, according to its leaders, is to graduate teachers who, in their first year on the job, match the effectiveness of second-year teachers. Getting there has meant no less than an entire shift in philosophy, according to Mari Koerner, the dean ofASU's Mary Lou Fulton Teachers College." (Stephen Sawchuk)
Learning First in 2009 interviewed St. Cloud State University professor Nancy Bacharach on the slow pace of reform within the teacher college space: "As we were looking at the student teaching experience here at St. Cloud State and reading the literature that was out there, we found that very little has changed in the last 75, 80 years of student teaching. We were looking at our own experiences from a number of years ago, and we were still doing the same thing."
Professor Mari Koerner, a panelist at the upcoming 'Ready to Teach' seminar, wrote this essay for the Arizona Republic in 2011: "Because we agree that Teach for America has been very successful in recruiting and training teachers, ASU is incorporating its best practices into our program through the Sanford Education Project, as well as teaching our knowledge of pedagogy and theory.
Through iTeachAZ, students are student teaching in local districts for twice as long, with those districts participating as partners in the education of their future teachers – teachers who we expect will stay in the classroom for years and will see professional development as a necessity for their improvement as teachers."
In the race to educate teachers, do the quick turnaround alternative credentialing programs hurt schools down the line? This essay, co-written by seminar panelist Misty Sato, makes the argument: "Teachers licensed through fast-track, alternative-licensure programs leave teaching at much higher rates than those prepared in more traditional full-year or multiyear programs.
The National Commission for Teaching and America's Future estimates that for every teacher who leaves a school, districts lose anywhere from $4,366 to $17,872. Our schools cannot sustain such high teacher turnover."                                 
Starting From Scratch – Models that break the mold
The Hechinger Report: "At a time when brick-and-mortar teacher training programs are under fire, the burgeoning world of online teacher training has the potential to help or hamper efforts to improve public education. Internet classes could widen access to the profession and be a solution to teacher shortages. But if online training programs can't ensure quality, they'll instead just pump thousands of ill-prepared teachers into the system."
Much touted teacher residency program earns mixed marks in NBER study, via Stephen Sawchuk of Education Week: "Math teachers trained through the Boston Teacher Residency program are, on average, initially less effective at raising student scores in that subject than other novice teachers. But within five years, their instruction in that subject improves rapidly enough to surpass the effectiveness of their colleagues, a new study concludes.
For English/language arts, the residency-trained teachers were no more effective at improving student achievement than other new teachers.
In a residency, teacher-candidates have a yearlong apprenticeship under a mentorteacher, from whom they gradually take on increased teaching responsibilities. They also earn a master's degree, typically while taking a slimmed-down set of coursework."
Keynote Speaker – Arthur Levine, president of the Woodrow Wilson Foundation
In 2006, Levine shook up the education space with this no-holds-barred analysis of the teaching profession: "Qualitatively, teacher skills and knowledge have to be raised if we are to substantially increase student achievement to the levels needed for an information economy. Ordinarily, increasing teacher quality necessitates a reduction in quantity, and increasing quantity requires a trade-off in quality. Our teacher education programs are facing the challenge of doing both at once. But their challenge is even larger because today's teachers need to know and be able to do things their predecessors did not. They have to be prepared to educate all of their students to achieve the highest learning outcomes in history. This is a fundamentally different job than that of past generations of teachers."
New Teacher Roundtable
Education Week's Teacher: "Conversations with colleagues revealed that ours was not a unique situation: The university made attempts to foster collaboration with cooperating teachers, but time and personnel constraints prevented this goal from being achieved. As a result, a student teacher's experience often resembled a custody agreement rather than a partnership.
How could professors' and supervising teachers' expertise be used in more effective and efficient ways to support the learning of pre-service teachers?" (Read for five tips from Sarah Henchey, a National Board Certified Teacher.)
Topical Tips: Advice on Covering Teacher Training
"In a series appearing over eight Sundays, "Building a Better Teacher" looked at challenges to the way teachers are trained, evaluated, paid, promoted and dismissed – and how all of it comes to bear on student success." (Milwaukee Journal Sentinel)
Stephen Sawchuk of Education Week writes regularly on all things teacher, including preparation, in his Teacher Beat blog.
After the Conference
After the conference, please complete an evaluation for us. If you are a scholarship recipient, you will need to submit one to be reimbursed by us.