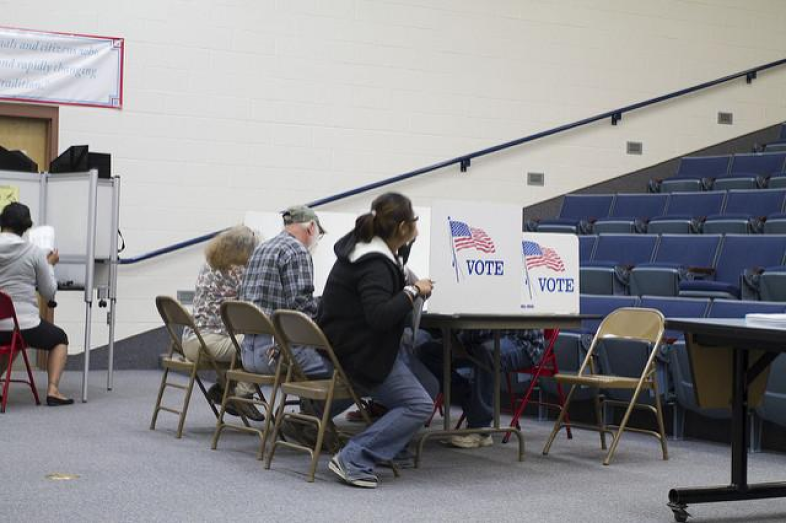 School Board Races Heat Up Around Country
Often overshadowed, these local elections can have big consequences
While the election cycle spotlight typically focuses on state and federal movers and shakers, the outcomes of local school board races this fall could shake up education policies and priorities at the local level in many communities, with seats up for grabs from coast to coast.
Not surprisingly, school safety is a hot-button issue this year for candidates across the ballot, including school board races. In coastal Brevard County, Florida, the outcome of the election could determine whether a controversial plan to train school staff to carry concealed weapons goes forward. The proposal was temporarily tabled by the current board on a 3-2 vote, and multiple candidates for three open seats say they would support arming teachers and other staff, Florida Today reported.
As Denise Smith Amos of the Florida Times-Union explained in a meaty roundup of the school board races in Duval County, having three seats up for grabs could mean big changes for students and schools: "November's winners likely will influence such questions as which schools to close or consolidate, whether to seek more local taxes for schools, and what to do about expanding charter schools and tax-funded tuition programs for private schools, which take students and money from the district."
School boards set policies and regulations to govern local schools. They hire the superintendent, adopt curricula, and approve and oversee a budget that can involve millions — and in some larger districts, billions — of dollars in public money.
EWA was not able to ascertain how many school board elections are taking place in November. Ballotpedia is tracking about 400 of them, but made clear that this is not a definitive list.
Equity Issues, Budget Strife
In Hamilton County, Indiana, contested school board elections could alter key upcoming decisions, including the redrawing of school boundaries in one system's K-8 schools, reports Emma Kate Fittes for the Indianapolis Star.
Meanwhile, two citywide seats are up for grabs on the Minneapolis school board, in an election that "has touched on equity issues, budget strife, a referendum and steering the district into the future," according to a recent story by Faiza Mahamud for the Star Tribune newspaper.
And in Detroit, where local control over schools was restored by the state last year, the school board election for two open seats is seen as a referendum on the direction being taken with efforts to revitalize the city's lowest-achieving campuses. As Chalkbeat Detroit reported, the school board race could also have implications for the new superintendent, Nikolai Vitti, who is finishing his first year in the job.
But even with solid reporting by local media, the attention paid to school board races is often disproportionately low relative to their influence. On many ballots they are relegated to the back pages.
Low Turnout
In non-presidential election years, when voter turnout is often substantially lower across the board, school board races are often decided by a small fraction of the eligible voters. (Many voters simply skip those items on the ballot, in fact.)
As WHYY public media reported recently, Delaware had markedly low turnout for its recent school board races, drawing an average of 1.8 percent of voters since 2012 (the range was 0.3 percent to 10.6 percent).
And school board races often draw a narrow field of candidates, in part because the position typically pays only a small stipend for what can end up being a significant workload. (In Texas' Spring Independent School District, which serves 30,000 students about 20 miles north of Houston, the fall 2018 school board election was canceled because the incumbents running for two open seats are unopposed.)
In Gwinnett County, Georgia, the school board race is also serving as mirror for the community's quickly shifting demographics. Once a majority-white region, 60 percent of Gwinnett County's residents are now people of color. But the county has never elected a non-white school board member.
That could change this year, as Christopher Quinn reported for the Atlanta Journal-Constitution. The primaries saw the most diverse field of candidates ever, with two black Democrats facing off in the primary. The winner, Everton Blair, will face Republican Chuck Studebaker on the November ballot. (The lack of diverse representation on the school board and the county's other elected bodies is the focus of a pending lawsuit by civil rights activists.)
Diversifying school boards is one of the goals of a coalition of students in California's San Gabriel Valley that wants the voting age lowered to 16 so they can participate in deciding who runs their school.
"There are really important decisions being made in public, but no one's actually paying attention," 17-year-old Selena Han told the Pasadena Star. "It's up to students to be there and hold institutions accountable."
When writing about your local school board races, here are a few things to keep in mind:
Explain the job. Not everyone understands how a school board functions, or the responsibilities that rest with its trustees. Tell your readers why they matter.
Follow the money. What outside funding are school board candidates receiving? Check their campaign finance documents, which must be filed with the appropriate state agency. (You can find out more by checking out our Reporters' Guide to Campaign Finance.)
Why are they running? While it might sound like an obvious question to put to anyone seeking public office, it's still worth emphasizing. What's motivating them? What are their top priorities, and how realistic are those? Also, what qualifications do they bring to the job? If you have a large number of candidates seeking the same seat, consider asking them to each answer the same set of questions. This approach was particularly effective in Detroit, where 63 candidates battled it out for seven school board seats in 2016: Chalkbeat used questionnaires to gather the basics about each candidate, and then delved into their individual finances and backers.