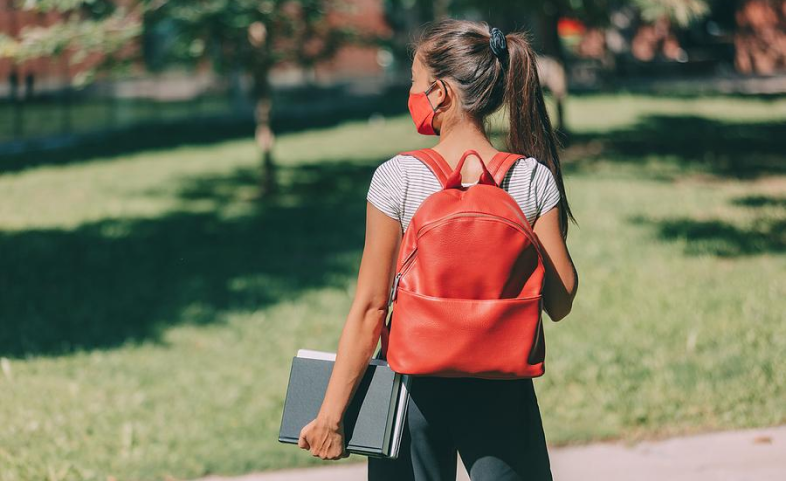 8 Questions to Ask About College Enrollment Numbers
COVID-19 sparked enrollment declines at universities, especially among low-income students.
As students and higher learning institutions prepare for the fall semester, lagging vaccination rates and the rise of the delta variant present unanticipated challenges.
For reporters looking to tell stories about how the ongoing public health crisis is affecting higher education access, enrollment numbers are a good place to start.
College enrollment dropped approximately 3.5% overall between spring 2020 and spring 2021, according to data from the National Student Clearinghouse Research Center.
"Ever since the Great Recession, the number of college students has been slipping very gradually year-over-year," said Doug Shapiro, executive research director of the National Student Clearinghouse, which has tracked a decade's worth of enrollment numbers. "But this year's drop was more like falling off a cliff."
The long-term effects of COVID-19 on Americans' ability to access higher education remain unknown, but the number of college students across the country who enroll in courses this fall will provide more insight. (The National Student Clearinghouse expects fall 2021 enrollment data to be available by mid-to-late October.)
Here are eight questions education reporters can ask to spark the human stories behind this year's enrollment trends.
Who is giving up on college?

While college enrollment has fallen farther than at any time in the last 10 years, the rate of decline wasn't the same for all demographic groups, ages, levels and colleges, said Nathan Grawe, professor of economics at Carleton College and author of "The Agile College: How Institutions Successfully Navigate Demographic Changes."

Graduate student enrollment, for example, increased 4.4% one year into the pandemic.

Whereas enrollment numbers typically spike for undergraduates, too, during a recession, that didn't happen during the woefully uncertain pandemic. Instead, undergraduate enrollment fell 4.9%. And within this group, the biggest drops were among economically disadvantaged and first-generation students.

Enrollment at community colleges – where the student body is disproportionately low-income, people of color and first-generation – lost about a half-a-million students, around 10% of total enrollment for the sector.

And this same trend appears to be continuing into fall 2021, Shapiro said, calling it "really troubling" to see the number of Free Applications for Federal Student Aid (FAFSA) fall approximately 5% this year, particularly among minority and low-income students.

Students who fail to fill out the FAFSA form lose access to federal, state and often other kinds of grants and low-cost loans that allow them to afford college.

Why were different groups of students affected differently?

Among the reasons for the differential impacts are family wealth, location (which may impact access to high-speed internet), jobs (such as whether some family members were able to work from home or were considered essential and had to risk disease by working with others) and underlying health concerns, Grawe said.

"Pandemic-induced unemployment might not be the same as recession-induced unemployment. In particular, you have families concerned about contracting the disease, and obviously being at school increases your exposure," Grawe said. "In addition, the pandemic had a massive effect on the economic well-being of some households. I suspect that in a more modest or less uncertain recession, [they] might have gone back to school, but in this context were the ones going out to look for employment to support their families. "

Last year, most colleges offered majority-remote learning, and news outlets all over the country told the stories of how students handled that change. For a lot of them, attending online school didn't seem worth it, so they didn't enroll. "I know what works best for me, and doing stuff on the computer doesn't really stimulate me in the same way an actual class would," one would-be college student from Texas told NPR in December.

And for those students who were open to the idea of remote learning, Grawe said, "the cost of broadband at home, cost of devices to use and the cost of finding a space to focus on work and study" has also contributed to the enrollment decline.

​Many of those challenges, Shapiro added, "aren't going away just because we now have a vaccine."

When are the enrollment changes happening?

While some students dropped out when their classes went online in spring 2020, many decided to drop out over the summer. The scenario of students sending deposits to reserve a slot in the fall, but then canceling those plans over the summer is so common, in fact, that college officials have a term for it: "summer melt." And research indicates that low-income students are the most likely to melt out of college during the summers.

"Part of what contributes to it is a change in circumstances," Melissa Clinedinst, director of research and grants for the National Association for College Admission Counseling, said. "But some of it is students not having support over the summer to make it through those final administrative hurdles that get you onto campus, like solidifying a financial aid offer or registering for classes."

Often, students lose access to the guidance counselors and other resources over the summer, and the pandemic has compounded the problem.

More broadly, Clinedinst said, "It would be interesting to know at which stage of the process" students started becoming disinterested in enrolling in college. According to data from the National Student Clearinghouse, the high school class of 2020 had 6.8% fewer students enroll in college that fall – and enrollment declines were 2.3 times higher for students who attended low-income high schools compared to those who attended higher-income schools.

​"Were they even applying to college?" Clinedinst said. "Were they applying but not accepting offers? Or did they plan on going but not make it through the summer melt?"

What are schools doing to combat enrollment declines, especially among low-income students?

During the new school year, Grawe said, it will be important for education reporters to consider what institutions are doing to get those students back on track, as well as the degree to which this academic year and the following one will be different as more people receive the COVID-19 vaccine.

Reporters should ask both the high schools and colleges in their communities what they're doing to help not only the graduating class of 2021 enroll, but also reach 2020 graduates who didn't attend last year. "How can they help to provide the support and the encouragement for those students to get back on track educationally?" Grawe said.

CalMatters, a nonprofit newsroom focused on California government, recently used this question to report on College Comeback, a new counseling program launched in Riverside County aimed at helping high school graduates enroll in college.

​Beyond administrative and emotional support programs, reporters might also look at the financial incentives colleges are offering prospective students. Last summer, Inside Higher Ed reported on numerous institutions, including in Maine and Nebraska, offering new tuition breaks. Has that trend continued this year?

How have the pandemic and the drop in enrollment affected schools' admissions policies and practices?

When in-person learning shut down in March 2020, scores of colleges and universities put a pause on requiring applicants to submit standardized test scores, such as SAT or ACT results.

For years, education researchers have investigated standardized tests for racial, gender and socioeconomic biases. One well-accepted finding: High school grades are typically better indicators of ability to succeed in college.

As a result, a handful of schools, including the University of California at Berkeley and Washington State University, are extending their ACT and SAT test-optional policies. Many are exploring other ways – such as portfolios or scores on other tests – to assess applicants.

What impact will changed admissions policies have on a school's enrollment?

Just going test-optional doesn't necessarily increase a school's diversity, studies have found.

​Admissions officers can – and often do – still give an edge to students from wealthy families by, say, favoring students who participate in expensive sports, recruiting heavily from high schools in high-income neighborhoods, or by lowering admissions standards for students whose families can afford to pay or donate more.

But schools that pair reducing emphasis on standardized tests with changes to recruiting and other practices can improve their diversity.

How will enrollment changes affect institutional budgets?

Reduced enrollment during the pandemic forced many colleges and universities to cut their budgets, but the severity has varied by institution type.

Private colleges with small endowments depend heavily on student tuition to fund their operations. Most public colleges, on the other hand, receive funding from their state governments. And universities with multi-billion-dollar endowments, such as Princeton, Duke and Notre Dame, can, and do, use the dividends from their investments to soften any short-term financial challenge.

Nearly all of those institutions, however, got some help from the billions in pandemic relief aid Congress distributed to colleges and universities, beginning last year.

"Most institutions did better than they feared," Grawe, the economist at Carleton College, said. "For those experiencing a downturn in enrollments, if they don't have outside funding sources, it does pose real threats to financial viability."

And while community colleges saw the biggest enrollment decline by the numbers, Grawe said "they are structured in a way that can adapt more easily" to changes in economic climate. "I think if you talked to some private, smaller four-year institutions they might make the case that even though their enrollment declines weren't as severe as two-year colleges', the context made it more disruptive."

Another place to look for an enrollment story, Grawe said, is in the rising interest in more prestigious public schools. At state flagships, enrollment is trending upward, but it's trending downward at regional four-year institutions.

"The pandemic seems to perhaps have made that shift a little stronger," he said. "I think we'll continue to see stories about that going forward: The tension between regional state institutions suffering from lower enrollment, and on the other hand the state flagship is doing quite well."

The follow-up question for reporters, then, is who are the students attending these schools, and how have budget cuts changed their education experience?

What does the community stand to lose from continued enrollment declines?

If the trend of fewer low-income students enrolling in college continues, schools could lose a diverse cohort of students.

"We're talking about future moms and dads, community leaders, and people who are going to do all kinds of important jobs. I think we'd lose a sense of progress," Eric Hoover, senior reporter for the Chronicle of Higher Education, said.

In the years leading up to the pandemic, Hoover said, many institutions intensified their focus on supporting underrepresented students. "Progress had been steady but far too slow," Hoover said. As the pandemic makes it even more difficult for low-income students to access higher education, "I think that job just got harder," he said.

Further, the consequences of a less diverse student body may also reverberate into the classroom.

"Maybe in a class discussion you have much less diversity of experience in a course where current events are being discussed," Hoover said. "Maybe there's fewer lower-income students or students of color who can add to the discussion."