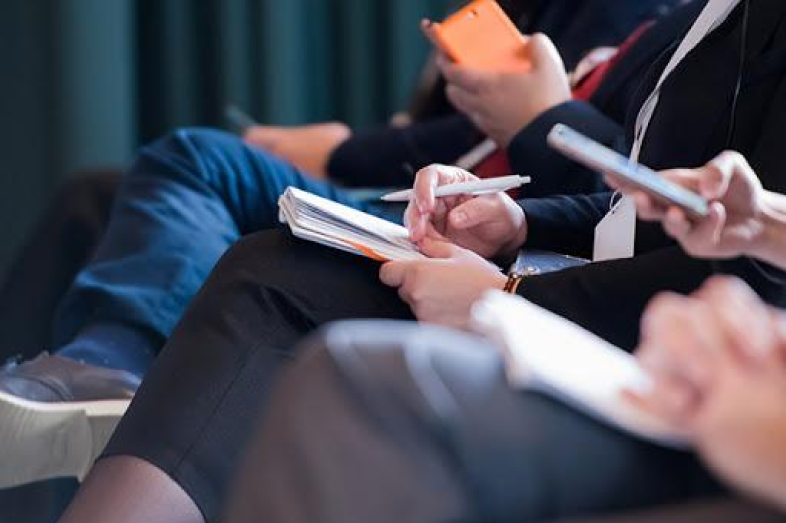 'How I Did the Story' on Forces Reshaping Higher Ed
Reporters share their tips for stories with wide audience appeal.
Want to tell an important story about a challenge specific to higher education while making sure it appeals to a broader audience?
Do your research, collaborate with others in your newsroom, and find someone who best illustrates the story for your readers, three top reporters say.
"I really love to go deep on stories, but I'm writing for a local news audience. So I had to think about how to roll around in those big topics in a way that made it real for people," said Tampa Bay Times investigative reporter Claire McNeill to to a room full of education reporters in a recent EWA session "How I Did The Story" at its 2019 Higher Education Seminar.
She called it "going from topic to character," or "zooming in from the biggest idea down to a person who lets you in."
Vacuuming the room
The story McNeill discussed — "Do you remember the student who was shot at FSU? He's pretty sure we've all moved on," — was one of the entries that landed her as a 2018 finalist for beat reporting in EWA's annual awards.
For that story, McNeill spent a great deal of time with Ronny Ahmed, a Florida State University student who was shot on campus in 2014.
As FSU approached the fifth anniversary of the shooting, McNeill had to think about how she wanted to write about it for a local news audience half a state away. She also said she was concerned about the fatigue around stories about victims of mass shootings.
McNeill wanted to accurately represent Ahmed's life five years after the shooting: how he is now paralyzed from the waist down, but is still enrolled at FSU and speaks out about gun laws. He also struggles with being the type of survivor that the world expects him to be, McNeill said.
So she told the story through his feelings and experiences, making sure to also "vacuum the room," a tip she picked up from fellow Tampa Bay Times reporter Lane DeGregory.
DeGregory developed a specific way of taking notes when she transitioned from the daily news beat to more narrative writing, she explained in her podcast.
"Learning to listen differently went along with learning how to take notes differently," she said. This includes even setting up her large notepad in a specific way with space for the date, time and observations using "her five senses" at the top and places to include important numbers on the sides.
DeGregory also doesn't rush to write down everything an interviewee says anymore. She explained that 70% of what someone might say during an interview isn't necessary, so she instead writes down unique quotes that pop out and spends the rest of the time listening to her source.
(DeGregory's podcast on taking notes is here.)
McNeill said DeGregory's method significantly impacted her own way of taking notes. McNeill gathered specific sensory details during interviews and interactions with her profile subject. She took notes not just of what Ahmed said during interviews, but also what he was doing and what the room was like. She also asked Ahmed what he was feeling or thinking during certain moments.
Don't go solo
Jodi Cohen, a reporter for ProPublica Illinois, echoed the significance of having colleagues help out, especially when racing to break a huge national story such as ProPublica's piece, "Parents Are Giving Up Custody of Their Kids to Get Need-Based College Financial Aid."
After receiving a confidential tip thanks to the relationships she had built up as a beat reporter over the years, Cohen jumped into research mode.
She first turned to case files, which would be the evidence needed to prove that parents had given up legal custody of their kids in court. But after sifting through 800 documents alone on the first day she started working the tip, Cohen said, she needed backup.
A colleague eventually joined her, and the team went through more than 1,800 case files, making calls to parents and attorneys in the process. This research, and their experience as beat reporters, would be pivotal in illustrating the full scope of the story.
Sifting through the files together also helped the team connect the dots of the story —  from the parents giving up custody, to the two attorneys who represented them, to the admissions consultants who helped carry out the scheme.
"We took these court cases and entered everything into a spreadsheet, so we could see the big picture, and we did this super fast," Cohen said.
One of the benefits of working collaboratively, Cohen said, is you are able to play off of each other's strengths.
They entered in student information from the court files, then tracked the students down on social media to check out extracurriculars or boasts about college admissions. They collected all this data while in the courthouse, Cohen said, even scanning files with an app on their phones.
Staying focused
Stephanie Daniel, a reporter at KUNC or Northern Colorado Public Radio, also emphasized the importance of finding characters who could represent or symbolize the story you want to tell.
This meant Daniel needed keen eyes peeled for specific characteristics and a lot of time to interview potential sources and people who could point her in the right direction, Daniel said. She was able to devote the in-depth time it took to lay the foundation for research like this, thanks to allying with a newsroom manager who supported Daniel's long-term project.
Daniel's story "Hire Me" was a multipart production told across multiple platforms and produced in part thanks to EWA's Reporting Fellowship Program.
The series grew out of the Colorado Department of Education's ambitious goal to educate the next generation of workers since more than 75% of jobs in Colorado now require some sort of postsecondary credential.
Daniel first armed herself with research to gain the background knowledge she needed to make informed choices about the characters she was looking for.
She also weighed which of her characters' stories were more important to tell —  how a veteran's military service impacted their return to college as a nontraditional student, or the fact that the veteran was transgender?
Daniel did hit some roadblocks. She was one of the first reporters in her newsroom to receive a fellowship like EWA's that required her to work on such an in-depth project.
Tackling such a product, especially one with some many different pieces — Daniel's project included radio segments and a documentary —  was new for the station. But Daniel was able to devote time to her reporting because of her ally on the editorial team.
"[Have] someone on board in management to sort of advocate," she advised. "When you have a big project like this, you really want to look at the long-term."