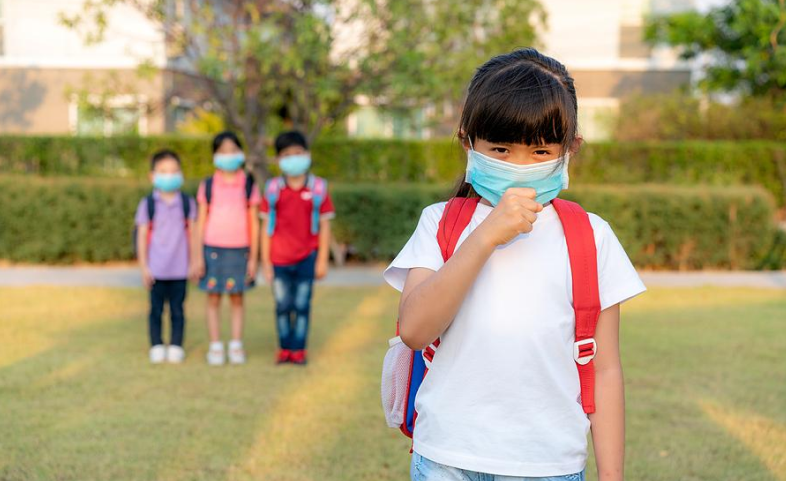 The Scramble for Effective Special Education in a Pandemic
Virtual learning often doesn't work for students with disabilities, experts say.
The uncertainty of the COVID-19 pandemic has created reopening challenges for schools across the nation, but those challenges are magnified for the seven million students with disabilities whose educational plans and therapies often rely on the structure of a classroom setting and face-to-face services and lessons.
As districts go in different directions for the new school year — full reopening, providing only virtual instruction, or a hybrid plan that would have students in school part-time and online part-time — special education teachers and administrators are scrambling to come up with effective ways to provide services in those ever-changing plans.
And parents of students with disabilities, many of whom took on the roles of teachers and therapists for their children during the spring lockdown, may now face returning to work without the ability to send their children to school or to find adequate child care. Even if they do find child care, they wonder if the setting will take responsibility for their children's education.
"Parents are extremely concerned about how they are going to balance all of their responsibilities and still keep their jobs," said Laurie VanderPloeg, the director of the Office of Special Education Programs at the U.S. Department of Education.
VanderPloeg was among the panelists for a session, "Special Education and the Pandemic," at the Education Writers Association's National Seminar, held virtually in July.
She also discussed waiver requests from certain provisions of federal special education law. Last spring, numerous groups, including those representing school administrators and special educators, put forward such requests. U.S. Secretary of Education Betsy DeVos in April issued a statement saying she did not support Congress allowing waivers of "core tenets" of the Individuals With Disabilities Education Act. The department has signaled it would not revisit its stance this fall.
"[Secretary DeVos] really was not at all interested in waiving any tenets of [IDEA] regarding students with disabilities," said VanderPloeg. "[She] was very clear … that we needed to ensure that our students with disabilities were going to be receiving equitable and quality services in the least restrictive environment as much as possible."
There was no argument among panelists that the special education services provided during the spring lockdown did not adequately meet students' needs, and they expect to see academic and skills deficits because of that. But panelists placed no blame on districts and charter operators, who had to convert to remote learning essentially overnight.
"There was not great research about serving students with disabilities in a remote setting," said Lindsay Jones, the president and CEO of the National Center for Learning Disabilities. Districts that already had 1:1 technology programs and had trained teachers on flexible learning platforms transitioned most easily, she said. More professional development in online learning is needed, she said, for remote learning to be more effective.
As school resumes, key questions for reporters and parents to ask of school officials are:
How have they worked to improve online special education?
How do schools plan to measure learning loss?
How will schools provide "compensatory education" in this uncertain educational terrain?
VanderPloeg said learning loss should be addressed at each student's start of the year Individualized Education Program (IEP) meeting with parents. The amount of supports a student receives should be based on their "present level of performance," VanderPloeg said. (An IEP lays out the specific plan for special education instruction, supports, and services intended to meet the unique needs of each child.)
Parents and teachers should collaborate on the assessments and on any compensatory services, she said.
Compensatory education services include the offering of additional education, therapies or outside placements for students to make up for deficits in educational programs provided by districts that do not meet the standard of a free and appropriate education under the Individuals with Disabilities Education Act. The goal is to bring the student up to the level of performance they would be at if appropriate services were provided initially.
Compensatory Services
But Brittney Robbins, a special educator and parent advocate in New Orleans, warned parents not to be too quick to agree to compensatory services if schools remain online.
"We talked a lot (with parents) about how virtual services in the spring didn't really happen," said Robbins, the director of special education services for high school students for KIPP New Orleans, a charter schools network, and the founder of the advocacy group Bright Minds.
Robbins is pushing the parents she advocates for to force educators "to make it really clear what services they will get," but noted she is "really wary of throwing in an extra 30-minute Zoom lesson and calling it a day."
Robbins recommends waiting until students are in school and "back in front of service providers" before giving full agreement on plans for compensatory services.
In New Orleans, Robbins said, her charter organization and other schools were set to begin classes in early August with a hybrid model. But in late July, New Orleans Mayor Latoya Cantrell and Superintendent Henderson Lewis Jr. announced that schools would start online and remain so at least until Labor Day, which is Sept. 7.
"So now, lots of networks are trying to figure out how to serve those [students] with disabilities well. Now that we've had five months (since the pandemic closed schools), people are trying to hold themselves to a much higher standard" as they try to figure out ways to incorporate missed services, Robbins said.
With the switch to remote learning, she worries about two groups of students: those with learning disabilities that will prevent them from sitting in front of a computer for hours, and students who appear neurotypical over Zoom but in reality need and receive more supports when they are physically in school.
On an encouraging note, Robbins provided an example of how virtual reality technology is being used to help teach life skills.
Though students can't be taken to the grocery store to learn how to shop or to a laundromat to learn how to wash their clothing, teachers can program virtual reality goggles to provide students with those experiences and lead them through the exercises.
In-Person Safety
Robbins said the "biggest stressor" when her system planned to open schools was her concern about students whose disabilities would prevent them from wearing protective gear. "How could they come to school and keep everyone healthy?"
She also expressed concern about students whose disabilities, such as ADHD, would make it difficult for them to sit at their desks all day, or how deaf students would be able to read lips with everyone wearing masks.
The panelists also raised questions about how students with compromised immune systems or underlying health conditions could attend in-person school safely.
"It would need to be looked at on an individual basis and whether those needs could be addressed in a school setting," VanderPleog said.
That means while some schools may resume in-person classes, some students will be required to continue learning online.
"For me, this pandemic made me realize how, in regular school, we are always paying attention to make sure special education students are included as much as possible. Now that struggle becomes even greater," said panel moderator Mandy McLaren, education reporter for the Courier Journal in Louisville and a former special education teacher in the New Orleans schools.
Reporters can ask districts how they are handling these situations to see if they are making any special accommodations to provide a safe way for vulnerable students to return to school.
In Kentucky, teachers of students with profound disabilities who can't wear masks are being directed to come to school wearing masks, face shields, gloves and gowns because the students "need hand-in-hand support all day long," McLaren said.
She recommended reporters seek out these teachers to report on their classroom experiences.
"This is going to be a piece of this puzzle, to show the toll that it is going to take," McLaren said.
Paraeducators' Role
McLaren and others encouraged reporters to ask district and charter officials about how they plan to use paraeducators in any virtual settings, since they are the staff members who spend the most time with students in the regular school setting.
Jones of the National Center for Learning Disabilities, described paraeducators as "a huge part of the workforce" who are responsible for helping children reach their individual goals.
"I don't think many parents are well aware of the role that paraeducators play," she said. "They're providing many levels of instruction in many cases."
VanderPloeg said "a lot of creative conversations" are taking place around the use of support staff. She used as an example sign language interpreters being included in remote lessons for deaf students.
Robbins said paraeducators have often been "left off to the side" as education leaders created online and hybrid programs. Yet they are an essential part of the special education system and should be included in all school reopening plans — virtual or in-person.
"I'm really curious about how school districts in particular are going to be able to utilize this part of the workforce when we aren't in school buildings," Robbins said.