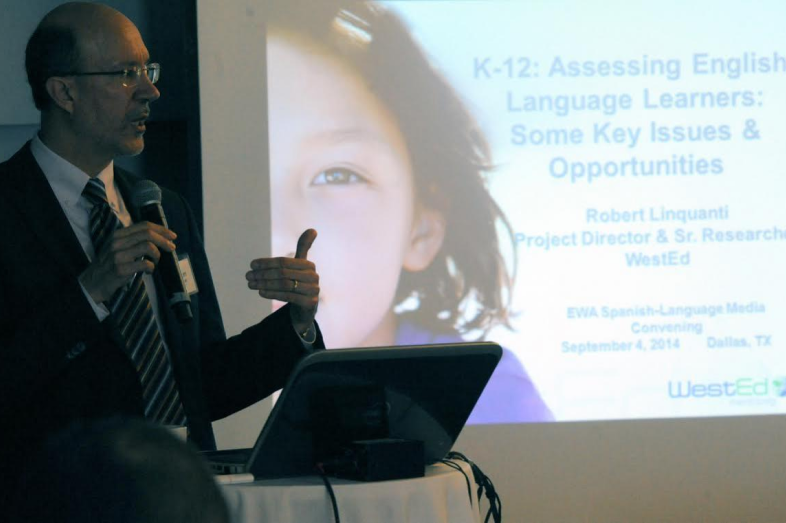 English Language Learners: Identifying Inconsistencies
Who are English language learners? Some would argue there's no consistent answer.
Robert Linquanti, the bilingual project director for English Learner Evaluation and Accountability Support at WestEd, presented on the topic at the EWA Spanish-Language Media Convening in Dallas earlier this month.
What we do know is that English language learners, or ELLs, are a protected minority class under federal law and have difficulties with English, Linquanti said.
According to the 2008-2010 Title III Biennial Report to Congress, the vast majority – 76 percent – of ELLs in the United States identified Spanish as their first language, while Vietnamese, Chinese, Arabic and Hmong followed, respectively, each with less than 2 percent of students.
But making sense of what those numbers mean is not entirely clearcut because the classification of ELLs differs between states and school districts.
The following questions were given at the convening to help journalists looking to localize the topic:
How are English language learners defined?
When do students initially become English language learners, and what is the average time in the system?
If students are being taught bilingually, are they tested bilingually?
Are language and culture treated as assets or deficits?
Linquanti and H. Gary Cook, an associate scientist at the Wisconsin Center for Education Research, compiled "Toward a 'Common Definition of English Language Learner'" last year – a list of recommendations to rid the American education system of these discrepancies.
For instance, states currently use a variety of methods for identifying potential ELL students. Home Language Surveys with questions like, "Is a language other than English spoken in your home?" are primarily used in all but four states, but the content and phrasing of the questions differ. To see examples, click on the following locations: the District of Columbia, Texas, California, Vermont, New York City.
Linquanti and Cook's study claims there are other key concerns that also threaten the validity of initial identification of potential ELLs. For example, 17 states allow school districts to select which test schools will use for the initial language proficiency classification as an ELL. These states do provide lists of tests from which the districts can select, according to the study, but the options mean there are notable differences among districts in the same state.
Similarly, the way ELLs are taught and assessed also differs greatly. In California, more than 1,000 school districts can make their own rules for deciding when an ELL has reached proficiency, and a student who meets one district's criteria could easily fall short in another.
A recent Lexington Institute study pointed out that the results on the National Assessment of Educational Progress reflect these differences. While 7 percent of ELL students score at or above proficiency on the English reading test – a rate that has remained consistent since 2003 – this number varies widely among different states.
Experts have said getting states to agree on a uniform process could take years, Education Week reported in 2013, acknowledging there may be pushback. One such opinion was recorded in the article by Kathy Christie, a vice president at Education Commission of the States: "While a common definition may be very logical and make perfect sense, and states may choose to come around, I think the risks continue to ratchet up that people are going to say, 'Enough. This is our business.'"
But with Common Core State Standards taking the national stage, Linquanti told Education Week he thinks there's a "reasonable shot."
The ELL status is meant to be temporary, but once students become proficient and exit the program, the government doesn't do a good job of following their progress, Linquanti went on to say in his presentation.
"We're not seeing how well they're doing afterwards," he said, proposing it skews statistics of academic performance gaps.
Linquanti said in an email Monday, "I'm advocating that school districts and states report three things:
A. The performance of all students that were initially ELL – thus stabilizing the subgroup in the way that every other subgroup is stabilized; include not just annual test scores, but also long-term outcomes such as high school course completion, graduation/dropout and college enrollment rates.
B. Which students — number and percent — from A. are not progressing and so remaining ELL for many years (e.g., 6 or more years), including which 'exit' criteria they are not meeting; and
C. Performance of former ELLs on long-term outcome indicators (see A above). This is necessary because under current federal law, after two years states are allowed to aggregate the results of these students into the general population and they are 'lost' from the subgroup that is initially ELL. Educators are neither credited for these students' success nor held accountable for their lack of success. This last item would become redundant and not needed once A. and B. became common practice."
Linquanti's PowerPoint presentation can be viewed at www.ewa.org/presentations.
This post was updated on Sep. 17 to add a comment from Linquanti.