Hispanic voters consider education the most important issue this election season, according to a new report by Pew Research Center's Hispanic Trends Project.
A survey of Latino registered voters conducted by the organization gave participants four other hot issues to choose from: jobs and the economy, health care, immigration and Middle East conflicts. Their answers are depicted in order of importance below: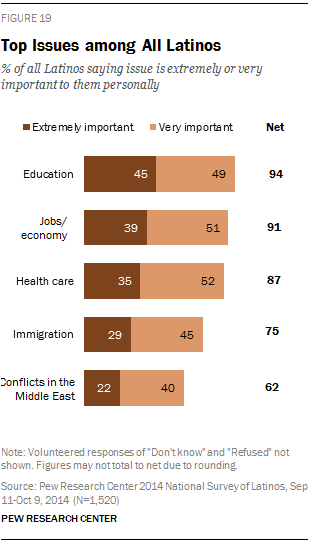 Education in the top slot has been a trend among Hispanic voters since at least 2007, according to previous Pew surveys, falling slightly behind jobs and the economy only once in the last seven years. In 2013, 57 percent of the surveyed Latino crowd said education was "extremely important" to them personally.
It makes sense, when 33 percent of the Latino population in the United States is school-aged. In an email Monday, the center's director of Hispanic research, Mark Hugo Lopez, said the biggest reason for the focus on education among Latinos is the age of the growing population.
"Latinos are younger, and they either have children in school or are young college-age students," he said. "That means they are focused on this issue more than some other groups."
A Latino voter guide by National Council of La Raza – the largest national Hispanic civil rights and advocacy organization in the United States – lists education in its top four issues Latinos should consider before heading to the polls, stating, "We are concerned that only about half of Latinos graduate from high school, and therefore we support greater investment in public schools and funding for early childhood education, dual-language programs, and access to higher education. These improvements are also important for the nation: With close to 11 million Latino children in public schools, these children will be significant contributors to our country's future prosperity."
Other Pew Research data suggests even outside of the polls, the Latino community is placing increased emphasis on education. Forty-nine percent of last spring's Latino high-school graduates immediately enrolled in college for this fall's semester, Lopez said in September at EWA's Spanish-Language Media Convening. An October 2013 survey revealed Hispanics are the largest minority group enrolled in both two- and four-year colleges.
In the 2009 National Survey of Latinos, 88 percent of respondents ages 16 and older said they agreed a college education is important to get ahead in life — a figure 14 percentage points higher than the overall number of respondents of the same age who also agreed.