Nearly 400,000 Latino infants and toddlers went uncounted during the last U.S. census — a figure that could have implications on their future education, according to a new report.
Researchers for the Child Trends Hispanic Institute and the National Association of Latino Elected and Appointed Officials (NALEO) Educational Fund found that the 2010 census undercounted young Latino children at a higher rate than their non-Latino peers — 7.1 percent, compared to 4.3. Seventy-two percent of the "invisible" Latinos live in five states — California, Texas, Florida, Arizona and New York.
In the report, researchers suggest several recommendations.
Begin outreach early.
Ensure stakeholders are aware of the high undercount among young Hispanic children.
Use highly targeted outreach.
Leverage existing partnerships and invest in new partnerships.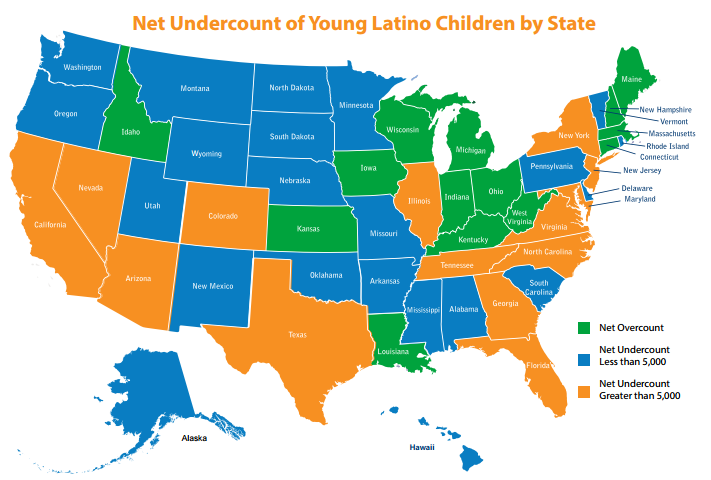 That so many children were left off the census could mean less funding for programs like Head Start, a federally funded early childhood education program that depends, in part, on census counts of the U.S. population under age 5. Other programs that might be affected include the Special Supplemental Program for Women, Infants and Children (WIC), the Child Care and Development Block Grant and the Maternal and Child Health Services Block Grant, according to researchers.
The undercount of this group also reduces potential federal funding for state programs serving low-income families, even as 62 percent of young Latino children live in or near poverty.
In Los Angeles, where researchers estimate 47,000 of the uncounted Latino children live, there is already a shortage of preschool seats, and more money going into federal preschool programs could mean that more children could attend, Deepa Fernandes reports for KPCC, Southern California Public Radio.
It's difficult to know definitively why so many Latino children were missed, but researchers listed a few possibilities — among them that these young children are concentrated in "hard-to-count areas," or live in multi-unit buildings with a high proportion of renters, as well as multi-generational households. Other possibilities that might contribute to the miscount include young children living with adults who do not speak English well and/or do not realize these children should be included in the census.
Fernandes interviewed a Latina mom who did not give census counters information about her children in 2010 because she was unsure what they were planning to do with the information. Another mother of three said many people in her largely immigrant community were afraid the counters were working with U.S. Immigration and Customs Enforcement.
NALEO Executive Director Arturo Vargas told news service EFE, "The persistent undercount of the nation's second largest population group is a civil rights issue. Unless we bring Latino youth out of the shadows and into the light in the 2020 Census, the Latino community will continue to have disproportionate access to fair political representation and public services."