President Donald Trump and U.S. Secretary of Education Betsy DeVos both say they want to expand school choice, including with public funding for private schools.
Recently, two parent activists on the front lines of the school voucher debate — one from Wisconsin, the other from Arizona – spoke to journalists attending the Education Writers Association's convening for Spanish-language media.
Tammy Olivas, the outreach director at Hispanics for School Choice in Wisconsin, and Raquel Mamani, a volunteer with Save Our Schools Arizona, discussed their efforts to expand parent engagement in the school choice debate. The two women are advocates on a highly polarizing issue in education today, with views that clashed at times.
Both Arizona and Wisconsin have multiple state programs that support private-school choice, including a longstanding school voucher initiative for low-income families in Milwaukee and an education savings account program in Arizona that allows certain families to access up to $11,000 in state funds to pay private-school tuition and other educational expenses. In fact, SOS Arizona is challenging a new law to expand that program.'
(The research and advocacy group EdChoice offers overviews of school choice programs in Arizona, Wisconsin, and other states.)
'Education With Values'
One of the first questions asked during the EWA panel focused on recent surveys finding relatively strong support for school choice among Hispanic families.
Olivas, whose oldest son attended a Catholic school in Mexico before the family moved to the U.S., believes Hispanic parents approve of vouchers because "the concept of an education with values is a concept that is part of the Hispanic culture."
But Mamani said she doesn't believe Hispanic parents know enough about school choice or understand it sufficiently to know the difference among the various options.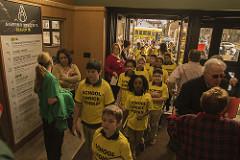 "I believe that parents want something better for their children," she said, "They don't know charters versus vouchers, they just want something better for their children, like all parents do."
A recent story by Matt Barnum at Chalkbeat notes that the level of support for voucher-style programs by Hispanic and black voters depends on how the survey question is worded. The story notes that a poll by Education Next showed that 62 percent of Hispanics "would back a tax credit program to fund private school tuition…" But Barnum also explains that "support for private school choice programs tends to drop substantially when the word 'voucher' is introduced or the use of public dollars is emphasized."
On the Rise
School vouchers and voucher-like programs are on the rise across the country, though such programs still serve fewer than half a million students, compared with some 50 million students in public schools. School voucher programs typically are state-funded initiatives that provide scholarships to pay tuition at private schools. They often target specific groups of students such as low-income families or students with disabilities.
Another voucher-like approach is tax-credit scholarships. Individuals and business can direct a portion of what they owe in state taxes to private, nonprofit organizations that provide private school scholarships to families.
A third approach gaining ground is the use of ESAs, such as the program in Arizona. State leaders in Arizona approved a major expansion of the program this year to serve all families with children in public schools. But the fate of that program is in question after Save Our Schools Arizona led an effort to get a challenge to that law on the ballot.
EWA's convening for Spanish language media, "Periodismo de la Educacion de los Latinos en la Era de Trump"  was held in Anaheim, Calif., on Sept. 10 and 11. It also sessions on charter schools, bilingual education and the education of undocumented students, among others.
Olivas' organization, Hispanics for School Choice, advocates for school choice options and educate parents about them in Wisconsin. Olivas said she witnessed parents at her church complain about their public schools, unaware that they qualified for vouchers to underwrite attendance at the church's school.
"Unfortunately many Hispanic parents find themselves trapped in a school district or a school that doesn't fulfill their needs," said Olivas. "The parent should decide, the parent knows what their child needs," she said.
A March story in the Milwaukee Journal Sentinel said that in the 2016-17 school year, 33,781 Wisconsin students received a voucher to attend one of the 209 participating private schools. In addition, "the annual voucher payments will rise to about $7,500 per K-8 pupil and around $8,000 per high school student this fall," the story said.
The article noted tensions increasing across Wisconsin as voucher participation expands and more money is allocated to the program. Similar tensions have been playing out in Arizona, where the the battle over vouchers intensified after state leaders approved legislation expanding the program to all 1.1 million public school students.
Collecting Signatures
Over the summer, Mamani's organization, Save our Schools Arizona, collected enough signatures to get a referendum placed on the November 2018 ballot. Proposition 305 would block the new, universal ESA program, as a recent Arizona Republic story explains.
SOS Arizona says it supports private-school-choice programs in certain situations.
"The original voucher programs have their place," Mamani said during the EWA panel. "We believe that something more is needed for certain communities, for low-income students or special education students."
But SOS Arizona does not support the expansion of ESAs, fearing it will deprive public schools of much-needed dollars, Mamani said. Arizona ranks 48th of the 50 states in the amount of money the state allocates for public education.
In addition, if ESAs are expanded, instead of being first in line for vouchers, low-income students and those with disabilities in underperforming schools will have to compete with a much larger pool of students to gain admission at private schools, Mamani said,
"The expansion is going to hurt the same communities it was trying to help," Mamani said.