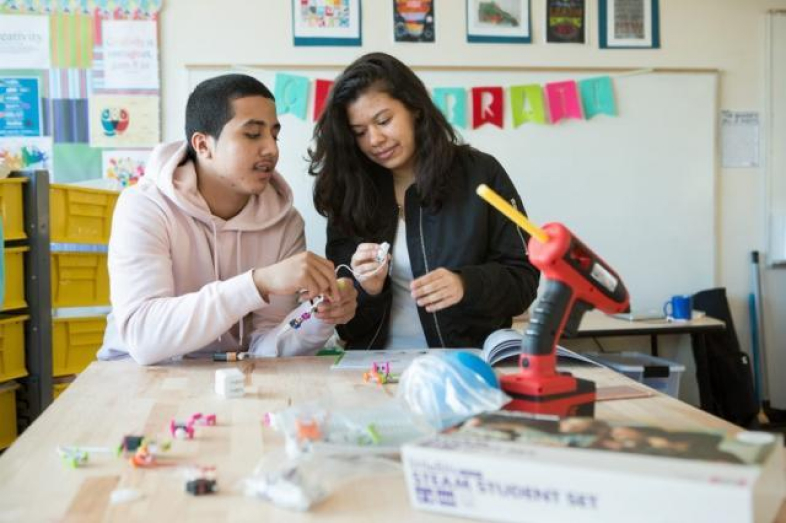 Agenda: A Reporter's Guide to Rethinking the American High School
San Diego • December 4–5, 2017
Monday, December 4, 2017
Campus of High Tech High
Registration and Lunch
12:00–12:30 p.m.
Welcome & Ice Breaker
12:30–1:00 p.m.
Caroline Hendrie, Education Writers Association
Anatomy of High School Redesign
1:00–2:00 p.m.
What's wrong with high schools today? What are the barriers to change? Panelists discuss the current wave of high school redesign—the common threads, the goals, and the challenges. Is this work enhancing educational equity? How can reporters assess whether bold claims to transform education are more than just rhetoric?
Harvey Chism, South Bronx Community Charter High School
Craig Jerald, Break the Curve Consulting
Rebecca Wolfe, Jobs for the Future
Caroline Hendrie, Education Writers Association (moderator)
How I Did the Story
2:15–3:15 p.m.
Journalists who have produced enterprising coverage on efforts to rethink high school, including through personalized and competency-based learning, share insights from their work. They also offer practical tips to bring stories to life, while maintaining an open mind and a healthy dose of skepticism.
Ben Herold, Education Week
Laura Isensee, Houston Public Media
Stacy Teicher Khadaroo, Christian Science Monitor
Erik Robelen, Education Writers Association (moderator)
Drafting a New Blueprint for Learning
3:30–4:00 p.m.
Around the U.S., new public high schools are cropping up that aim to upend the conventional learning experience. Educators and school designers discuss their work, including how they developed the original blueprints and how they have refined those plans over time.
Shawn Cornally, Iowa BIG High School
Christine Fowler-Mack, Cleveland Metropolitan School District
Matthew Pilarski, Springpoint
Lisa Simms, Denver School of Innovation and Sustainable Design
Patrick O'Donnell, The Plain Dealer (moderator)
Roundtable Talks and Exhibits of Student Learning
4:05–4:50 p.m.
In this interactive session, journalists in small groups see what learning looks like at several innovative high schools, and have the chance for more in-depth conversation with educators and students from those campuses.
Students Take Center Stage
5:00–5:30 p.m.
Students from several high schools recognized for innovative practices share on-the-ground experiences and impressions. What is a typical day like? What's different from their last school? Do students need a hall pass to leave the classroom?
Jailene Diaz, South Bronx Community Charter High School
Amida Nigena, Denver School of Innovation and Sustainable Design
Odalis Ramirez, Vista High School
Ethan Traugh, Iowa BIG High School
Jenny Brundin, Colorado Public Radio (moderator)
Reception
6:00–8:00 p.m.
Fireside Terrace, Courtyard Marriott San Diego Airport
Tuesday, December 5, 2017
Breakfast
8:00–8:30 a.m.
Introduction to High Tech High and Primer for Student-Led Tours
8:30–9:00 a.m.
Learn more about the High Tech High network of 13 charter schools. Intentionally serving students from diverse backgrounds, the network's cornerstones are educational equity, personalization, "authentic" student work, and teacher-student collaboration in designing the learning experience.
Larry Rosenstock, High Tech High
Randy Scherer, High Tech High
Caroline Hendrie, Education Writers Association (moderator)
Student-Led Tours of High Tech High
9:00–11:00 a.m.
Reporters in small groups join student-led tours that aim to offer "walking exhibitions" of student learning.​
Debrief on Site Visits
11:10–11:30 a.m.
Journalists reflect on the school visits, ask questions, and share ideas for how the experience might inform their coverage.
Studying Innovation: The Struggle to Move From Vision to Reality
11:30 a.m.–12:15 p.m.
Education researchers discuss key findings from studies on personalized learning and redesigned high schools. What does the research reveal about the academic outcomes? What are the challenges of turning innovative ideas into action? How should schools that embrace new approaches to teaching and learning be judged?
Barbara Means, Digital Promise
Elizabeth Steiner, The RAND Corporation
Beth Hawkins, The 74 (moderator)
Lunch
12:15–1:00 p.m.
A Conversation With Russlynn Ali of the XQ Institute
1:00–1:45 p.m.
The CEO of the XQ Institute discusses her organization's work to "reimagine public high school," including the XQ Super Schools Project. This initiative has provided millions of dollars in grants to fuel efforts that aim to transform the high school experience across the country.
Liz Willen, The Hechinger Report (interviewer)
Turning the Tables: Redesign a High School
2:00–4:20 p.m.
During this hands-on exercise—facilitated by experts at High Tech High—journalists in small teams go through the process of redesigning a high school. Along the way, they navigate the complex issues school designers must grapple with, from the big picture to daily practicalities.
Brainstorming Session: Covering Innovation in High School
4:30–5:00 p.m.
You've heard from educators, students, analysts and fellow journalists. You've seen what learning can look like in places that are rethinking the conventional high school. Now what? Reporters huddle together and share ideas to take back to their newsrooms.