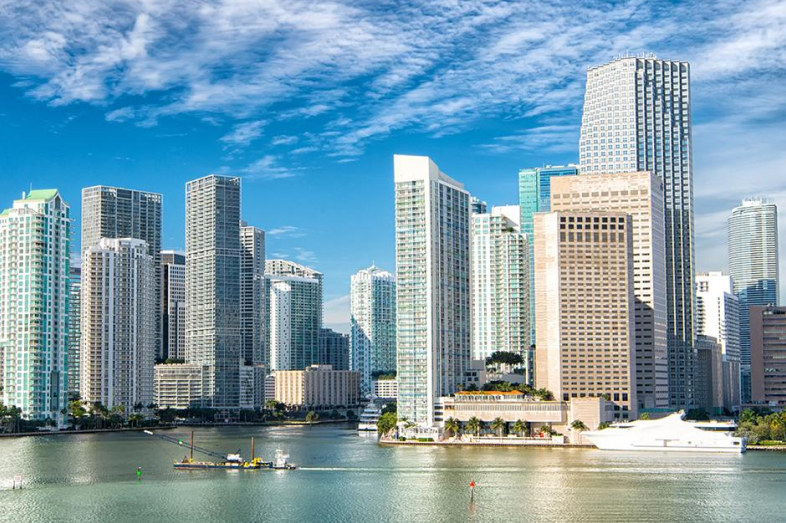 Beyond the Numbers: Getting the Story on Latino Education
Friday, July 20 – Brickell Room
2:00 pm: Welcome and Icebreaker
Francisco Vara-Orta, Education Week
Caroline Hendrie, EWA
2:30–3:30 pm: Improving Hispanic Access to Higher Education
What obstacles are preventing today's Hispanic students from pursuing education beyond high school? From finances to "college knowledge," experts explore barriers to higher education and how to overcome them.
Speakers:
Cecilia Flores, Juarez-Lincoln High School, Advise TX College Advising Corps
George Garcia, University of Texas, Austin
Michele Siqueiros, Campaign for College Opportunity
Rafael Lorente, University of Maryland (moderator)
3:45–4:45 pm: Why Hispanic Students Do – or Don't – Graduate
Getting into college is less than half the battle. What matters most for turning acceptance letters into degrees? What practices are institutions adopting to promote the success of Latinx students?
Tanya I. Garcia, Georgetown University Center on Education and the Workforce
Luis Maldonado, Hispanic Association of Colleges and Universities
Betty Viamontes, University of South Florida
Jose Martinez, El Diario NY (moderator)
5:00–6:00 pm: Ins and Outs of Public Data on Higher Ed
In this introduction to federal information sources, learn how to obtain and understand free government data on Hispanics in higher education to generate stories and buttress your reporting.
Wil Del Pilar, The Education Trust
Stella Flores, New York University
Tanya I. Garcia, Georgetown University Center on Education and the Workforce
Mc Nelly Torres (moderator)
6:15 pm Reception – Blue Water Cafe
Saturday, July 21 – Trade Room
10:30–11:15 am: The American Dream, Children and Families
What do the data tell us about the education experience of young Latinx adults and children enrolled in early childhood education? Experts walk reporters through the numbers.
Ana Gonzalez, Pew Hispanic Center
Milagros Nores, NIEER
Maria Peña, La Opinion (moderator)
11:30 am–12:15 pm: Where are the Teachers? Bringing in more Latinx and Bilingual Educators
There is a widely acknowledged lack of teachers of color, including Latinx teachers. While one-quarter of students in the U.S. are Latinx, only about 8 percent of teachers are. Even more of a challenge: finding bilingual teachers, especially since one in five students in the U.S. is an English language learner.  The session examines both dilemmas and how journalists should cover.
Wil del Pilar, Education Trust
Tania Hogan, University of Colorado Denver
Araceli Martinez, La Opinion (moderator)
12:15–12:45 pm: Lunch – working lunch
12:45–1:30 pm: Keynote – Julia Keleher, Puerto Rico education secretary
Patricia Mazzei, The New York Times (moderator). Puerto Rico Education Secretary Julia Keleher describes the state of education on the island, as well as her education reform goals, which include shutting down nearly 300 schools.
1:30–2:30 pm: What Is the Choice?
A rapidly rising  number of Hispanic students attend public charter schools around the U.S., with nearly 840,000 as of the 2014-15 school year. And private school choice grew from around 40,000 Hispanic students in 2005 to 280,000 in 2015. What's been the impact of this shift away from traditional public schools on students and communities? Why and how do families choose schools? What should journalists make of concerns expressed from some civil rights advocates that school choice, both public and private,  increases segregation by race and ethnicity?
Debbie Mortham, Foundation for Excellence in Education
Karla Hernandez-Mats, United Teachers of Dade
Aurelio Montemayor, IDRA
Judith Marty, Mater Academy
Esmeralda Fabian Romero, LA School Report (moderator)
2:45–3:45 pm: ESSA and the English-Language Learner – Are States Doing Enough?
The new federal law covering K-12 education improves on its predecessors by requiring states to shine a bigger spotlight on English language learners. But the devil is in the details: States will set their own accountability policies around ELL students and not all provisions will aid ELs in gaining proficiency in English and academics. What should reporters look for in their states' compliance with ESSA and what questions should they ask?
Nelson Flores, University of Pennsylvania
Leslie Villegas, Migration Policy Institute
Ryan Pontier, Florida International University
Juliana Jiminez, Univision (moderator)
3:45–4:30 pm: How I Did the Story
Adriana Cardona, WBEZ
Kyra Gurney and Brenda Medina, Miami Herald/El Nuevo Herald
Rafael Ulloa, El Tiempo Latino (moderator)