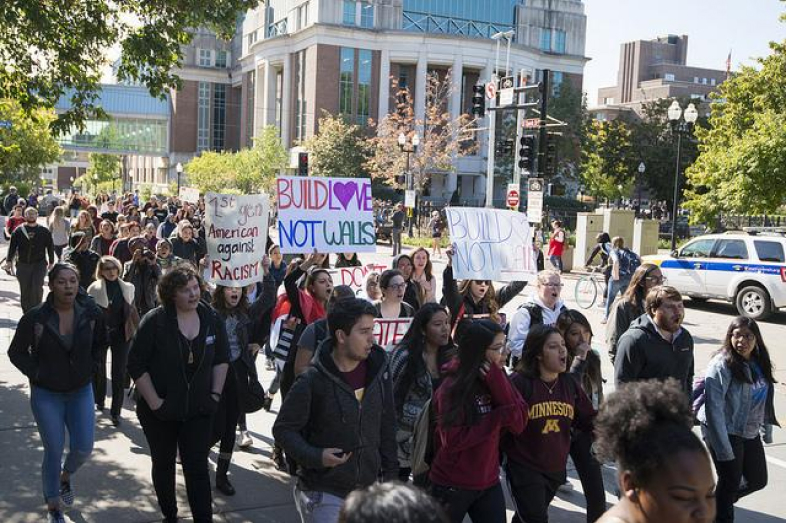 Covering Campus Conflict in the Time of Trump: Agenda
Atlanta • October 2–3, 2017
Monday, October 2, 2017
9:45– 11:30 a.m.: (Optional) Journalists' Tour of CNN
CNN has graciously agreed to give 20 EWA members a journalists-only tour of their newsroom, and a chance to talk with members of CNN's newsgathering, digital and data analysis teams to learn about their state-of-the art techniques of building traffic. The tour will start at 10 a.m. Monday, Oct. 2 at CNN's Atlanta headquarters, located at One CNN Center, Atlanta, GA 30303. Please be at the entryway at 9:45 a.m. so you can go through security. You'll need to show a picture ID. The tour will be over by 11:30 to give you time to walk back to the EWA conference at Georgia State University by noon. Spots will be allocated on a first-come, first-served basis, so if you want to join this tour, you need to pre-register here.
Welcome & Lunch
12:00–12:30 p.m.
Caroline Hendrie, Education Writers Association
Guiding At-Risk Students to Graduation
12:30–1:30 p.m.
Georgia State University has drawn national attention for its efforts to help historically disadvantaged students succeed in college. Black males, for example, graduate GSU at a rate more than 50 percent above the national average for that population. What's driving the university's progress in closing racial achievement gaps? Learn about GSU strategies such as the use of predictive analytics, interventional counseling, and emergency microgrants for students. What's the cost? What are the data on effectiveness? Are other schools pursuing similar strategies?
Speakers:
Timothy Renick, Georgia State University
Bridget Burns, University Innovation Alliance
Laura Gambino, Community College Research Center
Ronald Lundquist, Georgia State University
Eric Stirgus, The Atlanta Journal-Constitution (moderator)
Political Speech on College Campuses
1:45–2:45 p.m.
At a time of deep political polarization, colleges are confronting fresh challenges in safeguarding free speech while protecting campus security. College presidents and other officials who've hosted controversial speakers without violence discuss how colleges can remain open to new ideas and heated debate without promoting hate speech or risking violent protests.
Speakers:
Walter Kimbrough, Dillard University
Ari Cohn, Foundation for Individual Rights in Education
John Leary, Wayne State University
Frank LoMonte, University of Florida (moderator)
Coffee & Kvetch
2:45–3:30 p.m.
This is your off-the-record gripe session. Share with fellow reporters and EWA whatever annoys you about your job. What is stopping you from producing better stories? Help us brainstorm ways EWA can help.
Covering Racial Conflict on Campus
3:45–4:45 p.m.
Journalists who have covered racial tensions on campus share tips and advice on how to report and write on this sensitive topic.
Speakers:
Lisa Pemberton, The Olympian
Tiffany Pennamon, Diverse : Issues in Higher Education
Marlon A. Walker, The Atlanta Journal-Constitution
Tracie Powell, AllDigitocracy.org (moderator)
Top Ten Higher Ed Stories You Should Be Covering This Year
5:00–5:45 p.m.
Inside Higher Ed co-founder and editor Scott Jaschik gives you a heads up about the hottest stories in postsecondary education, and the topics you'll likely be covering this fall. We guarantee you'll not only feel fired up with inspiration by the end of Jaschik's spiel, but have lots of great story ideas scribbled in your notebook.
Scott Jaschik, Inside Higher Ed
Reception and Dinner
6:00–8:00 p.m.
Tuesday, October 3, 2017
Breakfast
8:00– 8:55 a.m.
Journalist and undocumented immigrant activist Jose Antonio Vargas discusses how journalists can better cover the experience of undocumented college students on campus and the Trump Administration's threat to repeal the Deferred Action for Childhood Arrivals.
Jose Antonio Vargas, Define American
Caroline Hendrie, Education Writers Association (moderator)
How to Cover the New Reality on Campus: Adult Learners
9:00–9:45 a.m.
The stereotype of the "traditional" college freshman — an 18-year-old just out of high school — is becoming outdated. Today, 44 percent of undergraduates are at least aged 22, and nearly one in five are over age 30. Experts explain how reporters can cover this new reality and ensure that their coverage reflects all students.
Speakers:
José Luis Cruz, Lehman College
Michael Moore, University of Arkansas System
Anastaciah Ondieki, Atlanta Journal-Constitution
Paul Fain, Inside Higher Ed (moderator)
Affirmative Action's Next Big Test
10:00–11 a.m.
The U.S. Department of Justice has announced it will investigate long-standing charges that Ivy League and other elite schools impose de facto quotas on Asian-Americans. Hear firsthand from key players in this dispute. What does the data show? What's the latest on legal developments? What are local angles reporters can pursue at other colleges?
Speakers:
David Hawkins, National Association for College Admission Counseling
Nicole Gon Ochi, Asian Americans Advancing Justice
YuKong Zhao, Asian American Coalition for Education
Lauren McGaughy, The Dallas Morning News (moderator)
How to Report on Undocumented Students
11:15 a.m.–12:15 p.m.
With President Trump's decision to phase out the Deferred Action for Childhood Arrivals (DACA) program, reporters face perplexing questions when reporting on undocumented students. For example: Is it ethical for a reporter to name someone as undocumented, knowing it could make them a target for immigration enforcement officials? This session offers guidance on covering college students whose immigration status is precarious.
Speakers:
Sasha Aslanian, APM Reports
Axel Herrera Ramos, Duke University
Emiko Soltis, Freedom University of Georgia
Lunch
12:15– 1:00 p.m.
Title IX Revisited
1:00– 1:45 p.m.
U.S. Secretary of Education Betsy DeVos recently announced plans to rework Obama administration rules governing how colleges respond to student allegations of sexual assault. Hear from attorneys and reporters who've worked on these difficult stories, including a series that won a Pulitzer Prize. Learn about reporting techniques and data to drive strong and nuanced coverage of this difficult subject.
Speakers:
Tyler Kingkade, Buzzfeed
Rachel Piper, The Salt Lake Tribune
Debbie Osgood, Hogan Marren Babbo & Rose
Derek Kravitz, ProPublica (moderator)
Mining Consumer Polling Data For Stories
2:00– 3:00 p.m.
How many people would sell an organ to pay off their student loans? Which college has been voted most Goth? Reporters are inundated with PR pitches for new survey data. But not all polls are created equal. Hear from experts about how to find and effectively use good polling data.
Speakers:
Brandon Busteed, Gallup
Carol D'Amico, Strada Education Network
Kevin Eagan, University of California, Los Angeles
Steven Shepard, Politico (moderator)
How CNN Gets More Clicks Than You
3:15 – 4:00 p.m.
Nearly every journalism outlet is under intense financial pressure to get more visitors to their website to earn more advertising revenues. So journalists should pay attention to the strategies that have propelled CNN into the winner's circle for the traffic race. CNN boasts more than 105 million unique visitors a month, tops in the news business, thanks, in part, to Mike Toppo, vice president of CNN Digital. Toppo helped create CNN's "digital war room" which combines edit, research, business intelligence and social staffers to "use real-time data to optimize site performance and leverage trending content." He'll give you insights you can take home to your editor about how CNN uses short videos, SEO, social media, and carefully tested headlines to attract bigger audiences to its website.
Hands-on Data Workshop: How to Turn Student-Debt Data Into Must-Read Stories
4:15 p.m. – 5:00 p.m.
"Student loans" is one of the most-searched education terms on Google. And no wonder, now that the $1.45 trillion national student debt load is the biggest consumer financial obligation outside of mortgages. We'll give you a spreadsheet of federal debt data and show you how to use basic Excel functions to identify, for example, which colleges you cover are loading up students with unaffordable loans. And we'll explain how to find debtors to tell the human impacts of debt.
Speakers:
Meredith Kolodner, The Hechinger Report
Kim Clark, Education Writers Association (moderator)