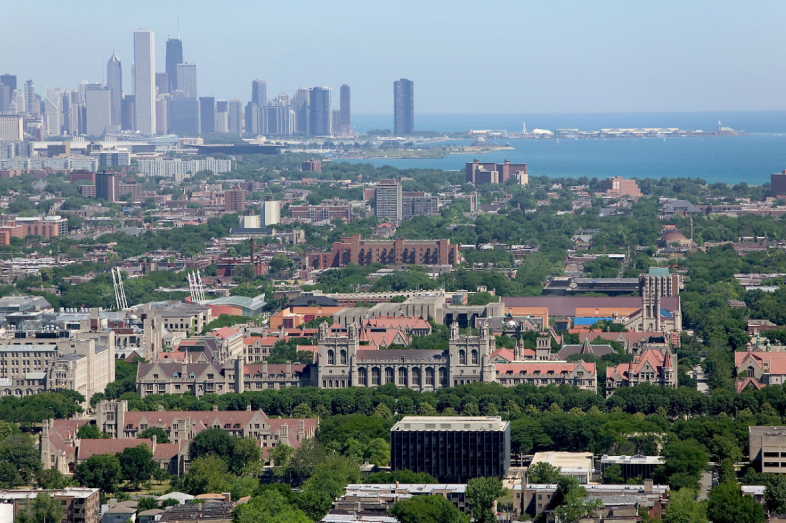 EWA Announces Theme and Date of 2015 Conference
Chicago Event to Explore Costs and Benefits of Education
The Education Writers Association is pleased to announce that its 68th National Seminar will be held April 20-22, 2015, in the heart of Chicago. Hosted by the Urban Education Institute of the University of Chicago, EWA's flagship annual conference will focus on "Costs and Benefits: Covering the Economics of Education."
"Nearly all aspects of the education beat involve matters of money," noted EWA President Scott Elliott. "And in today's newsrooms, navigating tight budgets has become an essential survival skill. That's why we think this is a great theme for next year's conference."
EWA is delighted that the Urban Education Institute has offered to host the premier annual gathering of the nation's education journalism community. UEI focuses on creating knowledge to produce reliably excellent schooling for children growing up in urban America.
"It's an honor to host the reporters, analysts, and leaders who set the tone of our national conversations on education. As the school that launched Milton Friedman and helped establish the field of social work, the University of Chicago embraces both rigorous research and exemplary practice," said Timothy Knowles, the John Dewey Director of UEI. "We're thrilled to highlight how that tradition is embodied at UEI and throughout Chicago."
EWA's National Seminar will gather some 500 journalists, experts, and community members for dozens of sessions, including standalone speakers, panel discussions, how-to workshops, and visits to sites of interest. The program will feature leading scholars from across the country as well as local experts, including those at UEI.
UEI undertakes rigorous applied research led by the University of Chicago Consortium on Chicago School Research; develops urban teachers and leaders through the University of Chicago Urban Teacher Education Program; operates the four campuses of the University of Chicago Charter School; and designs scalable tools and ideas to improve teaching, learning and leadership, primarily through UChicago Impact.
With its focus on financial issues, the National Seminar will arm attendees with new ideas for compelling stories on everything from salary schedules and bond issues to the burdens on families struggling to pay for preschool or college. At the same time, it will sharpen participants' skills at making the most of their resources for producing high-quality coverage.
"What sets us apart from other gatherings in the education space is that we approach all topics from the standpoint of what reporters need to know to do their jobs well," noted EWA Executive Director Caroline Hendrie.
The 2015 conference will take place at the Intercontinental Hotel in downtown Chicago. A highlight will be the annual awards banquet to recognize the winners of the 2014 National Awards for Education Reporting, EWA's annual contest. In addition to recognizing winners of all categories of the contest, EWA will announce the winner of the Fred M. Hechinger Grand Prize for Distinguished Education Reporting.
The Education Writers Association is a nonprofit membership organization whose mission is to improve the quality and quantity of education coverage to create a better-informed public.