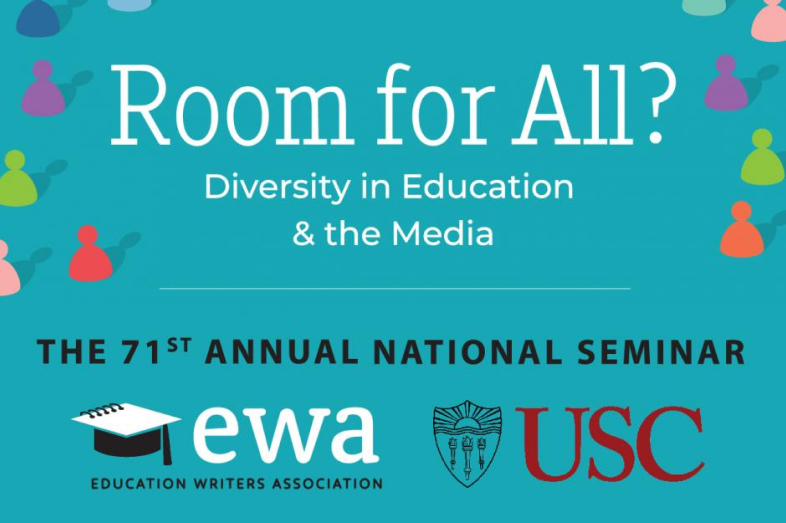 EWA to Hold 2018 National Seminar in Los Angeles
Education Journalism Conference Coming to USC
The Education Writers Association, the national professional organization for journalists who cover education, is pleased to announce that its flagship annual conference will take place at the University of Southern California from Wednesday, May 16, through Friday, May 18, 2018.
Hosted on the university's Los Angeles campus, EWA's 71st National Seminar will explore timely topics of interest to journalists from across the country, while also showcasing Southern California's rich journalism and education communities. The conference will deliver a high-impact program offering participants fresh knowledge, skills and inspiration to improve their coverage of education from the early years through K-12 and postsecondary learning.
EWA last held its National Seminar in Los Angeles in 2007, when USC's Annenberg School for Communication and Journalism offered preconference skills-building sessions on campus. The university has hosted several smaller EWA seminars over the years, including in January of this year.
"We're excited to take our previous partnerships with USC to a new level," said Greg Toppo, the president of the EWA Board of Directors and a national education writer for USA Today. "We look forward to joining forces to deliver a fantastic program for our members."
Among a wide array of offerings, the upcoming conference will provide programming to advance a Diversity and Inclusion Action Plan adopted in September by the EWA Board of Directors.
"USC is honored to host the Education Writers Association National Seminar and delighted that EWA will highlight diversity, inclusion and equity," said USC Provost Michael Quick. "USC is a national leader in this area, and we look forward to highlighting our work across the university during the seminar."
EWA's annual National Seminar allows attendees to step outside their daily duties and build new connections and understanding. Special features include awards honoring the best in education reporting, a track of sessions tailored to communications professionals, and training on digital and data journalism tools and strategies.
"EWA's National Seminar is the country's largest and most influential gathering of professionals committed to high-quality coverage of education," said EWA Executive Director Caroline Hendrie. "The conference is indispensable for everyone pursuing excellence on the challenging and fast-changing education beat."
Visit the conference homepage for information on registration, scholarships for eligible journalists, or sponsorship opportunities.