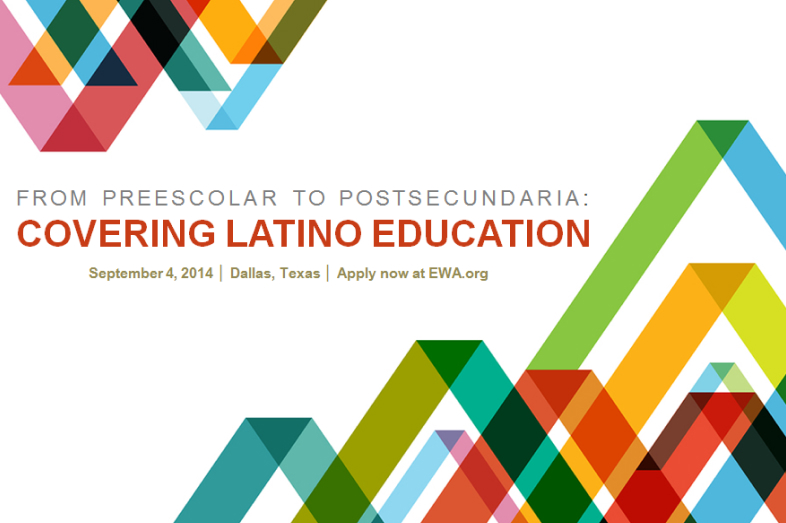 From Preescolar to Postsecundaria: Covering Latino Education
8-8:45 a.m. Breakfast
The Cube, 1st Floor, Hotel Lumen
8:45-9 a.m. Welcome
Photon Room, 2nd Floor
9-10 a.m. Portrait of the Student Population
Mark Hugo Lopez of the Pew Research Center's Hispanic Trends Project will provide reporters with the numbers: enrollment trends, surveys, and other key information about Hispanic student demographics that reporters should know.
Photon Room, 2nd Floor
10:15-11:15 a.m. What the Research Says
Photon Room, 2nd Floor
Researchers give reporters a synopsis of what research says on key topics in preschool, K-12 and higher education, and arm with them probing questions to ask:
Preschool: Building on Strengths – Studies show that many Latino children bring strong social and emotional skills to school, even if they're behind in language development. How can schools tap into families' strengths?

Lina Guzman, Child Trends Hispanic Institute
Takeaways and Story Ideas by Alejandra Lagos, Univision

K-12: Assessing English-Language Learners –Measuring the progress of students still learning English is rife with complexity. Challenges include defining "English-language learner" and how long the label should apply.

Robert Linquanti, WestEd
Takeaways and Story Ideas by Maria Fernanda Lopez, Univison

Higher Ed: Latinos Navigating College Finance – Latinos differ from other demographic groups in the types, sources and amounts of financial aid they apply for and receive. What are the patterns and their implications for institutions, students and families?

Deborah Santiago, Excelencia in Education
Takeaways and Story Ideas by Francisco Vara-Orta, San Antonio Express-News
11:20 a.m.-Noon Researcher Roundtable
The Cube, 1st Floor
How can reporters cover these and other topics about Latino education? Researchers meet with reporters in break-out sessions to talk more about the research on these topics.
Noon-1 p.m. LUNCH
The Cube, 1st Floor
1- 2:15 p.m. Covering the Education Beat
Photon Room, 2nd Floor
Hernando Amaya, MundoFox Las Vegas
Stella Chávez, KERA
Maria Fernanda Lopez, Univision
Moderator: Lucia Burga, Univision
2:30-3:30 p.m. Covering the Impact of Immigration on Education
Photon Room, 2nd Floor
Ana Lourdes Cárdenas, New Mexico State University
Dianne Solís, Dallas Morning News
Moderator: Stella Chávez, KERA
3:45-4:45 p.m. Data Tips for Education Coverage
Photon Room, 2nd Floor
Mc Nelly Torres, WTVJ-NBC6 South Florida
4:45-5 p.m. Takeaways – What Have You Learned?
Photon Room, 2nd Floor
6 p.m. Reception (optional)
Fireplace Patio, 1st Floor