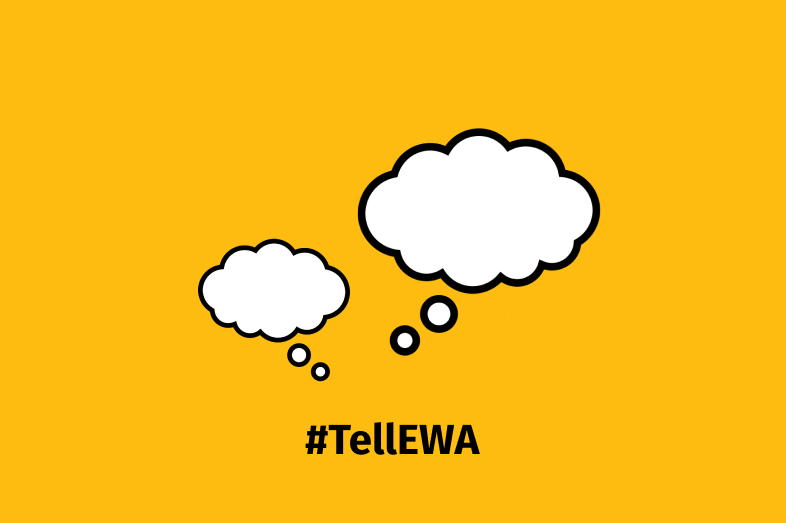 #tellEWA Member Stories (April 21-27)
Here's what we're reading by EWA members this week.
"I don't want to get crushed." In one working-class Indiana neighborhood, students climb over, squeeze between or crawl under train cars to get to school. They're also often delayed for class due to these blocked railroad crossings, which are caused by railroad companies parking their lengthy trains in the middle of intersections for days or hours. During each trek, residents hope the trains don't suddenly restart, which can injure or kill them. Topher Sanders, Dan Schwartz, and Joce Sterman reveal how these trains affect a majority Black and Latino school district and other local schools for ProPublica, Gray Television and InvestigateTV.
This video with stop you cold. How is this possible? #tellEWA Blocked Crossings Force Kids to Crawl Under Trains to Get to School — ProPublica https://t.co/ydD2X5AhI1

— Kavitha Cardoza (@KavithaCardoza) April 26, 2023
"Zero." Not all four-year colleges accept every transfer credit from two-year colleges. And, the highly selective universities often reject all transfer credits. A Massachusetts student who earned an associate degree while in high school learned this lesson the hard way. These credit rejections cost students thousands of dollars per credit and prevent them from graduating on time, reports Kirk Carapezza for GBH.
— Lori Crouch (@lkcrouch) April 27, 2023
"It was 100% inequitable." The 74's Linda Jacobson demonstrates the two very different sides of Fulton County, Georgia: The low-income majority Black side – where students lack sufficient and effective literacy resources – and the majority white, well-off area, where schools and students are better equipped to learn to read. State officials are hoping to fix this inequitable approach to reading instruction with federal pandemic-relief money. A new phonics-based curriculum could help all students stay on grade level, no matter where they live.
Georgia's @FultonCoSchools have long been divided by race and wealth. As @lrj417 reports, the district is betting $90M in pandemic aid that an investment in "science of reading" will begin to change all that. #tellEWA @The74 https://t.co/0Jd6SkCPSY

— Andrew Brownstein (@Misterodney) April 27, 2023
Parents are enrolling their children in microschools, which are known for their tiny class sizes and flexible learning models. These schools best serve students with autism, ADHD or anxiety, including those who struggled in traditional public schools, parents said. The schools are also structured differently: Some are like homeschooling; others are run by franchises, and some were formed by burnt-out teachers. Reporting for Youth Today, Gabrielle Russon backgrounds readers on microschools, including their shortcomings.
An estimated 1.1-2.2 million children are enrolled full-time in microschools, and they're getting an increasing share of public education funding, @GabrielleRusson reports. #tellEWAhttps://t.co/rTqMNy4hBt

— Molly Bloom (@M_Bloom) April 27, 2023
Financial-aid awards letters differ from college to college and are often difficult for high school seniors to understand. This is because universities omit important details, such as out-of-pocket costs, and structure the letters in ways that cause confusion, such as mislabeling student loans as grants. These problematic letters can hurt first-generation students. With college-decision day coming in Illinois, Lisa Philip provides step-by-step instructions to help students make sense of the letters in a piece for Open Campus and WBEZ Chicago.
.@LAPhilip breaks down one of the most confusing parts of the college-going process — financial aid offers. "Some look, frankly, like taxes," said Samantha Mondro, a college counselor at Chicago Bulls College Prephttps://t.co/MVOERAuHsG #tellEWA

— Open Campus (@opencampusmedia) April 25, 2023
Historically provided solely by U.S. unions, apprenticeships used to be seen as a pathway to blue-collar jobs, but that's changing. They are becoming more popular as more people rethink going to college and saddling themselves with student loan debt. Rather than only construction or plumbing, American apprentices can now train in other industries, such as banking, digital marketing and cybersecurity. Learning from European models, U.S. companies hire and train apprentices while they attend school part time, Patrick O'Donnell explains for Education Next.
Fascinating piece by ⁦@PatrickONews⁩ on apprenticeships and a deep dive into the similarities and differences with highly successful European models. #tellEWA ⁦@FellowsSpencer⁩ ⁦@EducationNext⁩ https://t.co/GKYPd6jfCV

— Kavitha Cardoza (@KavithaCardoza) April 25, 2023