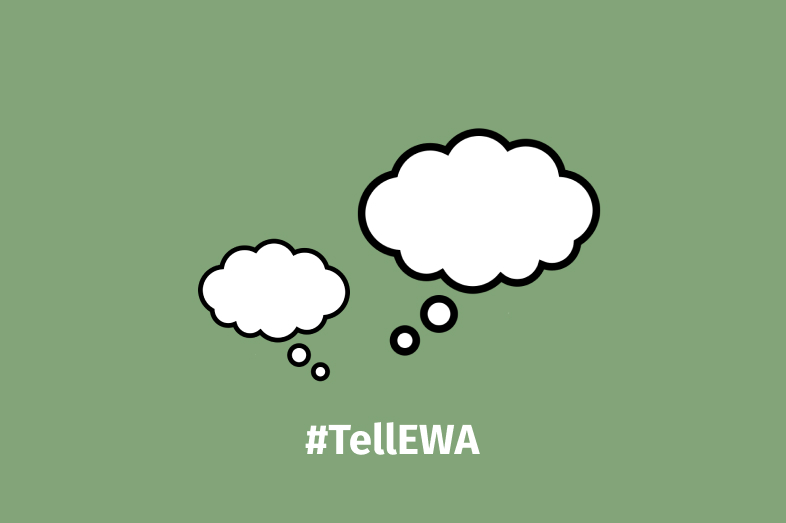 #tellEWA Member Stories (April 28-May 4)
Here's what we're reading by EWA members this week.
"Civics was the latest weapon in the culture wars." Despite low-voter turnout concerns and research showing that lessons directly involving students in government could activate future engagement, Texas officials suppressed students from directly communicating with elected officials for class assignments. The 2021 law halted a growing movement to engage students in real-world civics lessons. Now students are banned from advocating for the issues they care about, which are largely hyperlocal, nonpartisan issues, Asher Lehrer-Small reports for The 74.
"What are we missing out on that we could be doing if we weren't playing political games with our students' education?" TX Rep James Talarico asked. @small_asher digs in to find the answer. A must read #TellEWA https://t.co/fu3vnamisn

— Marianna McMurdock (@marimcmurdock) May 1, 2023
Generation Z high schoolers are graduating as public trust in higher education declines. Understanding this, local organizations came together for a career fair to help students learn about their options. For five seniors in Cleveland, college isn't necessarily the next step. Signal Cleveland's Amy Morona profiles each student, explaining that those uncertain about college are considering picking up a skilled trade or taking other routes.
👋🏻 #tellEWA

— Amy Morona (@amymorona) May 2, 2023
"Leaving the profession won't protect me." Since a private Christian elementary school shooting in Tennessee last March, educators are spending much time worrying about school safety amid an ongoing cycle of active-shooter drills. Most don't want to be armed with guns to counter the problem, and some said placing police officers on campus has done nothing but contribute minor infractions to students' criminal records. Reporting for Tennessee Lookout, Meghan Mangrum shares these teachers' frustrations, concerns and anger after state lawmakers failed to introduce gun-control legislation.
ICYMI: A month after the shooting at The Covenant School in Nashville left three educators and three students dead, Tennessee teachers talk school safety and gun reform.

My first in a minute, for The @TNLookout. #tellEWAhttps://t.co/X234qKU0NZ

— Meghan Mangrum (@memangrum) April 28, 2023
Miami-Dade County Public Schools in Florida recently surpassed Chicago Public Schools as the third largest in the U.S. Contributing to the growth this school year is rising enrollment from students who fled authoritarian governments in Cuba, Nicaragua and Venezuela. Florida education leaders weren't prepared to welcome these students, dealing with teacher shortages and a financial cap for students classified as English for Speakers of Other Languages, explains Carmen Sesin for NBC News.
Miami-Dade County seeks funding to accommodate nearly 10,000 new Cuban students – NBC News #tellEWA https://t.co/FTbR1zFVHT

— Kavitha Cardoza (@KavithaCardoza) April 28, 2023
Forty-two states require public schools to conduct shelter-in-place drills. New York currently mandates four active-shooter drills per year, but now lawmakers are taking steps to reduce their frequency to one each year. The change, in a form of a bill introduced in the state legislature last month, stems from criticism that the drills are excessive and often traumatic for students. "We're basically normalizing a reality in which kids go to school and expect to be slaughtered," Jennifer Mascia reports for The Trace.
New York Bill Seeks to Make Lockdown Drills Less Traumatic for Students https://t.co/2CpKUlicmf by @teamtrace @JenniferMascia #tellewa

— Joy (@Joy_Resmovits) April 27, 2023
The Detroit Free Press' Scott Talley profiles an educator, Michael Craig, who previously taught algebra to students with special needs before he was laid off in 2011. But then he got a new opportunity to become a horticulture program instructor for young adults in special education. He went from knowing very little about gardening to growing the horticulture program to a level that caught the attention of experts. The award-winning, 12-year-old program now grows food for businesses and donates leftover items to food banks.
I agree! #tellEWA https://t.co/vnFVg2CS1P

— Kavitha Cardoza (@KavithaCardoza) April 27, 2023