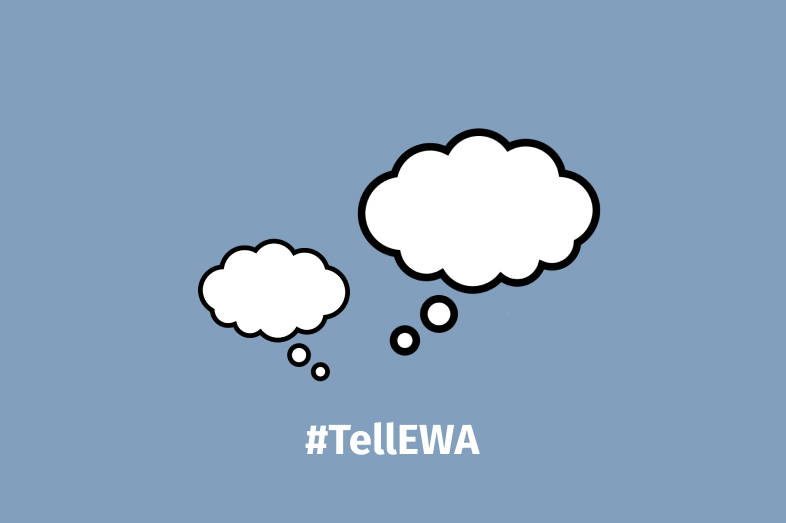 #tellEWA Member Stories (March 31-April 13)
Here's what we're reading by EWA members this week.
Nebraska school officials violated the First Amendment rights of Northwest High School student journalists, the local branch of the American Civil Liberties Union said in a lawsuit filed this month. The lawsuit came after district leaders eliminated the decades-old student newspaper, Viking Saga, which included a 2022 Pride Month edition featuring LGBTQ issues and students' preferred pronouns. The Grand Island Independent's Jessica Votipka gives additional background and details what school officials wrote in emails and text messages.
Thinking about having t-shirts made …. #overzealous #tellEWA
LGBTQ student newspaper stories 'not ok,' says Northwest school board member in email https://t.co/MYqgY2hJgb via @theindependent

— Jessica Votipka (@GI_Jesca) April 7, 2023
Seeking to drive voter turnout to school committee races, conservative organizers are spearheading debates about book bans and parents' rights in school curriculums in several Massachusetts towns. Colin Hogan of The New Bedford Light explains that several conservative groups, including one dedicated to "strengthening the family and affirming the Judeo-Christian values," filed and collected public records from schools to energize parents over emotional issues, such as sex education. Hogan also explains the hyperfocus on library books and the impact on students.
Read all about it in a special Friday afternoon edition of the @NewBedfordLight https://t.co/ztjjSV0nmA

— Colin Hogan (@by_ColinHogan) March 31, 2023
"I would have left anyway." A 2022 National Education Association survey showed that more than 50% of educators were thinking of leaving their jobs. As school staffing vacancies abounded, some teachers quit their jobs following the survey. Ed Surge's Emily Tate Sullivan highlights the experiences of a few former educators who resigned. They discuss why they left, their life after teaching and more.
In a @NEAToday survey last year, more than half of teachers said they planned to leave the profession earlier than planned. I talked to six who actually did. #tellEWA https://t.co/KOu2wKxbhs

— Emily Tate Sullivan (@ByEmilyTate) April 11, 2023
More than 3,000 students – including those who are first-generation, low-income, or undocumented – are participating in a New Deal-esque program: the #CaliforniansForAll College Corps. The program helps college students pay for school through acts of long-term, much-needed community service in education, food insecurity or climate mitigation. Advocates for the program hope it's replicated in other communities, but critics have concerns. Writing for The Hechinger Report, Gail Cornwall provides background on the program through the experiences of some of the students.
Rarely do all of the important points that sources share with writers make it into the final version. So it's time for a "cutting room floor" thread! Here's more of the story of California's New Deal-esque program for college students. #TellEWA 1/29 https://t.co/0TcR26l115

— Gail Cornwall (@gailcornwall) April 5, 2023
"They really know their routes and they know the kids." In a rural community in Vermont, longtime school bus drivers function as the eyes and ears of their school districts. These drivers help schools support students who need services, such as transportation help, nutritional assistance or even winter coats. The specialty transportation service contracted by the district primarily serves students experiencing homelessness, and these students often tell drivers of other students in need, Asher Lehrer-Small reports for VTDigger and The 74.
My byline's in my hometown news outlet this morning!

How bus drivers can help schools find and support students experiencing homelessness

Ty to @vtdigger for co-publishing and for the beautiful photos🙏🏼https://t.co/6vsQWxGTFM #TellEWA

— Asher Lehrer-Small (@small_asher) April 5, 2023
"It's not the damage to the school that I mourn. It's the destruction of childhood." Nearly 3,000 schools have been damaged in Ukraine. For example, a colorful kindergarten class in Kharkiv remains empty following a Russian artillery attack last August. In a multimedia-rich story for NPR, Elissa Nadworny and Claire Harbage detail their eight-month journey from Europe to the United States to find out what happened to the teacher and children who once learned in the empty classroom.
Such a beautiful story! #tellEWA https://t.co/vAXFryjs6Z

— Kavitha Cardoza (@KavithaCardoza) April 12, 2023