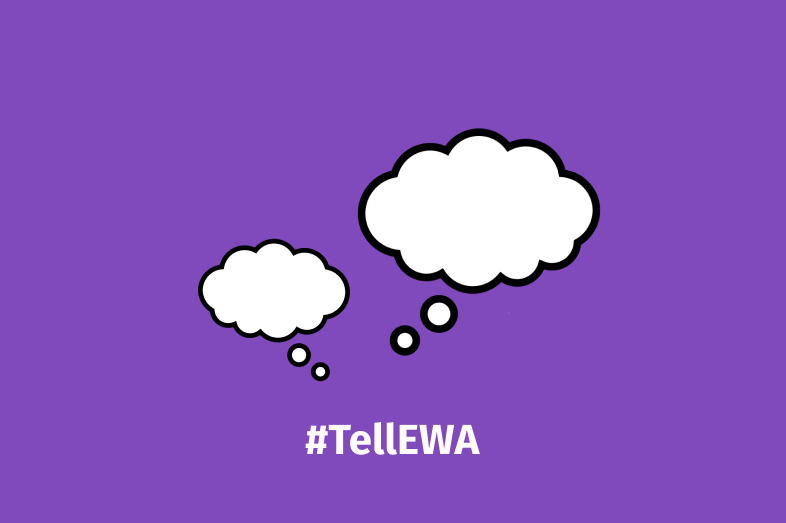 #tellEWA Member Stories (September 8-14)
Here's what we're reading by EWA members this week.
Chalkbeat Colorado's Jason Gonzales illustrates the struggles of student parents in higher education. Parents often face difficulties balancing their coursework and finding child care. While most Colorado colleges don't know exactly how many student parents are on their campuses, these students are most likely to be Black and low-income, and they're 10 times less likely to graduate.
Earlier this week, we @ChalkbeatCO published this piece on student parents on college campuses. Many feel like outsiders on campus and find an environment that's not built for what they need to be successful. #HigherEd #colorado #tellewahttps://t.co/tbL2yK5zS9

— Jason Gonzales (@ByJasonGonzales) September 7, 2023

"Sometimes we get a little stuck and need extra help." Students and professors around the country are learning about the risks and rewards of generative artificial intelligence. Reporting for ABC News, Madison Burinsky and Arthur Jones II detail how students are using tools like ChatGPT and how professors are reacting.
Tech leaders & CEOs like @elonmusk and @finkd are at Congress's first-ever AI Insight Forum, but Capitol Hill isn't the only place grappling with a generative #AI dilemma.

Here's a #tellEWA ✍🏾 w/@officialMadiB_ on higher education's #ChatGPT challenge: https://t.co/UUcHQtxnIx

— Arthur Jones II (AJ II) (@arthurjonesii) September 13, 2023

Alabama officials will update how they track and record school incidents involving seclusion and restraint after Trisha Powell Crain spent years requesting records for AL.com. The recent records the state released led to more questions than answers, and state officials didn't have an explanation for missing records.
The lack of good data didn't surprise me as much as the lack of concern about not having good data. #tellEWA #aledchat https://t.co/zV3UszRU7F

— Trisha Powell Crain (@Trish_Crain) September 8, 2023

Many children are struggling to learn to read due to disrupted learning, low-resourced schools, teacher vacancies and other issues. U.S. Department of Education data shows the reading problem has persisted in America for decades. An ABC News reporting team traveled to schools in several states to document this reading crisis.
"Reading is the key to life,"

For nearly seven months, we reported on America's decades-long struggle to teach #reading and the #phonics debate impacting classrooms — and kitchen tables — across the country.

A #tellEWA piece w/ @jayobtv & @talstales: https://t.co/yJqQ9NQS7O

— Arthur Jones II (AJ II) (@arthurjonesii) September 8, 2023

"Any clarity — any at all — would've been helpful." Students who sheltered in place during the recent shooting at The University of North Carolina-Chapel Hill found it difficult to separate rumors from fact. Alerts sent via the university's emergency communication system didn't clear up confusion, considering some professors reportedly continued class time during the active shooting, Skylar Rispens reports for EdScoop.
New from me: "We didn't know anything concrete until hours after we left school," a student told EdScoop. "The only way I knew how to react to the active shooter was because I had been a witness to another active shooting in my high school."#TellEWA https://t.co/roiAVyM97j

— Skylar Rispens (@skylar_rispens) September 12, 2023

"The balloons are going up, and from this day forward, so will the literacy rate." Texas parents are mourning Fort Worth's low literacy rate, symbolizing this by releasing balloons. The city also created a day to mark International Literacy Day. Fort Worth Report's Dang Le, gives context on decreases in grade-level reading skills among students and explains how parents are navigating these issues.
About 6 in 10 students who live in Fort Worth are not reading on grade level.

"Literacy of our students is a community crisis, not just a school crisis," @MayorMattie said.

More from @DangHLe: https://t.co/OYKJN4NBPY #tellEWA #txed #txlege

— Jacob Sanchez (@_jacob_sanchez) September 13, 2023