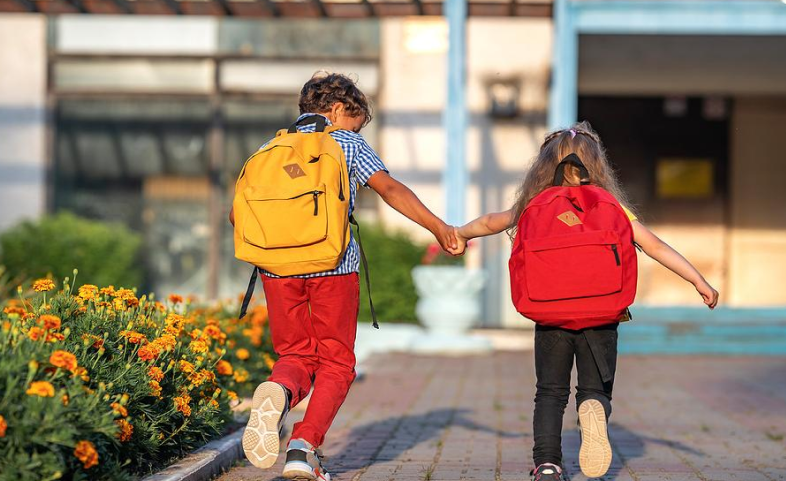 All Eyes on Enrollment as K-12 Students Return to School
Pandemic-driven shifts may have lasting repercussions.
Enrollment in K-12 schools, which plunged by 1.5 million students during the first wave of COVID-19, appeared poised to bounce back this fall. But then, the delta variant of COVID-19 raced across the nation, and school districts confronted the possibility of further shutdowns and lost students.
Amid these fast-changing circumstances, education reporters should closely watch decisions by school systems and families. What happens this school year may impact the funding and management of school districts for years to come.
Superintendents, school boards and principals are struggling to thread a needle: protect public health while serving students' needs and meeting parent demands for high-quality online and in-person instruction. Parents who are dissatisfied with their local school system's COVID-19 education plans are increasingly confronting school leaders in angry meetings. Those who can afford private options will vote with their children's feet, and transfer them from public schools to private schools that offer what they want. Those challenges can cause political upheaval on school boards and long-term declines in enrollment that in turn force painful budget cuts.
For context, local reporters can compare their community's enrollment numbers against national trends showing that public K-12 enrollment dropped 3% (1.5 million pupils) in 2020-21 compared with the previous school year. The largest plunge (13%) affected kindergarten enrollment.
To help the public understand COVID-19's impact on enrollment and the implications for schools and families, here are some key questions for journalists to ask that can drive compelling stories.
What factors will significantly affect enrollment at public schools this fall?
The relationships parents have with teachers and school districts, and parents' experiences outside of the education system, will shape their enrollment decisions, according to Ana Teresa Dahan, the senior director of policy and advocacy for Great Public Schools Now, a Los Angeles-based advocacy group.
"If I was a reporter, I'd be looking at the trends based on income and race," Dahan said. "I think there's going to be a lot of disparities on return to school based on income."
Some parents believe it's "too late" for school districts to convince them to return full time after disappointment and frustration over remote learning and mask mandates, among other issues, such as debates over critical race theory, The 74 Million reported. They're seriously considering alternatives to traditional public schooling.
But not all parents were dissatisfied with remote learning. Some students experienced better outcomes with online instruction. Others expressed feeling safer at home, away from bullying or racism.
According to a survey by the National Parents Union, a national advocacy group, 56% of those surveyed said they wanted  in-person and remote learning options to be provided.
Which learning options are parents choosing?
It remains unclear if children who weren't enrolled in their local schools for over a year will return this fall. But some U.S. Census data suggests many will not, as homeschooling rates have doubled from 5.4% during the 2019-20 school year to 11.1% in 2020-21.
While some states, such as Pennsylvania, private school enrollment dropped more than at public schools, according to Penn State News, other states saw big increases in private education enrollment. A CNBC story reported a surge of interest in private education that is not necessarily reflected in enrollment numbers yet. But some data is available: North Carolina, for example, reports that private school enrollment notched its largest increase in 24 years, while traditional public schools saw a 5% decline in their enrollment, losing students not only to private schools but to public charter schools as well.
To what extent are families choosing alternative options? 
About 79% of the nation's largest urban districts will offer a remote learning option this fall, according to a recent analysis by the Center for Reinventing Public Education, a nonpartisan research center. New York City and Chicago schools will not. But California is requiring school districts to offer virtual academies or so-called independent study programs.
Education reporters should gather details on what various virtual models entail in the school systems they cover. Ask districts if the options are open for all students. Are these options offered only to students with health risks? Also, are disadvantaged students getting the same options as students in more affluent communities?
The public needs to know what will happen to students who lack access to virtual options provided by their districts but can't return in-person either. Also, how will online options accommodate the needs of different student populations, such as students with disabilities and English-language learners.
And reporters can explore whether families are pursuing other alternative learning options, such as independent study. "What's interesting about the independent study option is that it's not online learning," said Dahan of Great Public Schools Now. "Now we've introduced this thing called independent study…It'll be very interesting to see how it allows school districts to figure it out in person and online at the same time. How will they pursue independent study, and will independent study be an equitable option compared to what's being offered in person?"
Independent study can vary based on the school district, but it often includes students learning and studying outside the classroom under the direction of a teacher. Some, but not all, districts are able to offer an all-virtual independent study option, like one in Kern County, California.
How will enrollment declines impact school districts' financial stability?
Several rounds of federal stimulus aid for K-12 education – totaling nearly $200 billion – will provide a buffer to states and school districts against any immediate financial crises. (This aid program is referred to as the Elementary and Secondary Schools Emergency Relief – ESSER – Fund.) But if the enrollment decline persists, districts will have to adjust their budgets for coming years.
Any negative impacts on district finances from lost enrollment is not expected to happen until next year, according to Jerry Lucido, the executive director of the USC Center for Enrollment Research, Policy and Practice.
"Schools are finding that they have the resources they need right now," Lucido said, "but they're highly concerned about what happens when that dries up."
Lucido encouraged journalists to find out when local school districts are expected to run out of the federal relief aid and how districts are planning to sustain additional student services for the long term.
K-12 schools and colleges began broadening their services with students' financial and mental well-being in mind, he added.
"Suddenly we're not only dealing with a pandemic," Lucido said. "We're trying to recraft how we provide education. Taking care of the whole student was something that we all had to learn."
Journalists have the opportunity to track how school systems spend  ESSER funds. The federal program requires districts to get input from the community on and make public their allocation decisions.
But the Center on Reinventing Public Education, which is closely tracking COVID-19 impacts on schools, reported that as of July 15, 2021, most of the 100 largest school systems had not announced if or how they were gathering public input.