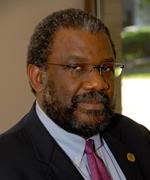 The Campaign for Grade-Level Reading represents the collaborative efforts of political, education,  business and advocacy leaders to close the nation's literacy gap. On Thursday, Nov. 10, the group will hold a webinar with the National Assessment Governing Board about the latest results on the "Nation's Report Card" for reading scores and what they mean for students and communities. (To register for the webinar, click here.) Ralph Smith, the campaign's managing director, spoke with EWA about retention, the responsibilities of parents, and President Obama's proposed tougher standards for Head Start.
1. What's your take on the latest NAEP results, which show reading scores appear to be stagnating?
I find them a continuing disappointment but not a surprise. We're seeing an improvement in classroom practice and additional public attention to the literacy issue. But whether all those things add up to a powerful enough intervention, it's too early to tell. The Campaign for Grade-Level Reading focuses on readiness, attendance and summer learning. If students enter school not ready for what school has to offer, and without having acquired the language and early literacy skills, it's going to be enormously difficult for them to catch up in the three years they have before they take that (NAEP) fourth grade test.
None of us would claim that we've done enough to have most low-income kids ready for what school has to offer. None of would claim those kids are going to schools that are adequately staffed or supported to help those students gain ground during the school year and not lose ground during the summer.
2. President Obama recently announced plans for stricter oversight and higher expectations of federal Head Start centers, which provide early education programs to young children from low-income families. How does that line up with the Campaign for Grade-Level Reading?
Part of the challenge of Head Start centers is that many of the children are so far behind or have already experienced so many developmental delays, that a significant portion of the resources are committed to remedial actions and interventions, rather than the developmental enhancements that Head Start was created to provide. For some children, Head Start is too late.
We have to help and support parents to do a better job so that kids aren't so far behind. That is the most complicated challenge of all. We have good evidence that well designed and intensive home visiting programs work. The problem is we can't afford to scale them.
3.Many states are pursuing legislation that would require students to be held back from the fourth grade if they are not reading at grade level by the end of the third grade. Does your organization have a position on retention?
It's relatively easy to take a position for or against retention. But that's generally an unhelpful polarization of the issue. The question should be how do we support students so that we don't have to make the decision about whether to retain a student at the end of third grade. We know there are lots of things we can do that will identify struggling readers early, that would assess the reasons or contributing difficulties they may be having. That way, we can adjust classroom strategies and support systems for those students.
4.But are states like Arizona, which is following Florida's lead on the issue and holding back students who aren't proficient in reading by the end of third grade, developing smart policies?
Certainly it's fair to keep retention in the mix. But it is equally fair to ask whether some sort of short-term intervention, summer program or tutoring might help. Retention is an expensive response and may–in some circumstances for some kids–be not only expensive but also unhelpful. And for some other kids it may be exactly what's needed.
While I don't want to say Florida got it all right, because even Gov. (Jeb) Bush would say they did not, Florida represents the kind of thoughtful approach that I think we're going to end up urging states to take. When you look at Florida, you realize the number of the pieces of the puzzle they put in place before having to make the decision to retain or not. It's not a single high-stakes test. A host of factors come into play, including the teacher's input and details about the individual child's circumstances, such as if they are an English language learner.
5. There's been significant public attention focused on literacy issues in recent months, coupled with intense pressure on lawmakers to improve the quality of public education. Do you feel your campaign is in the right place at the right time?
I would say we've hit a nerve. We have close to 160 letters of intent from coalitions that want to join our efforts. In some cities the effort will be spearheaded by the mayor's office, in other places it's the United Way. In Los Angeles it's actually going to be the Chamber of Commerce at the helm. What's been most gratifying is the diversity of the folks who have climbed on board.