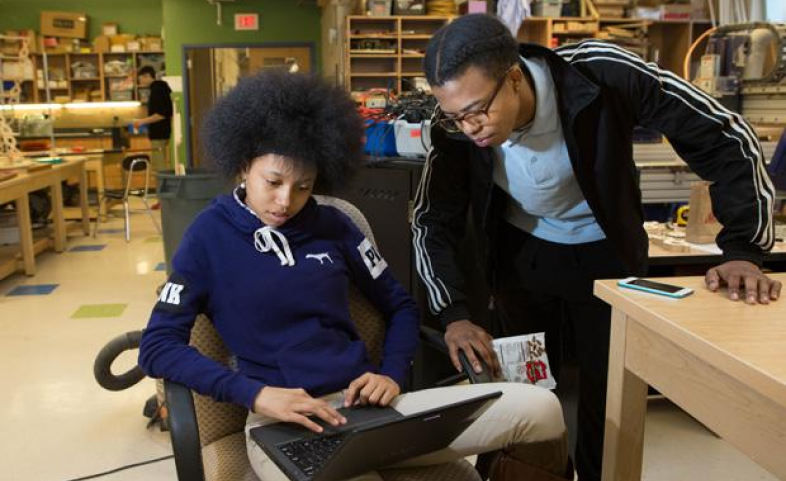 Pandemic-Driven Disparities Seen in After-School Programs
As coronavirus wears on, what role will out-of-school providers play in meeting community needs?
It's no secret that the COVID-19 pandemic is taking a disproportionate toll on the education of low-income students and people of color. Stories abound on the situation, especially when it comes to remote instruction and plans for school re-opening. But even after the school day ends, the disparities persist.
New data from advocates in the after-school sector are illustrating the impact COVID-19 is having beyond the schoolhouse doors: Low-income students are far less likely to have access to after-school programs in person this fall, compared with children and youths from higher-income families.
This data comes as huge questions persist about the pandemic's impact on after-school programs nationwide, which collectively serve millions of children and youths every year. Many providers are worried whether they can stay afloat financially. At the same time, there are also compelling examples of programs that are stepping up in new ways.
For education reporters, there are opportunities to help the public better understand both the struggles faced by after-school providers as well as how they are working to meet the needs of their communities during the COVID-19 pandemic. Now that school is back in session, how are after-school programs pivoting to provide service gaps created by school and child care closures? To what extent is the pandemic changing the nature of after-school programs, and the families served? Here's a roundup of some key coverage on issues impacting the after-school sector, along with a handful of story ideas for reporters to explore in their own communities.
Keeping the After-School Doors Open
A recent survey found that after-school programs serving mostly higher-income students are almost twice as likely to be physically open than programs serving lower-income students. According to the Afterschool Alliance, the nonprofit advocacy group that administered the nationally representative survey, nearly 45% of providers serving mostly high-income families report plans to provide fall in-person services, compared with only 15% of providers serving mostly low-income families.
The disparities across income levels to in-person after-school program access reflect trends showing that race is a strong predictor of access to in-person schooling, with predominantly white schools being more likely to offer in-person or hybrid schooling options rather than being fully online.
Although three out of four after-school providers report feeling "extremely" or "very" concerned about their ability to stay open, the sector has shown remarkable resilience through the pandemic, with only 5% of providers reporting complete closure this summer. Federally funded after-school programs located in high poverty neighborhoods, 86% of which are housed in public schools, were more likely to be shuttered over the summer compared to programs not receiving federal support. More recently, in Greensboro, N.C., school board members shuttered an after-school program that employed over 400 people and served about 4,000 students, citing a lack of need for after-school care under remote learning conditions.
Costs, workforce shortages, and concerns about COVID-19 transmission are obstacles impacting after-school providers' ability to stay open.
While strong bipartisan support has stabilized the sector's funding in recent years, uncertainty about future funding streams has led to increased anxiety among those who work in the field. Out-of-school (OST) programs, another term for after-school programs, were eligible to receive flexible stimulus funds under the federal Cares Act, Heroes Act, and Paycheck Protection Program. Currently, the Demoratic-led House has passed legislation that would provide additional funding to after-school nonprofits, but no action has been taken in the Senate, which is controlled by Republicans. (The impasse comes as Republican Sen. Susan Collins of Maine, who is facing a tough re-election bid this fall, authored a Senate-approved resolution recognizing October 22 as National Lights On Afterschool Day.)
How the Pandemic is Changing the Nature of After-School Programs
For some programs, demand for after-school care has shifted drastically. In Palm Beach County, Florida, school district officials anticipate that only one-third of the 20,000 students typically enrolled in after-school programs will attend this year. The Boys & Girls Club of Sonoma Valley, California, set up remote learning pods — a socially distanced place for teens to log on to their school's virtual learning platform — and called the turnout "disappointing." The reasons for low attendance include parental concerns about social distancing and teenagers needing to help their parents care for younger siblings, the local leaders said.
Yet, lower demand does not necessarily mean students have a place to go when they are out of school — or even when they are in school, for that matter. In Jackson, Mississippi, where nearly every student in Jackson Public Schools is Black and qualifies for a free or reduced-price lunch, OST programs have had to reduce offerings to ensure safe social distancing. And nearly half of low-income parents in the Afterschool Alliance survey reported concerns about being able to monitor their children's online learning while juggling their own work responsibilities.
These new challenges are changing the fundamental nature of after-school programs. No longer simply "after" school, OST programs have pivoted to take on a number of new roles, including: hybrid and distance learning facilitators, child care providers, social workers, and community distributors of essentials like meals and diapers.
After-School Programs: Ideas for Finding Your Next Story
The quickest way to learn how after-school programs in your area are faring is to locate one in your community. The Interagency Working Group on Youth Programs (IWGYP), a federal cross-agency task force, runs the Map My Community database of federally funded youth programs to locate after-school providers in your area. AmeriCorps, the federally funded youth employment program providing staffing to many after-school nonprofits, has a state directory of grantees. The Afterschool Alliance has put together a COVID-19 hub gathering state-specific information on after-school network resources. You can also try contacting local churches and religious organizations.
Key questions to orient a story on after-school programs during the pandemic include:
In what ways are OST organizations stepping up to fill gaps in community resources, such as access to remote learning and child care?
What concerns are top of mind for parents, providers, and students?
Are any federal, state, or local relief funds being dedicated to after-school budgets?
How are philanthropies and grantmaking organizations working to finance after-school programs?
Are programs struggling across the board, or are some after-school programs — such as arts, music, or athletic programs — more vulnerable to shutdown over others?
How has the OST workforce been affected by state, local, and school district budget cuts? If an after-school program is housed within a school district, what is happening to these after-school employees? Are they being shifted to the classroom?
A recent survey by ParentsTogether Action reported that 70% of children feel sad, worried, or overwhelmed more often than before the pandemic. With so many stressors — virtual schooling, economic instability, a global pandemic — what, if anything, are after-school providers doing to address the mental health of the students and families they serve?
Finally, don't forget to talk to young people. (Here are a few tips for interviewing young people.) Ask them what their after-school program means to them, and why they attend. How are youths stepping up and demonstrating leadership and resilience during these tough times?