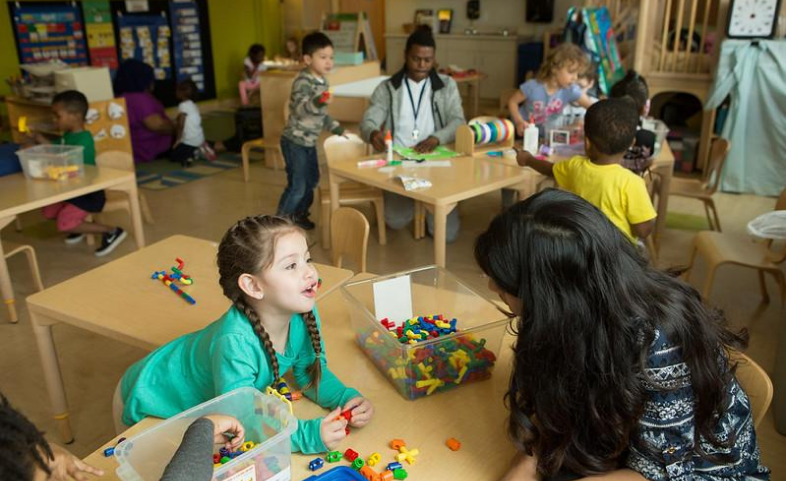 Child Care and Early Learning During the Coronavirus Pandemic: Five Stories to Tell
How is COVID-19 impacting early childhood education?
The new coronavirus outbreak is sending shock waves through the nation's K-12 and higher education systems. But how is the spread of COVID-19 affecting the littlest learners, ages 0 to 5, and the adults who teach and care for them?
The situation is fast evolving, and each state is responding to the child care conundrum differently. Here are five story ideas reporters can pursue to dig into the pandemic's effects on their local early education workforce and the children and families they serve.
Child Care Shortage and Availability
Mass K-12 school closures, combined with a surging need to provide child care to frontline emergency workers, mean heavy demand for access to child care facilities. The sudden lack of providers has left working parents scrambling. A new interactive tool from the Yale School of Medicine estimates that nearly half of the 17.4 million children of workers from essential industries in need of child care due to the COVID-19 outbreak are ages 0 to 5. The tool, which allows reporters to break down demand for child care by state, metro area, parent employment sector, and child age, is a great place to start to visualize how COVID-19 is impacting local demand for care. Child Care Aware, a nonprofit that provides resources and referrals to those seeking child care, is also tracking nationwide closures and policy adjustments here.
Here are some questions reporters can use as a springboard to look into local shortages:
Impact of Federal, State, and Local Emergency Declarations
Unlike the mostly unified closures seen across K-12 and higher education, high-level decision-making about whether to close early-care facilities has been uneven, and in some cases, confusing. States such as Colorado, Illinois, Kentucky, Massachusetts, Michigan, and Pennsylvania have ordered statewide closures, with exceptions only for children whose parents are classified as health care workers or other emergency personnel. New York City is set to open nearly 100 sites for all city children of health care, transit, or emergency services workers, including children who attend private schools. As Reema Amin reported for Chalkbeat, many of these sites will be dedicated to 3- and 4-year-olds, while a "limited number" will be contracted for infants and toddlers.
Yet, in states such as Florida, Kansas, Louisiana, and Texas, closures of child care facilities have not yet been ordered. Tennessee Gov. Bill Lee's response? Individuals, organizations, and churches should "pitch in" to provide for the one million Tennessee children who will need child care after statewide school closures.
There are many layers for journalists to peel back by looking at government management of child care under the emergency circumstances of COVID-19:
How Long Can Local Providers Stay Afloat?
Widespread financial distress is one of the most pressing challenges providers face in the wake of the pandemic, as a recent survey by the National Association for the Education of Young Children indicates. Thirty percent of respondents said they "would not survive a closure of more than two weeks without significant public investment." In a sector already burdened by low wages, high costs, and short supply, child care centers around the country are worried that drops in enrollment will force many to shut down, as stories by the nonprofit Colorado Sun, the News Herald in Panama City, Florida, and the Fort Worth (Texas) Star-Telegram indicate.
In the U.S. Congress, the $2 trillion stimulus package approved this week by the Senate includes $3.5 billion in "immediate assistance" to child care providers through the federal Child Care and Development Block Grant program, along with another $750 million in appropriations for Head Start early-education programs, as Andrew Ujifusa reported for Education Week. Child care advocacy groups all over the country are calling for immediate fiscal solutions ranging from subsidies for low enrollment, to compensation for laid off or sick workers, to a sector-wide bailout relief of $50 billion. The Senate approved the Coronavirus Aid, Relief, and Economic Security Act by a vote of 96 to 0. The measure, which the House is expected to approve and President Trump supports, will deliver major cash infusions to state K-12 systems, higher education institutions, and child-care providers.
A key thread for coverage is to follow the money — or a lack thereof:
For journalists wanting to dig into federal action and nationwide advocacy, the Alliance for Early Success, a nonprofit research and advocacy group, is compiling information related to these developments here.
The Child Care Dilemma: Meeting Need, Responsibly
Riham Feshir of Minnesota Public Radio called it "a lose-lose situation." Over at the Chattanooga Times Free Press, Meghan Mangrum described the "predicament" plaguing child care providers in the time of coronavirus like this:
"Do they stay open despite the public health and safety concerns and the fear of putting children — who some believe could help spread the virus without showing symptoms — and their families at risk? Or do they close, which could mean long-term financial repercussions for these small businesses, as well as for the parents who suddenly must choose between a paycheck and leaving a child alone at home?"
Here are some questions that any reporter could ask to inform a story on the bind of staying open during a pandemic:
How Are Parents Holding Up?
Without an end to the COVID-19 pandemic in sight, parents stuck at home with young ones are juggling their own work lives with their children's play lives and educational needs. With continued urging to practice social distancing—putting play dates and even family visits out of the question—parents are feeling, as WAMU's Debbie Truong reported, "frazzled."
Some journalists have responded to parent struggles by offering advice. Jackie Mader of The Hechinger Report offered tips on screen time, activities, and evaluating online resources. In The Seattle Times, Gemma Alexander compiled a list of resources for parents trying to keep their kids busy at home.
But parents are struggling in other ways, too. Single working mothers are particularly vulnerable to experiencing food and wage insecurity. Despite provider closures, some parents have been hit with unexpected child care bills.
In the business of educational journalism, getting the perspective of parents is always a great idea. Under current circumstances, journalists should keep in mind that many parents may be thrilled at the opportunity to speak to a fellow adult. And others may be a little… stressed.
For ideas on how to cover the coronavirus-related developments at the K-12 levels, check out this blog post from EWA.