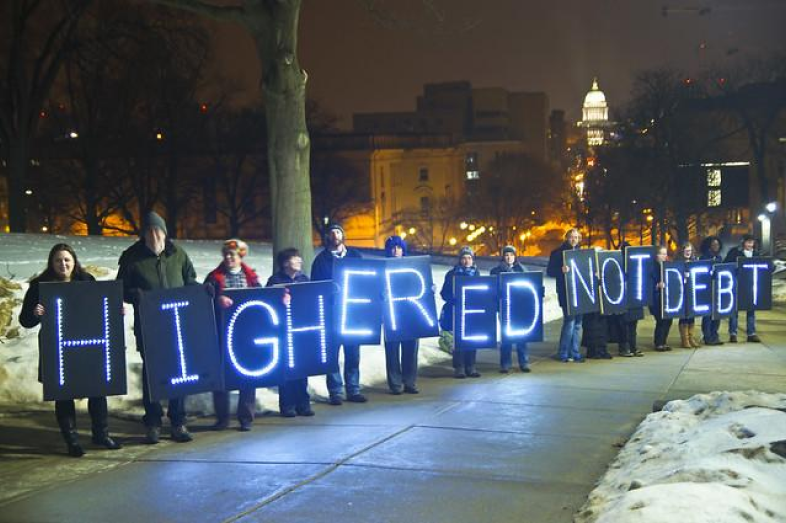 Five Fresh Student Loan Story Ideas
Fertile ground for journalists include forgiveness, parent loans and claims of victimhood.
Student loans always seem to be making news these days. After all, 44 million Americans owe a total collective educational debt load of $1.5 trillion. The student debt level is so high that it is often called a "crisis" that is blamed for worsening everything from racial inequalities to borrowers' marriage prospects.
But Rachel Fishman, deputy director of research for the education policy program at New America, challenged reporters attending the Education Writers Association's May 2019 National Seminar in Baltimore: "We keep hearing about this student loan crisis and that 44 million people have these loans, but who is it really a crisis for?"
Speaking at a panel on covering student loans, Fishman and other student loan experts urged journalists to dig into student debt-related stories that have gotten scant attention but are crucially important.
They suggested at least five fresh student loan story ideas:
READ MORE ON STUDENT LOANS:
Parse out who is – and who isn't –  struggling with student loans
Most borrowers with federally backed education loans are managing them, Fishman said. But there are big variations among schools and demographic groups. Overall, for example, data show that among the groups struggling the most with student debt are  dropouts (or stop-outs) with comparatively low loan balances and African American borrowers, whether or not they graduate. You can look up student loan repayment rates by factors such as gender, family income, and first-generation status using the College Scorecard data.
Investigate how educational debt is affecting parents
The federal government's parent loan program, called Parent PLUS, allows parents of undergraduates to borrow up to the full cost of their students' attendance without requiring the parents to prove they can pay the money back. To obtain a PLUS loan, parents only need to show that they don't have bad credit (in other words, aren't behind on other bills).
So parents who are getting by on, say a $1,200-a-month disability payment can borrow as much as $280,000 over four years  to send a child to an expensive private college.
If parents fall behind in their PLUS payments, the government garnishes their wages, Social Security payments and income tax refunds. That makes parent PLUS loans "for some families, a predatory loan," Fishman said. "We're putting families in intergenerational debt."
You can download spreadsheets showing, for each college, how many parents take out parent PLUS loans, and how much they typically borrow, for each year at the Federal Student Aid data center.
Factcheck lawsuits and claims of victimhood
Jason Delisle, a resident fellow at the American Enterprise Institute, urged journalists to investigate on their own the claims made by student lenders, loan collectors and, just as diligently, borrowers suing the companies for allegedly mishandling repayments. Delisle recently outlined examples of cases in which Navient (a student loan billing and management company that was formerly part of Sallie Mae) documented that borrowers portrayed as victims of misinformation were lying to Navient about their financial situations, or refused Navient's guidance about their repayment options.
Research forgiveness programs
NPR's Cory Turner, who has covered the 99 percent denial rate for the U.S. Department of Education's public service loan forgiveness program, suggested examining the implementation of forgiveness programs. "There are currently tens of thousands of people logjammed because they didn't understand the program, implementers didn't understand the program, servicers didn't understand the program," he said. "There was a dumpster fire of bad advice going on."
AEI's Delisle suggested taking a step back and examining the rules of forgiveness programs. Some, he said,  often end up helping upper-income borrowers and people with graduate degrees more than low-income borrowers.
Examine politicians' and candidates' student loan reform proposals
The panelists urged reporters to look closely at proposals being put forth by state and federal candidates for debt-free and tuition-free college. What other services and programs might be cut if state and federal governments are required to pay for higher education? Would the promise of free college come with strings attached? And would some valuable aspects of college education be sacrificed Turner suggested: "Ask yourself: 'Are these plans well intentioned but so big and so broad that they are spreading help too thinly, and thus hurting the kids who really do need the help and for whom this is the difference?"
Finally, the speakers suggested reporters simply use their own sense of fairness to identify stories that need telling. "My guidance is to look for the stuff that just doesn't pass the smell test," Turner said. "Just ask yourself, Is it fair? Is it hurting people who are keeping their promises?"