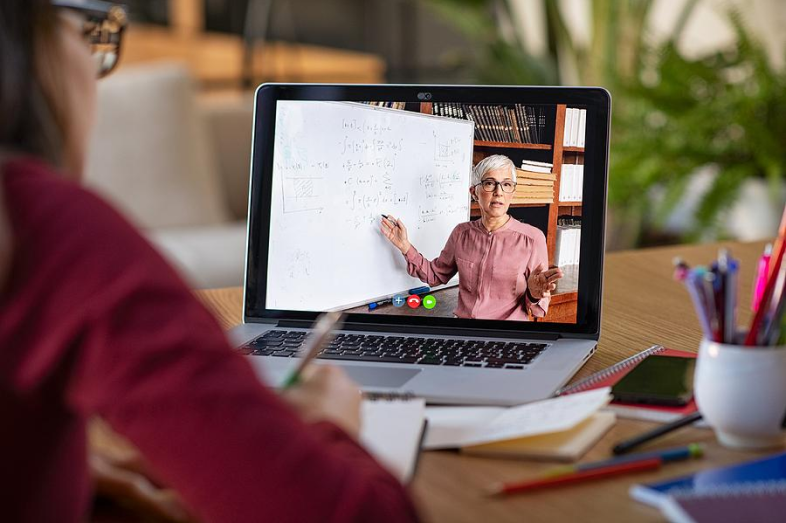 How Higher Ed Rushed Online — and What Colleges Have Learned Since
Hoping fully remote learning isn't the future, professors and students get creative for now.
Like college professors all over the country, Angela Echeverri had never taught completely online before — until this past spring.
As a science professor at Los Angeles Mission College, Echeverri and her colleagues had two weeks to transition thousands of courses to an online format.
"The amount of work was absolutely brutal. It required a huge amount of work over those two weeks," Echeverri said during a higher education panel at EWA's virtual seminar earlier this month.
As higher education prepares for a fall term unlike any other, every state and college is taking its own individual approach. The EWA panel offered a look back at the spring, as well as a look forward to what things might look like in the next few months, including:
How schools are addressing the digital divide
How schools are teaching in programs that require hands-on training, like laboratories
How schools are dealing with the extra costs of remote teaching and learning
Story Ideas 
The panelists had a few story ideas for reporters covering how the pandemic is playing out at their universities:
The challenges facing K-12 students and how COVID-19 impacts them as they head to college
Training new essential workers, including health care workers
The economic future of students and universities
The economics of higher education in the future — who survives and who doesn't, and how to remove inequities
A Student's Perspective
As a student at New York City's Hunter College, Lauren Hakimi was right in the center of the COVID-19 pandemic this spring.
But unlike other students, she was able to return home when her dorm closed and attend virtual classes. For her classmates, the pandemic impacted their health or their finances.
"Students had family members who were sick, students themselves that got sick," Hakimi said. "Most students at my school work part-time or even full-time jobs, and some lost their jobs."
Hakimi highlighted some of the steps the City University of New York (CUNY) system took to help students, including an emergency fund for students and delivered laptops for students who needed them.
But CUNY is struggling financially too. Students advocated for full tuition refunds and dormitory refunds in the spring. Hakimi said there were dormitory refunds, but said some students still haven't received those.
Like many universities, the CUNY system will likely look to increasing tuition to make up lost revenue, even as students advocate for a refund or tuition freeze for the next year.
"It's most likely going to happen that CUNY is going to increase tuition and fees for the upcoming year, so students are not very happy about that," Hakimi said. "But that's kind of the position CUNY is in."
As editor-in-chief of Hunter College's newspaper, The Envoy, Hakimi has hosted Zoom calls with her team and with clubs she's a part of. But as classes can continue virtually, it's harder to build community on campus through a screen.
"Student life is not the same remotely as it is in person," Hakimi said. "I really enjoyed being able to live in a dormitory — I think for people who can do it, it's a great way to transition into adulthood."
As she prepares for a remote semester, Hakimi wants to see in-person classes resume as soon as it is possible.
"I really hope remote learning isn't the future of college, but it is what we're dealing with for now."
'Hard to Convert' Courses
At schools in the Los Angeles community college system, where Echeverri teaches, fully online courses may extend beyond the fall. Administrators have been busy planning and finding creative ways to offer the same learning experience they usually do in-person at the system's nine campuses.
Echeverri teaches microbiology and biology courses. One solution she's considering for her now-online students to replicate some of her normal in-class activities: a mailed kit including equipment and supplies to perform experiments at home.
But her course requires a microscope. She's tried to help students financially by getting rid of the course textbook to offset the cost of a microscope.
In planning for the fall, Echeverri said there are some courses that are "hard to convert," for programs like nursing or welding that require some in-person learning. For those courses, the college is considering classes held outdoors.
For the fall, Echeverri said professional development has been key in helping staff feel more comfortable with the online format.
"We don't have all the answers, but I think professional development for faculty and looking at what other people are doing is going to be key because we don't have a lot of time and instruction needs to continue," Echeverri said.
Creativity in Course Design
Colorado College's Manya Whitaker works in the classroom and in the administration. She is an associate professor and chair of the education department, while also serving as interim director of the school's multicultural system.
Like Echeverri, Whitaker hadn't taught online before this spring. She's now part of the team plotting for the fall.
She said the move to mostly online education requires creativity — in designing courses, in connecting students with staff and each other, and in making school work for different schedules.
"We have to reset our minds for what counts as a course," Whitaker said.
In conversations Whitaker is having with her colleagues about the fall, she listed a few priorities: economic stability of small universities like Colorado College, but also safety of students and staff.
"Now this fall, my institution is giving students and faculty the option of how they'd like to teach and learn," Whitaker said.