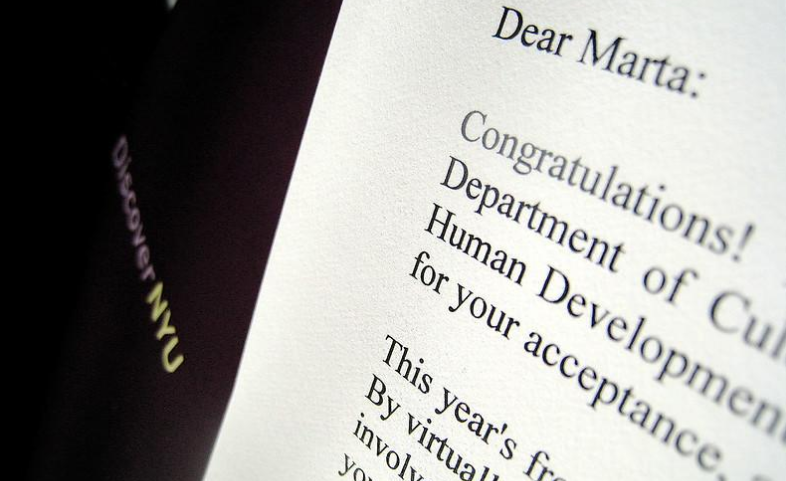 How the Pandemic Is Changing the World of College Admissions
Journalists should examine access, enrollment uncertainty.
Hundreds of colleges are going test-optional. Fewer students are filling out financial-aid forms. Everyone is staring down unknowns.
The field of admissions has been turned upside down, Eric Hoover, a senior writer at The Chronicle of Higher Education, said as he kicked off a panel about college admissions and enrollment at the Education Writers Association's 2020 National Seminar.
There is so much uncertainty as we approach the fall admissions season: which colleges will meet their enrollment goals, how much students' needs have changed, and how well colleges, financially challenged themselves, can meet those needs.
Look beyond that, and you'll encounter new questions, about a new recruiting season and what that will look like both for colleges and for the rising high school seniors they're trying to attract.
Concerns About Access and Aid
"We're deeply challenged," said Angel Perez, a panelist and the CEO for the National Association for College Admission Counseling, in response to Hoover's question about college access during the coronavirus pandemic: What does that mean, and how is it changing?
Perez worries about students who have become disconnected from tools and people who can help them. He's received messages from high school counselors who, in past years, would gather 100 students at time in a classroom and walk them through filling out financial aid forms — and who can't do that now.
He mentioned a recent EAB report that flagged concerns about equity. In an analysis of more than 500,000 admitted students, EAB found that low-income students and students of color are not putting down enrollment deposits or submitting the Free Application for Federal Student Aid at the same rates as in previous years.
Low-income students could be negatively affected by the new pressures the pandemic is putting on higher ed more broadly, too. The bottom line for colleges is that the more students they can enroll who can pay full tuition, Perez said, the better off financially they will be.
Jody Glassman, a panelist and director of university admissions at Florida International University (FIU), is focused on getting the right emergency aid to her students. FIU is raising donations to help students pay for books, laptops, and other educational needs beyond tuition and fees.
The Move Toward Test-Optional
One of the biggest changes this pandemic era: standardized test requirements. Testing companies have had difficulty administering the tests safely and securely. Many students simply couldn't find an acceptable way to take the tests. As a result of these difficulties, hundreds of colleges have gone test-optional in recent months, at least for now.
We were already almost at a tipping point on standardized tests before the pandemic, Perez said. Many people were beginning to ask whether tests were the best way to predict success in college and what exactly the value of the tests were.
Now the question becomes: If not standardized test scores, then what? Perez said. What will admissions processes look like as tests are taken out of the equation?
Despite the test-optional wave, many colleges are still requiring tests. Glassman's university, FIU, is one. There, standardized tests are mandated by the state system's Board of Governors.
The university is working with students to lessen their anxiety about tests in this environment, Glassman said. They're looking at changing deadlines for submitting test scores and putting more emphasis on students' grades and course selection. She said they are redirecting students' focus from having to achieve a specific test score and talking with them about how to put other strengths forward in their applications.
Enrollment Uncertainty
With so much uncertainty, colleges are nervous about enrollments. Many students are changing plans, choosing to defer college or enrolling at an institution closer to home.
Hoover said he's drilling down to look at enrollment patterns within smaller subgroups. For example, there are separate stories to be done about what's happening with international students and the limits the government is placing on their studies, or about students in programs like theater arts where an in-person experience is especially central.
So far, Glassman said, FIU is not seeing any enrollment drop. They are expecting a freshman class that's about the same size as last year's, which is what they've been planning.
In fact, she said, they are seeing some growth in one area: graduate school enrollments. Another area to watch, she said, is microcredentialing. Some colleges, including many traditional four-year institutions, are beginning to look at credentials and badges as an enrollment tool. (This EWA Tip Sheet gives reporters resources and story ideas for covering microcredentials.)
Three More Story Ideas
Colleges are facing a reckoning on issues of racial justice in the midst of the broader national movement. Perez said he's hearing that high school seniors are starting to ask colleges a lot of different kinds of questions about their campus culture and what they are doing to improve. The students are watching how colleges are acting and how they are communicating on Instagram and other spaces where they live, and colleges, he said, have to think about how they are going to tell their stories.
Another issue that would benefit from journalists' attention, said Perez: the use of econometric modeling in admissions. A little-covered industry of consultants, psychologists and economists work behind the scenes to help colleges squeeze out the maximum amount of tuition revenue from their student bodies. Enrollment management consultants help colleges predict which students will enroll, influencing who gets admitted and how aid gets awarded at many colleges. (For more on the topic, read Paul Tough's article in The New York Times.)
Glassman urged education reporters to focus their reporting on a more diverse set of institutions. Regionally oriented publics like hers, for example, educate the majority of America's college students. Outside of the top 50 ranked schools, she said, "there are some really amazing institutions that don't get enough notice for some really amazing things they are doing in the name of access and in the name of graduating these young people out into society."