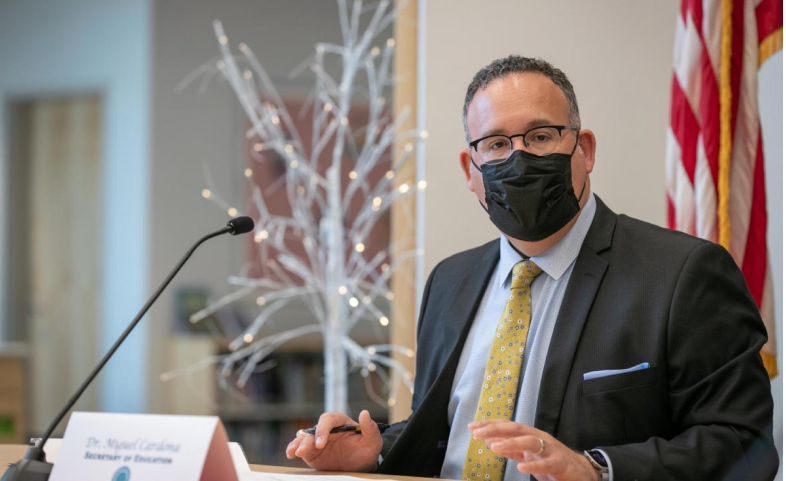 Miguel Cardona's Education Priorities: Addressing Disparities, Student Loans, Pre-K and More
U.S. Secretary of Education Miguel Cardona made his priorities clear at the Education Writers Association's 2021 National Seminar.
U.S. Secretary of Education Miguel Cardona made his priorities clear at the Education Writers Association's 2021 National Seminar.
Cardona vowed to "unapologetically address achievement disparities" and urge all schools to reopen for in-person learning during the wide-ranging conversation on May 3.
Below are key excerpts from the nearly one-hour, on-the-record discussion, moderated by freelance journalist and EWA board member Sarah Carr. Cardona answered questions from Carr and other EWA member-journalists on an array of topics, including racial disparities in education, student loans, statewide testing, and police in schools.
Reporters and others are welcome to quote from the transcript here, though we ask that you cite the EWA National Seminar as the source.
Cardona's comments, which are drawn both from his opening remarks at the virtual National Seminar and in response to audience questions, are organized by topic. They include:
Reopening schools
Three important goals for the U.S. Department of Education
Blended or hybrid learning
Equity and eliminating disparities in education
Outreach to new immigrant families
Student loans
Supporting minority-serving institutions
Universal pre-K expansion
Standardized testing
Media accessibility and transparency
Ethnic studies and The New York Times' 1619 project
Police-free schools' movement and George Floyd
Reopening schools
"We have to reopen with urgency. … There is no substitute for in-person learning."
"Every day that students are not in school is a lost opportunity for emotional connections, for relationship building, for academic support, and for the school community to really wrap their arms around these children who for the past year are wondering what's going on."
"I do believe it was the right goal [to reopen schools within 100 days, especially] early childhood, pre-K to eighth grade. It's much more difficult to teach a first grader, a six-year-old, from home, than it is a high schooler."
"Do everything you can to get the students in now. In some places (the problem is) the ventilation, some places the trust, in some places the fear of the pandemic is still preventing students from coming in….But in some cases, it's also the fact that some students didn't feel comfortable in school before the pandemic."
"I want all students to have the opportunity to learn in person in the spring, but I expect it in the fall."
"I do believe students learn best in the classroom."
Three important goals for the Department of Education
"We need to make sure that our school houses are prepared to meet the social-emotional needs of our learners….We need to make sure that students are seeing themselves in the curriculum. We need to make sure that what we're presenting to students is sensitive to what their background is and what their needs are. That's number one."
"We have to make sure we're connecting families to the learning process. My parents will always be my best teachers. I always told families when I was serving as principal (that) the parents are the best teachers, and we play a supporting role."
"Making sure that our pre-K-12 education system is connected not only to higher education, but to the workforce needs. We need to make sure that we're providing better pathways for our learners."
Blended or hybrid learning
"We know that blended learning didn't start with the pandemic. There are districts and states that really have taken advantage of the opportunity to provide blended learning for students to learn remotely or to learn from home or to have experiences where they're learning in a community of people from across the country. So blended learning should be a part of how we reimagine education."
"We need to think outside of the box. We need to be creative around blended learning. But I need all students to have an opportunity to learn in the schoolhouse."
"Blended learning should be a part of the plan moving forward."
Equity and eliminating disparities in education
"I think my passion in education is really allowing it to be that great equalizer. It was for me. I was a first [generation] … But I know that if it weren't for the public schools that I attended and the state universities, I wouldn't be secretary of education. If it weren't for the teachers in those buildings that really saw something in me, I wouldn't be secretary of education."
"My biggest fear is that we go back to practices that were comfortable before the pandemic, but led to the disparities in outcomes that we are experiencing as a country. So, I don't want us to go back into that comfort zone. We grow when we're uncomfortable."
"You're going to have to change what people are used to in schools. I always say that the pandemic, when it ends, it's not going to mean it's easier. It's going to be different work, but it's going to be equally as challenging to lead through the next chapter of education in our country where difficult decisions have to be made because we have to address the disparities that existed before the pandemic."
"I'm a big believer in equal parts support and accountability. You lead with support, but it's critically important for the students that we make sure that we're supporting our states and helping in every way possible to help them in their efforts to address disparities."
Outreach to new immigrant families
"We have to learn the cultural norms of different places in order to serve the students. … It's our responsibility and our privilege as educators to learn those norms, to help engage those families in ways that they're comfortable so that their students can be successful."
Student loans
"Debt has really impacted many families, many students, and getting out of it and seeing a pathway out of it is critically important. And I know that's a priority for the president as it is for me."
"We're still working with the White House on the best path forward and negotiating what rights, and responsibilities we have as an agency."
"I think it's really important to recognize, too, that we have to kind of go down the river to see where this (student debt) is coming from and really stop the bleeding to make sure that our public service loan forgiveness is working."
"I know 98% of the (forgiveness application) claims were rejected in the past. I know that borrower defense is something that we also have to take seriously. I'm really passionate about making sure that we can quantify a return on investment" (for higher education).
"I want to make sure that our graduates are graduating with greater earning potential and going out there buying homes and contributing, and not being held down by debt. Unfortunately, that's the narrative for so many families."
"We're looking at it [pausing student loans beyond September.]"
Supporting minority-serving institutions
"We know how important Historically Black Colleges and Universities (HBCUs), Minority-serving Institutions (MSIs), tribal colleges and Hispanic Serving Institutions are to giving those students an opportunity to have a crack at college and be successful."
"I recently read that half the dentists across the country, Black dentists, are from HBCUs. That stuck with me."
Universal pre-K expansion
"I was the principal of the school with an early childhood program for three- and four-year-olds that needed a little bit of extra support. And I knew that intensive support at that age prevented them from needing additional reading, tutoring after school programming, summer school programming, which all cost money."
"My experience in education – I know, I can tell you, pay now or pay later."
"Let's get it right in the beginning. Let's provide support."
"All the data shows that students with early childhood programming do better. They get more access to honors level courses, which ultimately leads to life, happiness."
Standardized testing
"When we talk about raising the bar, making sure students are coming back to quality curriculum, we have to know what they missed so that we can modify the curriculum next year to make sure that we're meeting the needs of our learners…That's what this is about. So, it's not perfect. Clearly, the conditions aren't ideal nor consistent throughout the country."
"And we know that every little bit of data put together – because standardized tests aren't the end-all – but putting those pieces of data together will help paint a picture that can help you distribute resources."
"I don't think there's a teacher across the country that needs a standardized test to tell them how the children in front of them are doing."
So, for a teacher, they may not need that, but for a policymaker, for someone at the state level to say, 'This community needs to get more than this community based on what we're seeing – not only from the standardized test, but the opportunity-to-learn data as well and other measures – we're making very serious decisions."
"We're working with states to provide as much flexibility as possible, including assessing students in the fall so that they can get some reliable data to help guide their decisions."
"Listen, if my child was going to school for the first day and they had to sit in front of them [standardized tests], that's not good for the students."
"The reality is one size doesn't fit all. If you go to some states, they have computer-adaptive tests that can be done remotely, and they're able to do it in other places. In other places, the technology around the assessments isn't as advanced, so they don't have a remote option. So again, one size doesn't fit all."
"The assessments are a very small part of what we should be focusing on."
Media accessibility and transparency
"One of the things that I value most is the opportunity to control the narrative about the great work that's happening across our country, but also to be transparent when we talk about gaining trust with our families."
"What I will commit is that we're going to be as transparent as possible. We're going to communicate openly, and we're going to make sure that we're sharing what's working, what's not working. But the focus is always going to be on making sure that we're doing what's right for students."
"And I think having a good relationship with our journalistic partners is critical to doing that work, of being open and honest and transparent and making sure that we're controlling the narrative about what's happening, what we're focusing on, what's working and what's not working."
Ethnic studies and The New York Times' 1619 project
"I don't think it's our role as a federal government to be dictating what's going to be taught in the curriculum. But it is our goal to make sure that all students have access to [a] high-quality curriculum and making sure that all students have access to opportunities and success after graduation."
"I'm an educator at heart. I'm a teacher at heart. My role doesn't influence curriculum. Nor do I believe the secretary of education or the Department of Education should be telling local districts what to teach in their courses."
"I do know that when students are seen in the curriculum, they feel like their stories are listened to or heard. They're more likely to engage and want to be there."
"Windows, mirrors and sliding doors: And I'll just quickly just share what I mean by that: Curriculum should be a window into other cultures. It should be a mirror where you see yourself in it, and it should provide sliding glass doors where you can walk in for a little bit to see what other people experience."
Police-free schools' movement and George Floyd
"I was in a district where we had resource officers in the middle and high school, and when trained well and when working in partnership with the school to be proactive and a support for students, it's a positive thing….I've seen models of where it works exceptionally well, where it even provides a pathway for students to look at themselves as potential law enforcement officers or in the field of law enforcement. It has to be done well."
"There has to be efforts to make sure that it's done well, or else it could turn really negative."
"We don't need we don't need officers to be there looking at offenses and with the mentality of trying to catch students. That's not what it should be."
"It should be a positive resource, kind of like a community school almost, where you have different members of this community in the building supporting students to be successful in life."
"And I know that when done well, it can really serve students in a positive way."