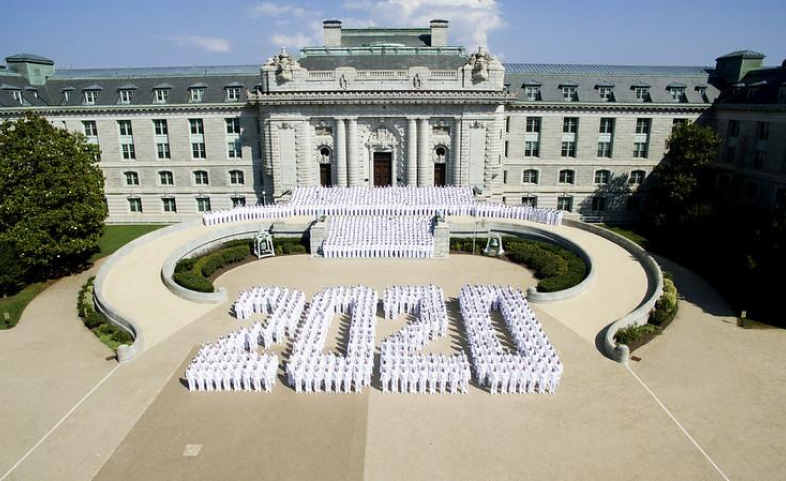 Under the Circumstances, No Pomp for the Class of 2020
Telling the story of a senior year changed by coronavirus.
Few years are as laden with symbolic touchstones as the senior year of high school. With this year's graduates denied those rites of passage due to the coronavirus pandemic — or at least the traditional rituals associated with them — emotions are running understandably high.
For Frances Suavillo, an immigrant from the Philippines who is the valedictorian at Carson High School near Los Angeles, the change in plans wasn't easy.
"The possibility that I may not be able to deliver my speech after four years of hard work is definitely a hard pill to swallow," she told the Los Angeles Times. "I would have loved the big ceremony with all the families and the entire class there together. I went to the class of 2019's graduation … and it was just a beautiful moment watching my incredible friends throw their caps up in the sky."
Student Voice
As The Times' Howard Blume demonstrated, this is a story that doesn't just benefit from student voices — it's close to a mandate. With schools shuttered, proms canceled, and in-person graduation ceremonies looking increasingly unlikely in much of the country, the class of 2020 is facing a rough transition to adulthood. School officials, teachers and families are doing what they can to ease the sting. Teachers are staging automobile parades through neighborhoods to wave goodbye, as was the case in Wichita, Kansas, and Newport News, Virginia, and dropping off congratulatory signs for students to place in their yards.
In Chicago, Oprah Winfrey will be the commencement speaker at a virtual ceremony for graduates in the nation's third-largest school district, the Chicago Tribune reported. And Education Week is wondering who would be a smart pick for a national commencement speaker to boost the spirits of students, educators and families who are missing out on their own hometown events.
For some seniors who were already struggling academically, questions remain over whether they'll be allowed to graduate on time. In Kentucky, barring a veto by Gov. Andy Beshear, lawmakers are poised to ease graduation requirements, including that students pass state exit exams and demonstrate "a readiness for life," the Louisville Courier-Journal reported.  (For more on challenges for high school seniors and school systems in the wake of COVID-19, check out this resource page from the America's Promise Alliance, a coalition of state leaders focused on boosting the nation's graduation rate.)
There's also a loss of ritual for college seniors, who won't be marching to "Pomp and Circumstance" this spring. Far more troubling, however, is the "real world" — or surreal world — they now enter, with record-high unemployment and much of the country's business and industry in lockdown. Even once the stay-at-home orders lift, economic and job recovery is likely to be a long, difficult process.
'Senior Year, Interrupted'
As education journalist Casey Parks noted on Twitter, for many students coming from less-affluent families, prom is a touchstone event that often means months of planning — and saving. (Take a look at The New York Times' photo spread of students from around the country modeling their suits and gowns.) KQED public media in Northern California has launched Senior Year, Interrupted to gather first-hand accounts from California teens, who submit one-minute videos about their experiences. School districts are looking for alternatives to in-person graduation ceremonies, and North Carolina's Charlotte-Mecklenburg Schools has convened a task force of staff and students to brainstorm, reported Annie Ma of the Charlotte Observer.
"Hang in there, Seniors," the school board's chairwoman wrote in a Facebook post. "We care about you very much and we want you to have a graduation ceremony to treasure."
The uncertainty for the Class of '20 extends beyond graduation. Many young people are facing the loss of summer jobs and internships. And what will their freshman year of college look like as a growing number of college campuses consider whether to offer only online classes in the fall?
Writing for The Hechinger Report, Jon Marcus makes the case that the forced immersion into remote instruction has some campus faculty rethinking their reluctance to embrace classroom technology. Some online tools are likely to stick around even if colleges reopen, Marcus wrote.
For education reporters, there are plenty of questions to ask — and compelling stories to tell. How is the pandemic influencing seniors' post-high school plans? Are guidance counselors conducting sessions via videoconferencing to offer advice or support? What about students who were in credit-recovery programs in hopes of graduating on time? Who's had summer internships canceled or college scholarship offers rescinded? How many graduates will delay continuing their education because of unexpected changes in their family's financial status or other difficulties?
There's also the issue of students' rapidly changing financial needs. Some might have applied for college months ago, when their parents were employed. Now, they might need financial aid that most colleges can't afford to offer. Will fall enrollment numbers take a nosedive as a result? Also, losing summer jobs could also make it harder for many students to go back to school in the fall – including those who depended on campus work that's now ground to a halt.
Rethinking College Plans
For the class of 2021, canceling the SAT and the ACT sittings — and a growing trend toward test-optional admissions processes at a growing number of postsecondary institutions — could have some juniors rethinking their college plans.
And don't forget the community colleges, which represent about a third of the nation's higher education enrollment, as the Aspen Institute's Linda Perlstein noted on Twitter. How are these campuses adjusting to the closures? Which programs are having the toughest time making the switch to remote learning? What can administrators tell you about participation rates, and also plans for summer and fall classes?
For more story ideas, sign up for Thursday's EWA Webinar at 2 p.m. Eastern time: Will the Coronavirus Drive Your College Out of Business? You can also catch up with replays of some recent EWA webinars: Get Ready for the New (Ab)Normal: How Will School Look Different This Fall? and What Does the Coronavirus Mean For School Finance?