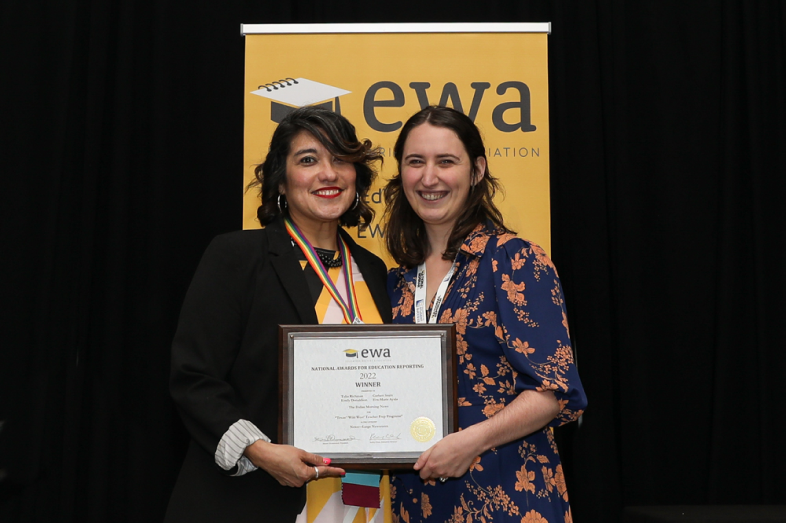 Submit Your Best Education Reporting to 2023 EWA Awards
Photo credit: James Minichello of AASA for EWA
The Education Writers Association is pleased to announce the 2023 National Awards for Education Reporting. Journalists may submit entries from Nov. 15, 2023 to Jan. 9, 2024 at 6 p.m. Eastern. 
Journalists who published work in 2023 on any education topic in any medium are encouraged to enter EWA's annual journalism contest, which honors the best education reporting across all news media. The awards program offers a total of 20 prizes, with cash awards ranging from $1,000 to $10,000.
EWA's journalism competition aims to highlight the outstanding reporters working to illuminate what happens in classrooms, schools, colleges and universities, as well as uncover inequities and disparities in the system and highlight solutions.
Updated and New Awards Categories
This year, EWA revised some awards categories after surveying journalist members, entrants and judges. A seven-member awards task force made up of Journalism Advisory Board members and other journalist members developed the new categories: podcast, data reporting & visualization, and student journalism. 
The news and features categories now include subcategories for broadcast journalism. Beat reporting and investigative/public service reporting now include subcategories for education-only outlets. We also changed the newsroom sizes. 
Entry Fees for Members and Nonmembers 
Early Bird Discount:

$50 for members and $100 for nonmembers to enter the awards until Dec. 15, 2023 at 11:59 p.m. Eastern.

(Membership is free

.)

Regular Price:

$75 for members and $125 for nonmembers to enter the awards until Jan. 9, 2024 at 6 p.m. Eastern. 

The student journalism category is $25.
The EGF Accelerator's Eddie Prize
EWA welcomes entries for the EGF Accelerator's Eddie Prize, which recognizes coverage of challenges facing low-income college students and comes with a cash prize of $7,500. News outlets of any size are invited to enter the Eddie competition, and there is no entry fee for this prize.
Other EWA Awards Categories 
In the National Awards for Education Reporting, EWA plans to present 17 awards winners with $1,000 cash prizes in nine categories: beat reporting, collaborations, data reporting and visualization, features, investigative/public affairs reporting, news, podcast, student journalism and visual storytelling. Some categories include various newsroom divisions.
Winners of the three beat reporting category prizes will be eligible for the Ronald Moskowitz Prize for Outstanding Beat Reporting, which comes with an additional $2,500. Winners of the other categories and divisions (excluding the Eddie) will be considered for the Fred M. Hechinger Grand Prize for Distinguished Education Reporting. The grand prize comes with $10,000.
Entries will be judged on criteria that include the quality of writing and reporting, freshness and depth of insights, clarity of explanation, impact, and innovation of presentation.
For more information on the awards, visit EWA Awards or contact EWA at awards@ewa.org.
About the Education Writers Association 
The Education Writers Association (EWA.org) is the national professional organization dedicated to strengthening the community of education writers and improving the quality of education coverage to better inform the public. Member journalists benefit from the organization's high-quality programs of training, information, support, and recognition.
Thank You!
EWA would like to thank the volunteer EWA Awards task force for helping to update the awards categories. The task force included Journalist Advisory Board members and other volunteers. From the JAB: Wayne Carter of NBC 5 Dallas-Fort Worth; Leah Clapman of PBS NewsHour; and Larry Gordon, freelance and EdSource. Others included Morgan Matzen of the Argus Leader; Sascha Raiyn of WDET; Monica Rhor of Chalkbeat; and Eric Stirgus of The Atlanta Journal-Constitution.